Jordan Spieth's astonishing rise should inspire young golfers

By Iain Carter
BBC golf correspondent
Last updated on .From the section Golf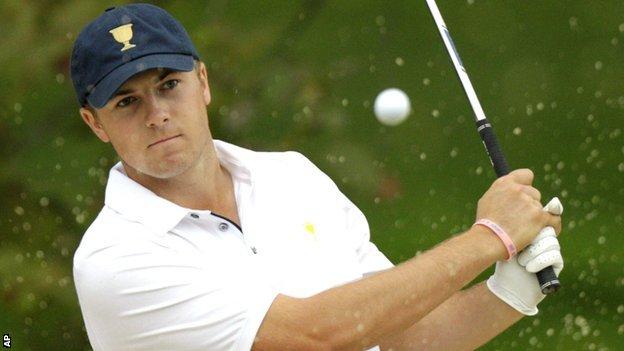 There's no doubt American Jimmy Walker is the form player of the season, but there is also compelling evidence that his young compatriot Jordan Spieth is a man to watch for 2014 and beyond.
In the last two decades only Tiger Woods, Phil Mickelson and David Duval have won so frequently so early in a season.
The 35-year-old Walker leads the US Ryder Cup standings by more than a million dollars. He seems destined to make his debut at Gleneagles in September.
And there's little doubt that the youthful Spieth will be another rookie in Tom Watson's American team. After all, the impact of the 20-year-old in his debut professional season was such that he earned a captain's wildcard for last year's Presidents Cup.
Skipper Fred Couples simply couldn't ignore Spieth's level of performance, which earned him the PGA Tour's Rookie of the Year title. He won the John Deere Classic and can boast four second-place finishes along with seven more top tens.
Not bad for a player who only turned professional in December 2012.
So far there is no sign of "second-season syndrome" setting in. At Pebble Beach, he rallied after a disappointing Saturday to claim fourth place behind Walker in the AT&T Pro-Am.
Spieth's closing 67 was the perfect bounce-back after struggling to a 78 in the worst of the weather on Saturday.
Having held the halfway lead, he had no fewer than seven three-putts in a round that spilled into Sunday morning. His attitude is to put such setbacks down to experience, learn and move on.
Indeed, last week Spieth was joking: "I'm just a veteran now!" when asked why he appears so comfortable with his life on Tour.
The nerves associated with making his first forays into the professional world are long gone. "It's also the way I'm preparing, course preparation, learning," he said.
"When you play a year on Tour, even though so many golf course are so different, they're still places that in college golf I would fire at pins.
"And I'm just learning that you can't do that. I look back at where I made my bogeys and, over the past year, it was typically on where my approach shots went, and it was because I could get myself short-sided.
"So it's about learning when to fire and when to kind of chill out."
This time last year, the young Texan felt like he was a teenager trying to sneak unnoticed inside the ropes to mix it with the professionals. Now with a win under his belt and a rise to 13th in the world rankings, he deservedly feels firmly at home.
"In that sense its different when I step on the course, but when on the course there are certain characteristics of my game that are very different," he says.
"A big key was that I played seven or eight Tour events as an amateur. I know for a fact that if you are going to turn pro without a start on the Tour it's going to be extremely difficult."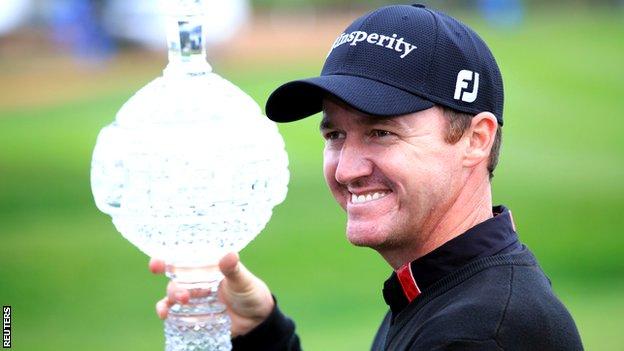 In the coming weeks, Spieth's fast-tracked career will centre around preparing for his Masters debut in April. He will arrive at Augusta as America's hottest golfing prospect.
Before then there will be many sessions and conversations with long-time coach Cameron McCormick. They've already discussed how he copes mentally once he has played himself into contention.
The plan is to take less notice of leaderboards and plough on with the standard of play that provides winning opportunities. It seems unlikely he will be short of those as he establishes himself in the game's elite.
Spieth has more than earned his Masters debut this year and it was also encouraging to see three more players claim major spots last weekend.
George Coetzee's victory in the Joburg Open provides the South African with a pathway to the Open Championship at Royal Liverpool this summer. He will be joined by compatriot Justin Walters and Korean Jin Jeong, who were joint runners-up.
Three berths were available thanks to the R&A's new Open Qualifying Series, which targets certain events around the golfing globe.
It is certainly preferable to use established Tour events rather than the unsatisfactory and now defunct International Final Qualifying system.
Sympathy should go to British youngster Tyrrell Hatton, though. The Challenge Tour graduate from High Wycombe also finished in a share of second in South Africa but lost out on a trip to Hoylake because of his lower world ranking.
However more performances of that ilk from the 22-year-old and the disappointment won't last long.
And if Hatton is looking for contemporary inspiration he could do a lot worse than look at Jordan Spieth's astonishing rise across the pond.