Symetra Tour 2014: Jersey's Olivia Jordan-Higgins set for opener
By Tim Pryor
BBC Radio Jersey
Last updated on .From the section Golf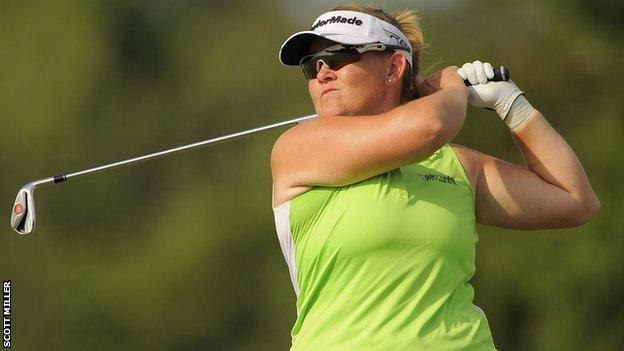 Jersey's Olivia Jordan-Higgins hopes the pain of narrowly missing out on LPGA Tour qualification last year will inspire her to success this season.
The 26-year-old will embark on her fourth campaign in America on Friday, again playing on the Symetra Tour.
She was on the 2013 money list.
"It's extra motivation. I can only see it as a positive - it just wasn't meant to be at that moment in time," Jordan-Higgins told BBC Radio Jersey.
"I really can't think too much about it though because the past is the past.
"I'm more excited than I've ever been and I definitely feel confident about this year."
The 54-hole Visit Mesa Gateway Classic at Longbow Golf Club, Arizona, opens the Tour on Friday, with a purse of $100,000.
Jordan-Higgins to save money on accommodation and travel. Ultimately that could have been the difference between making the top 10 and not.
Keen to make an impression from the the start this time, she has already been in America acclimatising for the past month.
"The more tournaments I have, the more chance I have of making it into the top 10," said Jordan-Higgins.
"Some of the purses have gone up so overall I'll hopefully be making a bit more money."
The schedule for 2014 has also seen the Tour extended to 20 events over the next seven months, climaxing at Daytona Beach, Florida, on 21 September.
Jordan-Higgins believes that with her experience on the circuit she is one of the favourites for the season ahead.
"With three years under my belt now I feel like I've gained a lot of experience and I feel comfortable out there," she added.
"I definitely feel confident about finishing in the top 10 with my track record.
"I feel my game is better than ever and I've been working hard on my mental game.
"It's just going to be a matter of patience and not wanting it too bad that it becomes detrimental to me."