Richard Bland pleased with form after Africa Open
Last updated on .From the section Golf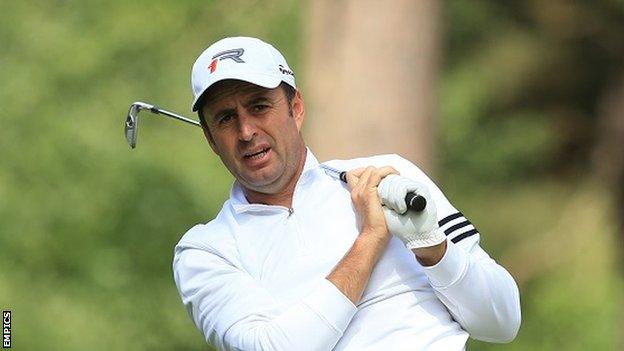 Southampton golfer Richard Bland believes his top-five finish at last week's Africa Open shows his game is in good shape, despite him still feeling the effects of knee surgery.
Bland's success came in only his fifth post-operation tournament.
But he said he should have won far more than the €32,000 he picked up.
He told BBC Radio Solent: "I had the chances to win by two or three. That was tough to take and I was hurting pretty bad for a couple of hours."
The result at the East London course in South Africa takes Bland's prizemoney total for the 2014 season to €58,675, elevating him to 81st in the order of merit.
"Taking the positives, after three months out following knee surgery, to have a really good chance of winning my fifth tournament back shows my game is in decent shape," he said.
"It just proves to me I have the game to win out here and if I keep doing the right things hopefully my time will come.
"That's how I am looking at it now but for a couple of hours after the tournament on Sunday I wasn't the best person to be around."
However, Bland admitted he was not yet completely fit.
He said: "It's going to be a little bit of time before the knee is 100%, but it's getting there.
"There's only been two days in the last six weeks when I haven't had a club in my hand, so a bit of recharging is required before the next tournament [The Tshwane Open, beginning on February 27 in Centurion, South Africa].
"I'd like to make the top 60 [in the Order of Merit] this season, that's always been the key even when I was on the operating table last October.
"But I've never been a huge goal-setter - I'm just someone who does his best on every single shot and where it leaves me at the end of the week, it leaves me.
"As long as you keep doing your best hopefully the opportunities come and the door will open."