Padraig Harrington reveals he has had skin cancer treatment
Last updated on .From the section Golf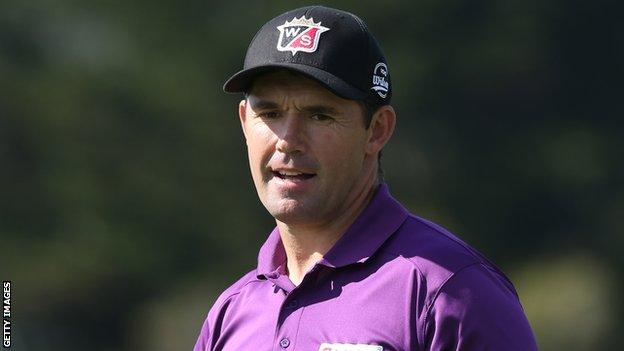 Three-time major winner Padraig Harrington has revealed that he has undergone treatment for skin cancer.
Harrington, whose father Patrick died from cancer, underwent surgery for "sun spots" on his face and decided to speak out in a bid to raise awareness.
"I've had a number of skin cancers removed off my face," the 42-year-old Dubliner told Irish radio station Today FM's Last Word programme.
"When you get a symptom, don't ignore it. Do something about it."
Harrington withdrew from the 2005 Open at St Andrews after the death of his father from oesophageal cancer on the eve of the event.
The two-times Open champion added: "My father had symptoms but didn't do anything about it. It's the nature of men in Ireland and certainly older men.
"I would be much more inclined to go and do something about it.
"Dealing with cancer is not what it was 10 years ago. Instead of just one treatment they are now looking at combining different types of treatment of dealing with oesophageal cancer.
"It is easier to clear these things up at the start rather than waiting until there is a problem. You can get treated and go on to live a much longer life."
Harrington won three majors in the space of 13 months between July 2007 and August 2008, achieving consecutive Open triumphs and also clinching the USPGA title.
However, the Dubliner has struggled in recent years and has failed to achieve a win on either the European or PGA Tours since his USPGA triumph in 2008.
He was a career-high third in the world rankings in 2008 but has since dropped steadily down the ratings and is currently in 137th position.