Brandt Snedeker and Charley Hull making waves at home and abroad

By Iain Carter
BBC golf correspondent
Last updated on .From the section Golf40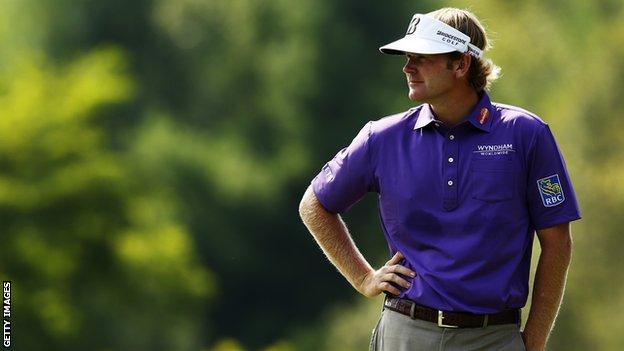 Brandt Snedeker and Charley Hull are among golf's more engaging characters. Lately, they've been making headlines to encourage fans on both sides of the Atlantic.
English teenage star Hull surged to her first Ladies European Tour (LET) victory on Sunday, while American Snedeker's contribution has come with outspoken criticism of the slowcoaches who blight the sport.
The unbridled power and exuberance displayed by Hull makes golf an exciting game to watch.
By contrast, snail-like play in the professional game frequently brings golf down. That's why Snedeker's comments should be taken seriously.
"I feel the game of golf is struggling right now because the pace of play everywhere is too slow," Snedeker said on the American Golf Channel network.
The 33-year-old, from Nashville, didn't hold back his feelings. He revealed he will actively hinder a sedate playing partner if their group falls behind.
"I will intentionally play slow so that player gets fined," he told host David Feherty. "I know I won't get fined because I won't get 10 bad times in a year."
Such a striking admission should be a signal to Tour bosses to call time on slower players.
"I grew up playing really fast," Snedeker said. "It's the only thing my dad always told me. No one should ever have to wait for you on a golf course.
"The PGA Tour is particularly very slow and it's tough for someone like me because I have to alter my game based on the conditions around me - whereas the slow player has to alter nothing. He can just carry on doing what he wants to do."
The American Ryder Cup star's comments were aired this week, just days after the slow-play issue resurfaced at the Valspar Championship in Copperhead, Florida.
One of the PGA Tour's more deliberate players, Kevin Na, was among the contenders. The American, along with relative speedster Robert Garrigus, were put on the clock during last Saturday's third round.
"It ain't fair playing with Kevin Na," claimed Garrigus's caddie Brent Henley afterwards.
The pair had started being timed after falling out of position on the seventh hole. At the 13th, Na was shown to take too long and one hole later Garrigus received the first bad time of his career.
To be fair to Na, several players say that he has improved his pace of play. A few years ago, he was almost paralysed by nerves in a ludicrously hesitant pre-shot routine.
But it is more than two decades since the PGA Tour imposed a stroke penalty on a player for being too slow. Competitors are liable to such punishment if they have two bad times in the same round.
A more ruthless approach was evident at last year's majors when China's 14-year-old Guan Tianlang had a shot added to his score at the Masters and the same fate befell Japanese youngster Hideki Matsuyama at the Open.
Both players had yet to learn the art of playing the system when they are put on the clock.
But as Snedeker told Feherty, fines are not enough to cure the malaise. "If you penalise them a shot, that can mean hundreds of thousands of dollars in the right tournament," he said.
"That will make guys speed up. You have to empower the rules officials to impose these penalties.
"I don't think there should be any warnings. Guys should be on edge all the time. If I take more than 45 seconds to hit the shot, I might get the penalty so I need to have to play fast.
"It would be a better sport for TV. I think it would be better for the game of golf in general."

On the women's scene, there's no doubt that Hull is great news for the game. She fired a brilliant closing 62 before winning a play-off to claim the LET's Lalla Meryen Cup in Morocco.
Legally, the champagne has to stay on ice until Thursday when she turns 18, but already Hull has starred for Europe in a record-breaking Solheim Cup victory in Denver last year.
Her golfing inspiration is the late Seve Ballesteros and she plays a fearless brand of golf.
She loves to attack the hole because an innate confidence tells her she will sink the return putt no matter how far the ball travels past.
In practice rounds, this trait scared witless her Solheim team-mates, but it soon became clear she would justify her wildcard pick.
On the final day, Hull thrashed American superstar Paula Creamer as the match dramatically swung Europe's way.
With five runner-up finishes in her rookie season last year, and now a victory too, it is easy to predict great things for the Kettering youngster.
But she has much to learn. Her golf is still to mature fully.
Thankfully her early years as a pro are being managed superbly by her parents and her Moroccan victory has the potential to be the first of many.
Indeed, Hull can be the future of the women's game. But in contrast to other aspects of professional golf, there's no great need for hurry.