Tiger Woods: Injury problems could undermine major ambitions

By Iain Carter
BBC golf correspondent
Last updated on .From the section Golf154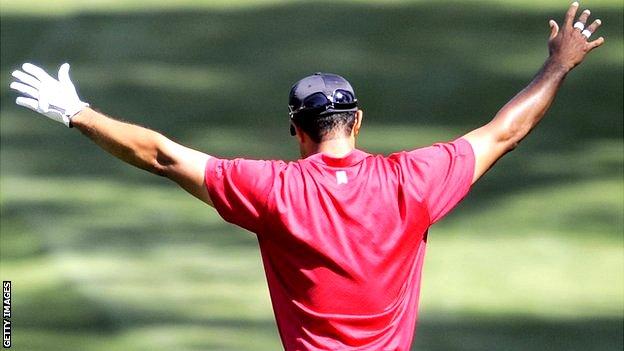 This was supposed to be Tiger Woods's year to add to his tally of 14 major titles. With his latest injury setback that now seems a distant prospect.
Never mind that he has won at three of 2014's major venues and finished second and third at US Open tournaments staged at the other.
Woods is now facing a race against time to be fit to tee off at the first of those events when the Masters starts at Augusta in three weeks.
"It's too early to know about the Masters," Woods admitted in his statement on Tuesday announcing his withdrawal from this week's Arnold Palmer Invitational at Bay Hill.
He should have been defending his title on a course where he has won eight times before.
The world number one was desperately keen to play but can't shake off back pain and spasms that forced his final round withdrawal at the Honda Classic in Florida at the start of the month.
It was a recurrence of problems that first surfaced in the PGA Tour play-offs last autumn.
Just recently Woods laboured to a 25th-placed finish at the World Golf Championships event at Doral where he carded a closing 78, his worst final round in 18 seasons as a professional.
His four tournaments this year have all been at events he has won before. Woods has completed all 72 holes in only two of them and his lowly Doral return was the best result of his year to date.
Aside from his scandal-induced absence in 2009, this has been the worst start to a season in his entire career. Worryingly, his Bay Hill withdrawal follows a week away from tournament play.
As has been well documented, he has suffered major injuries before. Four times he has undergone surgery on his left knee. There have been Achilles and neck problems as well.
In 2008 he won the last of his majors by triumphing at the US Open while suffering cruciate ligament damage and stress fractures in his left leg.
Under the tutelage of coach Sean Foley he rebuilt his swing to reduce the stress on that fragile limb. It was done to great effect, with Woods winning five times last year to return to the top of the world rankings.
But at what cost to his back?
"That change of action might well have contributed to his current problems," physiotherapist Linda Stevenson told BBC Sport.
"The only way to get long-lasting relief might be to go back to the drawing board."
At the age of 38 Woods is breaking down. He has a body that has been swinging golf clubs since the age of two.
Such is the mileage on his golfing clock, Woods is an old 38-year-old. Throughout his career he has trained like an athlete, enduring punishing gym routines in his pursuit of excellence.

Most athletes are finished by their late 30s and while golfers enjoy greater longevity, one has to wonder whether this will apply to Woods.
He is, by no means, the first golfer to suffer back problems and with good reason.
"Typical golfing posture does not help," added Stevenson. "The increased curvature caused by the stance puts more weight through the facet joints.
"This causes more compression, they get more wear and become inflamed and the back goes into spasm. Eighty percent of the weight should be going through the discs, they are designed to have more weight on them.
"The situation is then made worse by the dynamic action that goes into hitting the ball."
Stevenson, who has for several years worked with British international canoeists and rowers, reckons that it was possible to envisage back problems for Woods as far as a decade ago.
"Tiger's core strength will be amazing but he has relied on his back for many years and now it would seem it has come to find him out," she said.
"Around 10 years ago I was at a conference of physios which looked at Tiger Woods's action and we agreed then that he was likely to end up suffering back problems."
According to Stevenson, rest and massage are the most likely courses of action for Woods now. It's hardly the scenario his inconsistent golf needs with the Masters fast approaching.
He has always claimed time is on his side in his quest to overhaul Jack Nicklaus's record of eighteen majors. The world number one has often pointed out that the last of Nicklaus's triumphs came at the age of 46.
Woods enjoys wonderful memories from this year's major courses. He's won four times at Augusta, romped to the 2006 Open at Hoylake and won a PGA at Valhalla as well as challenging twice in the US Open at Pinehurst.
If he is to pass the Nicklaus milestone, then he surely needs to win a first major in six years to kickstart the process. But now Woods must wonder whether he will be able to arrive at any of this year's venues with a body fit to contend.
Writing off Woods is not something that should be done lightly. His golfing powers have been supreme.
His current prospects, however, have never looked bleaker.