Falling numbers biggest problem for women's golf - Shona Malcolm
Last updated on .From the section Golf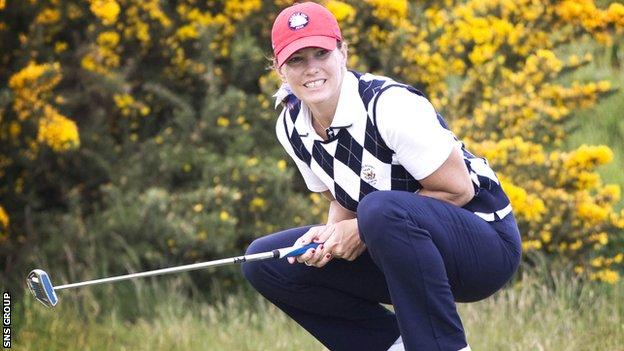 The chief executive of the Ladies Golf Union believes abolishing the Royal and Ancient Golf Club of St Andrews' men-only policy would be a "positive step".
However, Shona Malcolm does not think it will address the declining numbers of women playing the game.
The Royal and Ancient Golf Club is urging its 2,500 members to vote in favour of admitting women.
"It will certainly help the perception of the game of golf if the vote goes through," Malcolm told BBC Scotland.
"It's very much a move in the right direction.
"And it will get the media talking about the sport rather than gender.
"But in terms of participation I'm not sure it's going to have a major impact. The biggest problem we have in ladies golf is falling numbers
"In 2005 we had 215,000 lady members of golf clubs throughout Great Britain and Ireland. That dropped to 167,000 last year.
"So, just allowing women to be members of the Royal and Ancient is not going to change that in any way.
"It won't do any harm, but it [the drop in female players} has nothing to do with single-gender clubs. It's not an issue that's ever been raised with me in a golf club."
Asked by BBC Radio Scotland's Sport Nation if she knew of any women keen on joining the Royal and Ancient, which is almost next door to the LGU headquarters, Malcolm said: "I've not met any."
The Royal and Ancient Golf Club has been the guardian of the rules of the game since 1754, although in 2004 it devolved responsibility for the administration of the game and the Open to the newly-formed R&A.
Malcolm then went on to highlight the issue of women not being completely integrated at all mixed clubs.
"In some of the mixed clubs women are not treated as equally as one might think they would be after the equality act had kicked in," she said.
"There is still a 'the ladies shouldn't be there' attitude and sometimes it can be a bit uncomfortable."