The Masters 2014: 19-year-old Matt Fitzpatrick set for Augusta
By Stephan Shemilt
BBC Sport
Last updated on .From the section Golf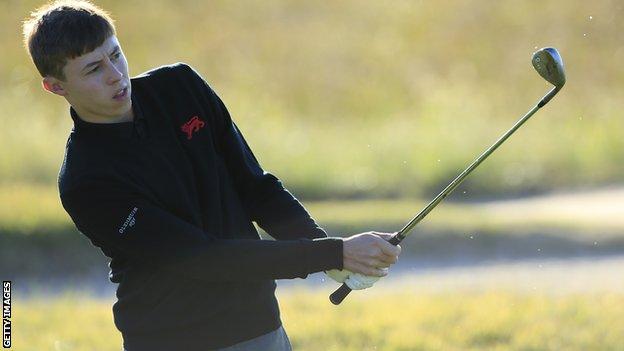 Matt Fitzpatrick's Friday afternoon is nothing out of the ordinary.
"I'm doing a few jobs for my mum, because she's at work. I'll probably go to the driving range later but I can't practise now. I can't get to the course because I haven't got a car."
Typical enough - until he reveals that he'd earlier been for a photoshoot at the Bramall Lane home of his beloved Sheffield United. Oh, and that inability to get to the golf course is briefly halting his preparation for the Masters, where the 19-year-old Englishman will be the youngest in the field.
His appearance at Augusta is thanks to his triumph at the US Amateur Championship last August, becoming the first Englishman to win the title in 102 years. Before that, Fitzpatrick won the Silver Medal at the Open Championship and afterwards he topped the world amateur rankings before earning the most points for Great Britain and Ireland in their defeat at the Walker Cup, the amateur version of the Ryder Cup.
"I never expected it to just happen," he told BBC Sport. "I have goals, but I don't think that if I work hard enough I'll be the professional world number one. I just do the best I can and see where it takes me.
"Everyone says I've worked hard since I was young and I've been very focused in what I want to do. I don't know how to put it - I just tried my best and it seemed to come all right."
These are modest words for a young man with the golfing world on a tee, but they are entirely in keeping with his character. When he says "I really don't want to blow my own trumpet", it is entirely believable.
It is an attitude that should serve him well for his first appearance at the Augusta National.
Twelve months ago, Chinese 14-year-old Guan Tianlang had to deal with the attention of being the youngest player in Masters history, the youngest player to make the cut in a major and, rather less welcome, the first player in 18 years to receive a slow-penalty at the majors.
"There will be scrutiny on me," said Fitzpatrick. "At first the focus will be on how amazing it is to be there, what Augusta is like. Once the tournament begins, it will be on whatever I do on that first day.
"I wouldn't say the attention is something that I want, but it's just something that comes with playing in the Masters."
But Sheffield's Fitzpatrick, who shot an opening 71 before missing the cut in the Arnold Palmer Invitational at Bay Hill in March, is used to seeing column inches devoted to him.
In January, he decided to leave Northwestern University - the Chicago institute that former world number one Luke Donald attended - only one semester into a four-year scholarship.
Fitzpatrick originally planned to see his education through, but explained that golfing opportunities became more important than the demanding academic environment at Northwestern.
Study, or give the golf your best shot? With invites to the Masters, the Open, US Open and other events on the PGA and European tours landing on your doormat, the pull of more time on the fairways was understandably irresistible.
"When I decided to go to university, I hadn't achieved what I achieved last year," added Fitzpatrick. "Having done all that, things changed.
"The school work often took over compared to the golf, so I didn't get as much time to practise as I would like.
"I know I want to take golf as far as I possibly can. I could have made the completely wrong decision, or I could be right. We'll know in five years' time."
By quitting university, Fitzpatrick knows he has left himself open to questions on when he will turn professional.
Indeed, his fellow English amateur and Masters competitor Garrick Porteous will turn pro immediately after the first major of the year.
Fitzpatrick, though, has no immediate plans to join the paid ranks, even if it would mean he is one step closer to affording his own transport to the golf course.
"I'm going to have to deal with the questions and I'm happy to do that," said Fitzpatrick, who was beaten by Porteous on Wednesday in the Georgia Cup, the annual contest between the amateur champions of the UK and US.
"I have to be ready and I have to be competing. By playing some PGA Tour events I'll be able to see where I am. At this moment I don't know when I'll turn pro."
More down-to-earth evidence. By listening to his father, it's easy to hear where Fitzpatrick gets it from.
"You see lots of sportsmen who are going to be the next thing, but, 18 months later, you don't hear of them," said Russell Fitzpatrick. "There's nothing to say that won't happen to Matt.
"People have always asked if he would turn pro. At 15, he probably had a one in 5,000 chance. When he won the British Boys', it probably went to one in 700. Then he won the US Amateur and it dropped again. The longer you remain successful shows that you are doing something right.
"But, he could injure his back, or trip and break his wrist. There are so many variables, so we have to keep a lid on it. As well as hard work and natural ability, there's luck involved."
In addition to keeping his son grounded, Fitzpatrick Snr acts as his son's chief logistical officer.
In the absence of an agent (there are reports that Tiger Woods's manager is interested), it is down to the family to arrange Matt's flights, hotels and hire car, which has been driven by a family friend over the past month or so because he cannot drive in the United States.
When the Fitzpatricks, Matt's girlfriend and supporters from his Hallamshire club arrive at Augusta early next week, the man himself may be squeezed out of the house they have rented and into the Crow's Nest, the traditional lodgings at Augusta for amateurs during the Masters.
Tee times and traffic will ultimately decide where Matt lays his head, though. As Russell points out, when you are 19 and playing in the Masters, where you sleep is not at the forefront of your thoughts.
Excitement is channelled more towards the thrill of being part of golf's most iconic event, the awe inspired by the Augusta National and the star-gazing towards the stellar names in the field.
Amongst them, Fitzpatrick has potential practice rounds lined up with Lee Westwood (with whom he shares a coach, Mike Walker), Ian Poulter and Henrik Stenson.
Swede Stenson, the FedEx Cup winner, must have a few bob spare to help Fitzpatrick's car fund?
"I'll have to ask him nicely."