Masters 2014: Rory McIlroy starts favourite in the most open field

By Iain Carter
BBC golf correspondent
Last updated on .From the section Golf121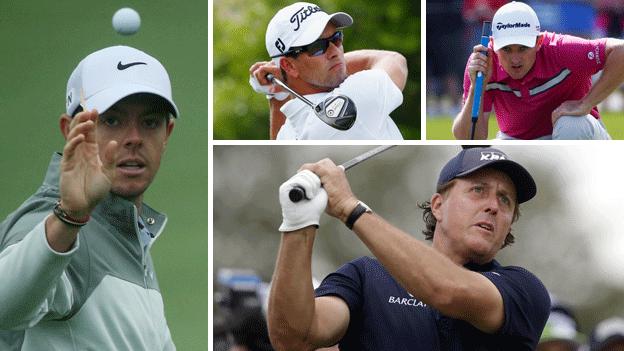 Rory McIlroy can win the Masters and move to within one major of a career grand slam at the age of 24.
There is every chance, but only with a list of caveats to fill a super-sized Green Jacket.
The Masters is for the cream of the golfing world; players who have previously won and those who have earned the right to be there through excellence elsewhere.
It is also the only major championship to be played on the same layout every year.
There is always the prospect of a horse for the immaculate course prospering in the second week of April. McIlroy's game, high right-to-left ball flight and deftness around the greens, fits the bill perfectly.
Some years, the list of potential winners is somewhat limited. But in others, like this one, McIlroy's name tops a list of possible champions as long as it has ever been.
Men's golf is currently devoid of genuine rivalries other than that they all rival each other. Such is the parity between players it is anyone's guess who will prevail in any given week.
This scenario is all the more acute when the field is limited to the 99 golfers who will tee off on Thursday.
Of those there are a handful of aged champions who provide mere ceremonial value, and a group of callow amateurs who can realistically be discounted.
That means there are probably 70 plus players who know they have what it takes to claim the year's first major. It's not an Open but it is very open.
In fact, only Phil Mickelson and Rory McIlroy have won two majors in the last five years, with 18 different men winning in the last 20 majors.
"Guys are getting better," says former world number one Luke Donald. "There isn't that one guy that everyone's chasing as much now. The young players have less fear."
Even if the injured Tiger Woods was competing we would still be talking about the open nature of this Masters. The four-time winner hasn't triumphed at Augusta since 2005.
Woods' biggest rival, Phil Mickelson, is the competitor with the strongest pedigree; three victories and six other top-five finishes on a course that suits his ball flight and sublime short game.
The experience of winning on golf's most inspiring, intimidating and evocative course is invaluable. Defending champion Adam Scott will be emboldened by his victory 12 months ago.
Australia's first Masters winner has learned the art of peaking for the biggest tournaments by remaining true to a limited schedule.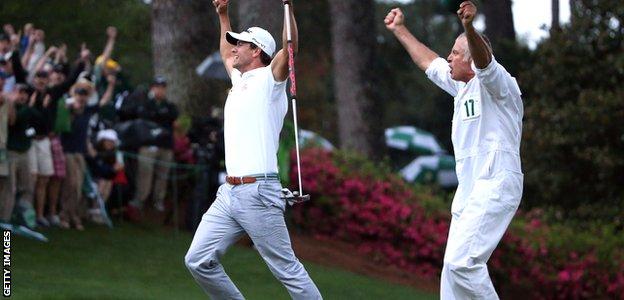 This will be only his sixth event of the year but it remains to be seen whether he is haunted by throwing away a golden winning opportunity last time out at Bay Hill.
Bubba Watson, the winner in 2012, has had recent health issues but has shown encouraging form this year. He won the Northern Trust Open and has a couple of runner-up finishes to bolster confidence.
Watson succeeded Charl Schwartzel, who has also played a limited schedule but might prove someone who emerges from under the radar.
You have to go a long way back to find a European former champion, with Jose Maria Olazabal the last to land a green jacket in 1999. While US Opens, Opens and PGA's have been gathered, the Masters has eluded the continent this century.
Could that be about to change? Both McIlroy and Henrik Stenson look well equipped, especially two-time major champion McIlroy.
With his closing 65 in Houston last week, McIlroy has shaken off competitive rust following three re-energising weeks off.
It is extraordinary that his best Augusta finish is a lowly 15th. There is a sense of unfinished business about the Northern Irishman. "I've played pretty well there for the most part," McIlroy told BBC Sport.
"I think the big thing for me is that I'm halfway there for a career grand slam. There are two bits of that puzzle left and one of them, the Masters, should be set up really well for the way I play my game.
"I mustn't put too much pressure on myself going in and trying so hard that it doesn't enable me to play the way I know I can. So I go in there with great expectations but also to just try and enjoy it."
Stenson has struggled to find the fireworks that brought him the FedEX Cup and Race to Dubai spoils last year. The Swede also has to overcome an indifferent Masters record, with his best outings to date 17th-place finishes in both 2007 and 2008.
Using the horses for courses theory, a better case might be made for Lee Westwood, despite his indifferent form so far this season. There were some encouraging signs that swing changes brought in by new coach Mike Walker are finally starting to bed in.
"I'm making progress," Westwood said. "I'm starting to feel better things in my swing and see better shots. Occasionally I'm hitting poor shots, but everyone does. It just seems I'm being a bit severely punished for my bad ones, but then again I'm biased."
Westwood takes a fine weekend at Houston to Augusta, where he has finished in the top 11 in five of the last six years. "I've played well there the last few years and had a couple of chances to win," he adds.
"I think its a course you learn from playing it competitively over the years and that stands you in good stead when you go back. I'm going to go into it quite relaxed.
"It's a special place. The first time you drive down Magnolia Lane when you go back each year, the hairs stand up on the back of your neck. Any golfer going back there gets that tingly feeling."
Sergio Garcia has different memories of Augusta, making his dislike of the place abundantly clear in the past. But he is performing consistently, is happy and could easily build on last year's share of eighth.
US Open championJustin Rose has had his Augusta moments, but his year has been hampered by a shoulder problem and it is impossible to know how he will fare this time.
French debutant Victor Dubuisson will be worth watching, but Donald's swing changes look like they will need longer to become fully effective.
America can have confidence in the likes of Zach and Dustin Johnson, as well as prolific newcomers Jimmy Walker and Patrick Reed, who have five titles between them this season.
But Matt Kuchar is the stand-out prospect, having finished third and eighth in his last two Masters. His displays over the last two weeks in Texas show he is in prime form as well.
Having said all of that, and even allowing for the wide open field, McIlroy is the justifiable favourite. In his final words before leaving Houston for Augusta, he said: "I feel like I'm one of a handful of guys that's going to be hopefully up there.
"I'm confident, I'm positive, happy and couldn't be in a better mood getting on the plane."
He sounds in the right frame of mind to don golf's most exclusive garment.