Graeme McDowell column: A new name could win this year's Masters
Last updated on .From the section Golf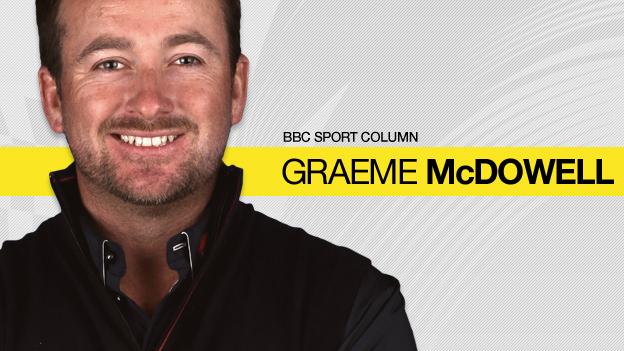 This week there's a real chance we could have a rookie winner of the Masters for the first time since Fuzzy Zoeller in 1979.
But whoever it is will have to quickly get used to a place that has a unique aura and mystique.
One of my first Augusta memories was getting in trouble with the locker room attendant. The changing room in that historic clubhouse is a sacred place.
Effectively you use a member's locker. You are a guest, and I'd left mine in a mess. I'm always in the same one and it is Mr Palmer's locker - Arnold Palmer.
I felt like a naughty schoolboy when the attendant came up to me and said: "Your locker was a bit of a mess there and I tidied it up for you." As in: "Don't do it again."
That was me getting a rap on the wrists. It was almost blasphemous of me to keep it like that.
In that room, it's not the same feel you get at other tournaments. There are the locker room attendants, who have been there year after year, and it's like walking into a bit of a time warp - it feels like nothing's changed there in 50 or 60 years.
You do feel like you are walking on egg shells, scared to break a rule. You feel like the boss could walk round the corner and all of a sudden your invite disappears the following year. Not that it would happen, but it feels that way.
There's an eating area just off to the side and then, through into the clubhouse, there's another dining area.
But it's pretty small, with maybe room for 40 or 50 players to eat from a simple but delicious menu - stuff like Caesar salad and clam chowder.
It's the same every year - with the same staff - and you can almost imagine Bobby Jones sitting there experiencing the exact same vibe that we do.
Every step you take, your eyes wander to the pictures and the memorabilia on the walls. It has a wow factor that stops you in your tracks.
On the course, it is a similar feeling, especially when you turn up for practice rounds the week before and there are no crowds. There's a huge expanse you never see in Masters week between the ninth green and eighth tee that is just immaculate like the fairways are.
It's perfection really and you do feel bad taking a divot out of the fairway and walking on the pristine greens.
It's probably the only golf course in the world that has lived up to my expectations with regard to how good I thought it would be from just watching it on TV as a kid growing up.
The Wednesday night preview on BBC TV used to signal the start of my golfing year. The weather was just changing and you got that buzz and excitement from the coverage.
If I could play one golf course for the rest of my life, it would be Augusta. It never gets old and every time I go there I learn something new about it.
You have to learn to not be afraid going round there. When I think back to my debut in 2005, I played with the handbrake on for the two rounds. I played with Ben Crenshaw and I putted like a rookie, having six or seven three-putts.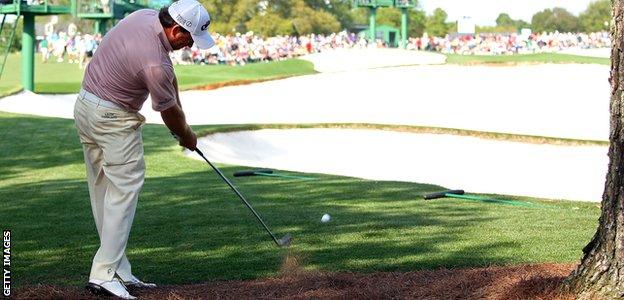 I was gobsmacked watching Crenshaw, rolling like an artist on the greens really. He made me feel really inferior and it was certainly a wake-up call for me regarding putting on greens of that style. He was like Van Gogh on the canvas.
But some of the rookies today have a great chance. I played with Harris English a few weeks ago at Bay Hill. There's a kid making his Augusta debut and if the 24-year-old American was on the leaderboard come the weekend I would not be shocked.
He's long, hits his irons very high, very cool, and has a good short game and putter. You know he's got the tools to win around Augusta. These young players are just so well equipped nowadays.
They are better athletes and they're fearless. They're growing up in an era where they've watched Tiger Woods do things with a golf ball that seemed impossible.
The belief level globally now for a young professional is so much better than it used to be. The Zoeller-type first-time, rookie champion could happen in any of the majors now - this one included.
It could be an amazing week for the game, with one of the new breed making a name for himself and coming out of the shadow of Tiger. He has taken the game to new heights but with him absent there's a real chance for someone else to take the headlines.
For me, my putting this year gives me great confidence. Leading the PGA Tour's Strokes Gained category is a great stat to show how I'm doing relative to everybody else.
Augusta tests every facet of your game and putting on fast greens is key. I putted well on quick surfaces at Doral and at Bay Hill recently and I feel like I'm stroking it really, really well.
I'll spend the practice days finding myself some fast six and eight-footers and really concentrate on getting that speed, dropping the ball in the front edge. It's all about feel and touch.
I can't wait for it to start. I love hitting down the hill on the 10th but my favourite shot is the second into 11, which is often a five iron but can be anything up to a five wood for me.
You see Amen Corner for the first time after a blind tee shot. You come to the brow of the hill and there's the famous 11th green with water to the left. You can also see the short 12th waiting quietly for you and the 13th tee.
To me that's what Augusta is all about. That and keeping my locker tidy.
Graeme's tip: Here's a putting drill that I'll be using to help me this week at Augusta. If you do a putting drill from five feet you can hole those putts at three different speeds. One is thumping the back of the hole, two is dropping in the middle of the hole and speed three is letting it fall in at the front edge. Practise holing out at all three speeds and you will become very aware of how to make a putt at the right speed to suit the greens you are putting on.
Graeme McDowell was speaking to BBC golf correspondent Iain Carter