Masters 2014: Who do the pundits think will win in Augusta?
Last updated on .From the section Golf180
It is decision time at Augusta - who will win the 2014 Masters and follow in the footsteps of defending champion Adam Scott?
BBC Sport has asked the experts what they expect to occur over the next four days as a wide-open Masters takes place at Augusta National.
Paul Azinger, former US Ryder Cup captain and BBC golf analyst
Winner: Sergio Garcia. He has the best short game and is excellent from tee to green. His putting record on the European Tour last year was good and he showed last week he is in really good form [by coming third in the Shell Houston Open].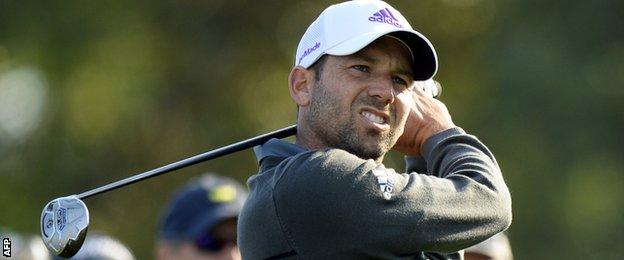 Big week: Henrik Stenson. He comes into the tournament really under the radar, which is really surprising considering he had such a good year last year. He has had a slow start to the year and in my opinion has the best golf swing in the world.
Peter Alliss, BBC golf commentator
Winner: It's like having a bet on the Grand National trying to predict the winner - there is no clear favourite. It is the most open event it has been for a long time. If I had to pick one player it would be Angel Cabrera.
Big week: Rory McIlroy. He will be in contention this week, especially with the experience that he now has. Is it also perhaps time Martin Kaymer came good in a major again?
Ken Brown, BBC golf commentator
Winner: Sergio Garcia. He has served his time and played in a lot of majors and in the past three seasons he has putted really well - this could be his year. He seems very content and settled at the moment.
Big week: Dustin Johnson. He has come very close in majors already. He is a massive, long hitter and the course is playing reasonably long this week. He has the perfect game for Augusta and could do extremely well this week.
Iain Carter, BBC golf correspondent
Winner: Rory McIlroy. We all know he is capable of winning majors, and now he is ready to make the most of the talents that are tailor made for Augusta.
Big week: Hideki Matsuyama. One of the most talented youngsters out there and has won the amateur prize here. I was really impressed with him saying he is not here just to play at the Masters, he is here to compete at the Masters. Of a generation of highly promising players, he is one that should not be forgotten.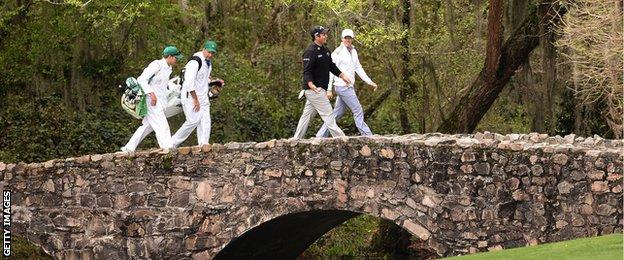 Andrew Cotter, BBC golf commentator
Winner: Rory McIlroy. Not a bold choice but he is justifiably the favourite. It's a course which is made for his game, and all aspects of that game are coming together nicely. Most importantly, he seems happy with his equipment and things off the course. If the putts drop, he gets his third major.
Big week: Graham Delaet. Not to win, but perhaps to feature. Even though it's his first Masters there are plenty who have fared well on their debut without winning (think Luke Donald's third in 2005), and he's had a very impressive season. He hits the ball a mile, which always stands you in good stead here. A streaky putter might be his weakness, but he does have an impressive beard.
Jay Townsend, BBC Radio 5 live golf analyst
Winner: Sergio Garcia. He's been playing really well, putting the best of his life lately. On top of that, he's never won a significant event when Tiger Woods has been in the field. I think there is a great chance Sergio will take advantage of Tiger's absence through injury in the way that Padraig Harrington did to win three majors.
Big week: Matt Kuchar. He kind of threw a tournament away last week and he kind of threw one away two weeks ago, too, but he's playing well and will go close. The guy that would have been my pick is Jason Day. He's done well at Augusta in the past and is a major championship contender but he has had a thumb injury. He hasn't played since winning the Match Play so he is a question mark.
Hazel Irvine, BBC Masters presenter
Winner: Jason Day. I have thought for some weeks he is going to be in contention, although his thumb injury is unfortunate. He loves Augusta and was tied third last year and had a chance to win, but I think he will have learned from that and will be better for it.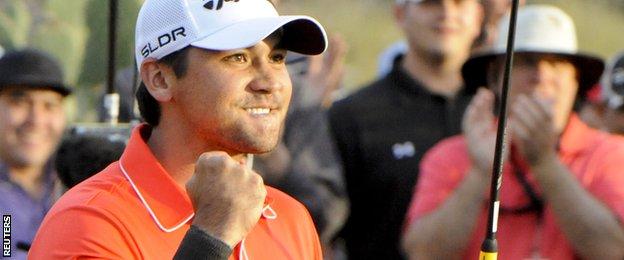 Big week: Brandt Snedeker. He has been in the last group here twice in six years and had it not been for the rain, which really affected him, he could have done well. I think he is destined to win the Masters one day. Zach Johnson and Hideki Matsuyama are also ones to watch.
Kevin Garside, Independent
Winner: Sergio Garcia. He led at Houston impressively, and though he fell away towards the end that's been characteristic of the season. Rory did it at the Honda, Adam Scott at Bay Hill. But he's clearly in form and if he can get that putter hot Sergio can get that first major. It's perfect for him.
Big week: Keegan Bradley. He hits it a mile and you're not punished if you go left and right. I like his mentality, and he showed that when he held off Jason Dufner to win the US PGA a couple of years ago. He needs to get the putter to work as it's all about the putting here, but he's my dark horse.
Paul Hayward, Daily Telegraph
Winner: Jason Day. He's always struck me as a guaranteed major winner. He won last time out, he's got an excellent Masters record and last year finishing third to Scott it looked a matter of when, rather than if, he would win a major prize, and I think he can win this week. He's in good form and there is a good vibe around him. He's a good price at 18-1 and he would be my pick.
Big week: Patrick Reed. He has shaken up the old order with his comment about being a top-five player. He's had scrapes at college, he's an interesting character - spiky, confident, cocky - the type of golfer the sport needs to attract non-aficionados. I want to see whether he can put his money where his mouth is this week.
Robert Lusetich, Fox Sports
Winner: Luke Donald. Completely overhauled his swing last year when he realised it was too flippy and dependent on timing. He has always had a fantastic short game but while he was doing that it lost its edge. Now it is coming back. He also has patience, and I don't think you have to be as long as everyone says you do here. A couple of years away from the spotlight of being number one has given him some hunger to get back.
Big week: Victor Dubuisson. The Frenchman is in hot form and is the sort of character that could come into a place like this and not worry about the conventional wisdom that says you have to have experience, and just go out and play golf - and his golf is really good. He's also got an unbelievable short game which will serve him well here.
Rob Hodgetts, BBC Sport golf writer
Winner: Phil Mickelson. In love with the place, and desperate to join Arnold Palmer and Tiger Woods on four Green Jackets. Forever on about how he doesn't have to be at his best to do well here because he can recover from mistakes. Top-notch caddie, stunning short game, and a bag of tricks second to none. He gets energised more than any other when the roars explode on Sunday. A quick swash, a little buckle and it's Lefty's for the taking.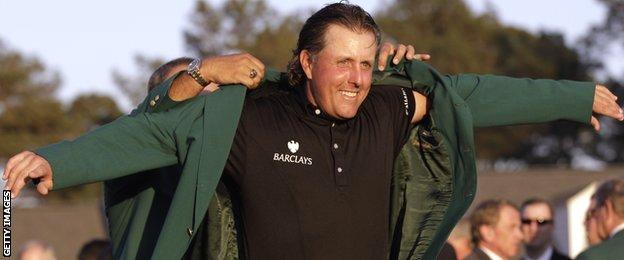 Big week: Brandt Snedeker. Has a decent pedigree at Augusta which counts for a lot. Played in the last group with eventual winner Trevor Immelman in 2008 and tied for sixth last year. A red-hot putter when on form, though he admits he has struggled of late. But an encouraging final round with the flatstick at Bay Hill suggests his magic wand is working again.
Neil McLeman, Daily Mirror
Winner: Zach Johnson. He has won here before and is a great putter. He's one of the few top players to have won this season so he's on form.
Big week: Harris English. He's making his debut here this week but he is in great form with a low scoring average and is a Georgia native so seems to me a good each-way bet.
John Hopkins, Masters Annual
Winner: Jason Day. Despite being tournament rusty he knows this course so well and has played so well in the last four years I think it is made for him.
Big week: Henrik Stenson. Something makes me think he has been too quiet now for too long. The Swede's had a quiet start to the year which is probably a reaction to all the stress and excitement he had in the last six months of last year but I think he's ready. A firm, fast golf course which we will have this week is right up his street.