Pablo Larrazabal attacked by hornets at Malaysian Open
Last updated on .From the section Golf
Spaniard Pablo Larrazabal was forced to jump into a lake to avoid a swarm of hornets at the Malaysian Open, which Lee Westwood continues to dominate.
"I felt something on my nose, not bees, they were three times the size of bees," said Larrazabal, who was on the fifth hole, his 14th, at the time.
"They were huge and 30 or 40 of them. I ran to the lake, threw my scorecard down, took off my shoes and jumped in.
Larrazabal, who was stung around 20 times, still managed to card a 68.
But he had to throw his shirt and hat away, as well as the towel he had been attempting to swat the bees with.
Westwood added a 66 to lead by four shots at 13 under. Seventh at last week's Masters, he collected five birdies in his opening nine holes to complete the outward half in 31 for the second day in succession.
His only blemish of the round was a double bogey on the par-three 11th, where his tee shot found water short of the green, but he remains on course to secure his 41st career title and his first in nearly two years.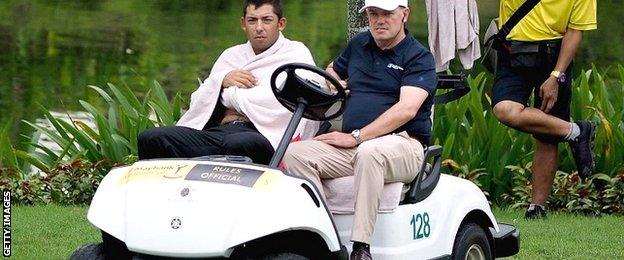 However, much of the attention in round two centred on Larrazabal, who went on to birdie the fifth and improved to two under for the tournament following an opening round of 74.
"It was the scariest moment of my career, for sure," he said. "I've never been so scared. The referees and a doctor took me aside and gave me a couple of injections and told me to relax.
"After the injections, I felt a lot better and could continue. Without the help of the referees, I couldn't have finished the round because I was in no state to play golf.
"Tomorrow it will be very, very scary to play that hole. I'm not sure what I'm going to do, but hopefully I will play it as quickly as I can."