Charley Hull is the one to help drive golf forward - Laura Davies

By Iain Carter
BBC golf correspondent
Last updated on .From the section Golf75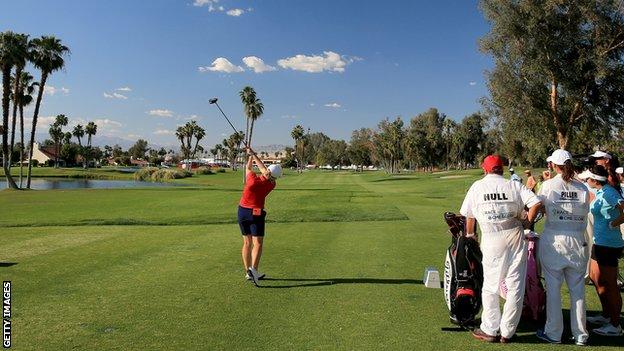 Falling participation and viewing figures, uncertainty over the future of Tiger Woods and continued concern over golf's image and appeal are concentrating minds.
In the absence of the injured world number one, the numbers of those who tuned into the recent Masters tumbled in the United States and UK.
Membership waiting lists are a thing of the past at most British clubs and there remains a perception of elitism that deters new players.
Now concerted efforts are being made to arrest an apparent decline. This week in Abu Dhabi leading figures are holding a conference on the future of the game at the HSBC Golf Business Forum.
R&A Chief Executive Peter Dawson heads a cast list of hundreds of delegates from the worlds of golf marketing, sponsorship and television. It is a talking shop that has the potential to shape the game's future.
More immediately in Britain, May has been declared National Golf Month. The aim is to get 100,000 lapsed or new golfers playing the sport.
It's the idea of former pro and golf businessman Doug Poole and involves the unions that run the amateur game working with clubs, driving ranges, manufacturers and PGA professionals to promote golf.
Organisers have jumped on a quote from Masters winner Bubba Watson to illustrate the ethos behind the project. "I don't play golf because I want people to tell me how great I am at it," Watson said after his second Augusta triumph.
"I don't play golf to make a living. I play it because I just love the game, and I want to help it grow. It has given me my values and everything I have ever owned in my life."
The campaign also has the backing of England's six-times major winner Sir Nick Faldo. They could also have looked at the philosophy of one of Britain's greatest women's players, Laura Davies.
If ever there was someone to illustrate how much fun golf can be it is the Coventry-born 50-year-old. Sharing a round with the former British and US Open champion is made an absolute pleasure by her no nonsense approach.
Last week Davies was at Royal Birkdale to promote this July's Ricoh Women's British Open.
Only a torrential downpour two holes from home dampened our day and we would have avoided the rain if the rest of the field played as efficiently as she does.
Davies sees her ball, hits it, finds it and hits it again until it disappears into the hole. It might not work quite as well as it once did but this philosophy has yielded more than 80 wins worldwide.
Her contempt for coaches who overcomplicate the sport is only exceeded by what she feels for those who play at a snail's pace. As we waited for one drive she chucked down a ball inches from a tee marker.
"I kid you not, there are some players out there on tour who would mark that before tapping it in," she said. "It drives me crazy."
But Davies doesn't despair for the game. Indeed she feels it has a bright future and believes teenager Charley Hull has what it takes to assume her role at the top of the women's game.
"The Americans have taken immediately to Charley and that's great for her that she's over there plying her trade already," she said.
Davies, who sees similarities to herself in 18-year-old Hull's fearless approach, added: "When I first played with her in Morocco last year and she finished second in her very first pro event she hit a couple of shots and I thought 'that looks quite familiar'.
"You don't get many of the girls to take on these high risk trouble shots because some of them aren't strong enough. Charley's very strong, I'm obviously very strong, and I just thought this girl's probably going to be very good.
"I never imagined that within a year she would have won her first pro tournament, she'd have had five seconds off the bat and starred in the Solheim Cup. I love watching the way she plays and it's just fun for the galleries as well," Davies said.
The veteran, who still harbours hopes of playing for Europe in next year's Solheim Cup in Germany, believes Hull can become a focal point for women's golf.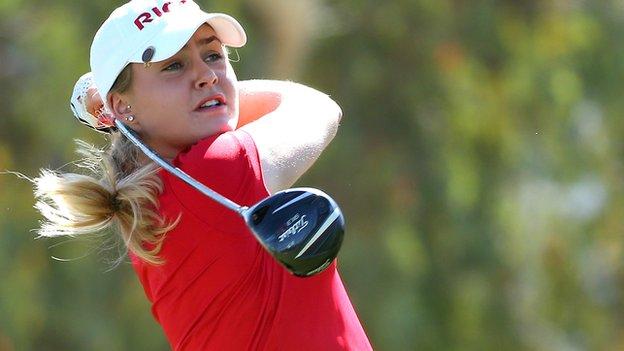 "The British game needs someone and now I think Charley is the one," Davies continued. "She's a daft youngster and she just mucks about but that's the way she plays her golf.
"People don't want to see someone under a visor and not smiling and not enjoying what they're doing. She certainly fits the bill with personality and game.
"She does it her way. I hope someone doesn't come in an try and change her swing. You always hear about people changing their swings even at the highest level.
"Tiger Woods changed, (Lee) Westwood's always doing it and for me she doesn't need to get involved in any of that."
Davies believes the golf industry leaders forming the current initiatives have plenty more assets to exploit. "Look at Jordan Spieth (the 20-year-old runner up at the Masters)," she said.
"I think the fact that we have got so many great top youngsters has to be good and it's going to keep young people interested in playing at the highest level.
"Hopefully those who aren't that good will still become club members again, get a good handicap and love the game."
This is precisely the mission statement that should be driving the ongoing discussions and projects aimed at reinvigorating golf at all levels.