Graeme McDowell: The Players Championship is golfing theatre
Last updated on .From the section Golf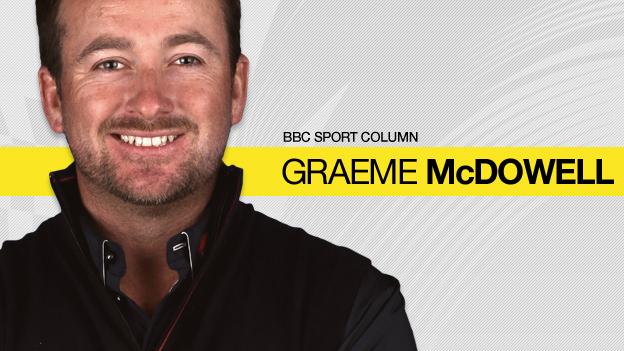 Debate always rages over whether the Players Championship should join the Open, Masters, US Open and US PGA and be regarded as one of golf's majors.
For me, the majors are what they are and the rest are second best, but the Players is right up there. It has history and tradition and is played on a great golf course with a very strong field.
It is the flagship event of the PGA Tour, like the PGA Championship at Wentworth is for the European Tour. As far as regular tour events are concerned, those are the two I'd most love to have on my resume.
We don't play many layouts like this one at Sawgrass. It is a stadium course where we are playing right in front of huge grandstands. Let's be honest, it is golfing theatre. I love it.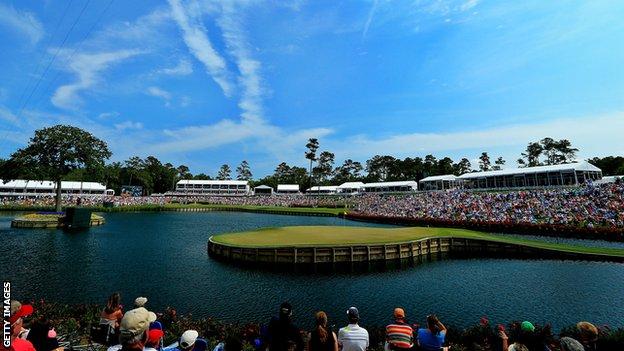 The Players is famous for the island green at the par-three 17th. When you arrive on the tee you sense the fans are baying for blood. They're waiting for the drama that normally unfolds and that's a negative connotation for us players.
If the green was only surrounded by rough and bunkers you would hit it every time with a simple nine iron or wedge. But surrounded by water it is a different story.
I remember my first Players in 2005, arriving on that tee and waiting for the group ahead of me to play. I watched first hand as Bob Tway proceeded to make an 11. That put it in very stark focus what was waiting for me.
Actually, I played it OK that week and the last three or four years it has been pretty easy with the wind behind. You just pick your spot - mine is about 12 yards left of that bunker on the front right side.
However, there is only one friendly pin position, the others are pretty tough and that is why you get carnage.
That little 17th really exposes you, it can make you feel small. I like it a lot and the fact that it's the penultimate hole makes it such a great finish at Sawgrass.
You can stand on the par-five 16th tee on Sunday afternoon one ahead and conceivably walk off winning by five or losing by four.
When you are confident, loose and aggressive you feel like you can pick up shots, but if you are tense and steering it a little bit those closing holes can really punish you.
From a superior position of confidence and momentum to a little chink in the armour to then feeling out of control, it can happen almost in a blink of an eye.
It happened to me in 2011. Because of bad weather we were completing our third round on the Sunday morning and I had a three-shot lead heading up the 18th.
I hit a good drive just a yard into the rough down the right side and then what I thought was a perfect second shot. But, it pitched on the right front edge of the green, took the wall of death across the slope and plunged into the water down the left side. I still can't believe it happened. I made six and unfortunately blew up in the afternoon.
Sawgrass really asks all the questions and we would all love to be standing on the tee box late in the round holding the lead to see if we have got the answers.
Graeme McDowell was talking to BBC golf correspondent Iain Carter