George O'Grady issues apology following Madeira Open
Last updated on .From the section Golf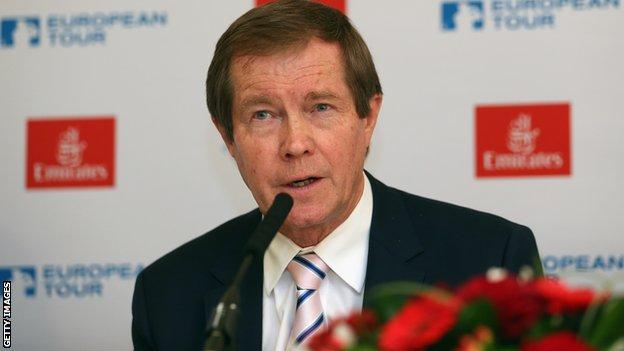 European Tour chief executive George O'Grady has apologised for the decision to continue play at last week's Madeira Open following the death of caddie Iain McGregor.
Zimbabwean McGregor, 52, died of a heart attack in the final round while caddying for Scot Alastair Forsyth.
Forsyth defended the resumption, which was an unpopular move by the Tour.
A 'Black for Mac' tribute will take place at the PGA Championship at Wentworth next Thursday.
"We had a full and frank meeting with (Caddies Association) chairman Gerry Byrne and his committee, a meeting which was understandably emotional at times and one during which I apologised to them for the hurt and upset caused by events in Madeira," read the statement by O'Grady.
The European Tour head travelled to Girona this week for the Spanish Open and said McGregor's funeral would be held in Madeira on Thursday.
"The decision to finish the tournament was not taken lightly, either by myself or by the tournament officials on the ground," said O'Grady.
"However, that decision is in the past and the important thing now is we continue to work with Mac's family and friends, as we have done from Sunday, to assist with arrangements surrounding the funeral."
Byrne commended O'Grady's handling of the situation this week after his initial anger over the controversy.
"We went into the meeting unhappy, and it was emotional at times, but George's humility and honesty in dealing with tough questions was greatly appreciated and it reassured us of the caddies' important position within the Tour," he said.