Adam Scott knocks Tiger Woods off the top of golf's world rankings
Last updated on .From the section Golf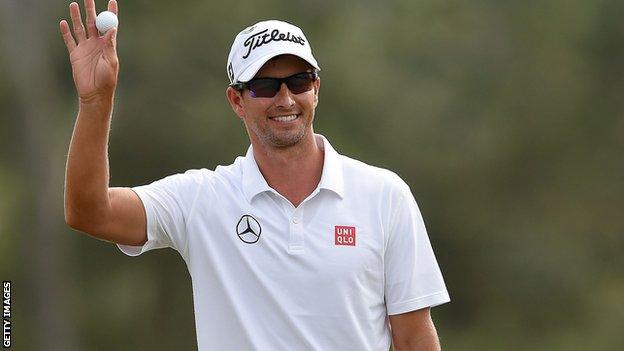 Adam Scott has become golf's new world number one, ending a 14-month spell at the top for Tiger Woods.
The 33-year-old was ranked number two for 38 weeks, but moved up despite not playing over the weekend as Woods remains sidelined with a back injury.
In doing so, the 2013 Masters champion becomes the second Australian - after Greg Norman - to hold top spot.
Scott - yet to win a Tour event this season - will compete at this week's PGA Tour event in Fort Worth, Texas.
He finished in the top five in three of golf's four majors in 2013 - events which offer increased points as part of the official golf world ranking scoring system.
In addition to claiming the Green Jacket at Augusta, wins in 2013 at The Barclays and two victories on the PGA Tour of Australasia meant Scott was well placed to claim the number-one spot for the first time in Woods's absence.
A 14th-place finish at this year's Masters and third at the Arnold Palmer Invitational in March, have helped Scott move above Woods, who has been losing points each week as he is unable to compete.
Woods still has "no timetable" as to when he will return to the sport having undergone surgery in March, with a comeback at next month's US Open unlikely.
"As of right now I can chip and putt," said Woods, 38. "We're just going to take it slowly. I don't know how many more weeks I'm going to be at this pace, but at least I have something. As far as full swings and that timetable of where I'm playing, I don't know. It's not up to me, it's up to my doctors.
"Once I am able to get back and start ramping it up, I don't think it will take more than a couple of weeks for me to be able to compete."
Sweden's Henrik Stenson is behind Woods in third in the rankings, with American's Matt Kuchar and Bubba Watson completing the world top five.
Scott - who slipped as low as 76th in the rankings when he missed the cut 10 times in 24 tournaments in 2009 - will play in three tournaments in four weeks as he looks to consolidate his position.
"This is another outstanding achievement for Adam Scott," said Brian Thorburn, chief executive of the PGA of Australia.
"The Australian golfing community is very proud of Adam and we look forward to watching his progress throughout the year."
England's Justin Rose is ranked eighth, two places ahead of Northern Ireland's Rory McIlroy.