PGA Championship: Rory McIlroy needs Jimenez-like inspiration

By Iain Carter
BBC golf correspondent
Last updated on .From the section Golf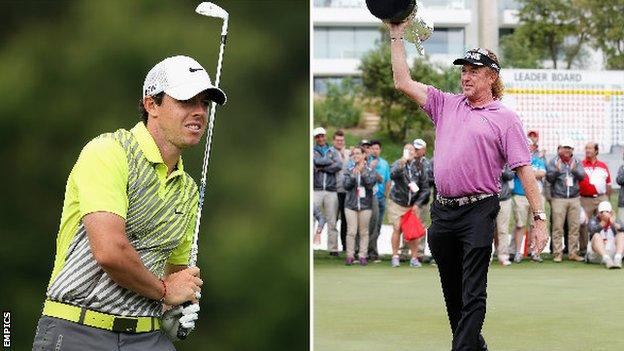 Heading towards the European Tour's flagship event there is wonderment at the astonishing longevity of the remarkable Miguel Angel Jimenez. There's also the question of whether Rory McIlroy's season is about to lift off.
Jimenez will tee off at the PGA Championship fresh from becoming the Tour's first 50-year-old winner thanks to his play-off victory at the Spanish Open. His extraordinary form provides one of many reasons why this should be an enthralling running of the Wentworth event.
The veteran of 21 Tour victories is a fabulous ambassador for the game even though no self-respecting man of his age should be able to carry off the pony-tail look.
Yet he more than gets away with it. It is made possible by the charisma, charm and confidence he possesses by the bucket load.
More seriously, like the vintages in his cellar, Jimenez is continuing to improve. As a golfer he just gets better and better.
This was his 14th win in the decade since he turned 40. "There's no secret," he says. "Just good food, good wine, good cigars and some exercise, of course."
In recent weeks this recipe has brought him a top-five finish at the Masters, victory on his Seniors' debut the following week and now his own national title at the 27th attempt. In the middle of this golden run he also married for the second time.
"I never get too old, you know," smiles the man who wed Susanna on the seventh green of his academy course in Malaga. The hole is a copy of the famous 12th at Augusta.
"A lot of good things are happening to me," Jimenez added. Another of those might prove to be a return to the European Ryder Cup team later this year.
He wants to be part of a successful defence of the trophy at Gleneagles. As the only man to have won twice in the current Race to Dubai he is now handily placed just outside the automatic qualifying berths.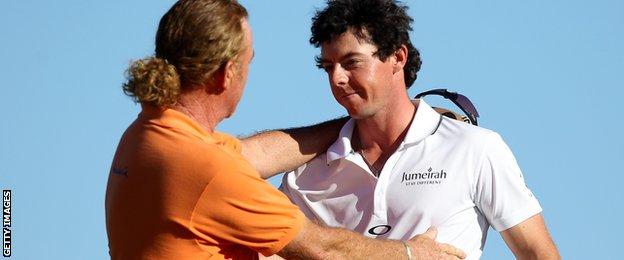 Jimenez hopes his free-wheeling relaxed approach and unorthodox baseball style swing can help make him Europe's oldest Ryder Cup player.
Where better to take a giant step than Wentworth where an excellent field has been assembled this week. He has plenty of happy memories to feed off because Jimenez was champion in 2008 and tied for fourth last year.
McIlroy has fewer fond recollections of the place. There was a chance he might have skipped this week to help his preparations for next month's US Open.
After all, the two times major champion has missed the cut in his last two PGA Championships and describes his relationship with Wentworth as "strained".
McIlroy's main weakness remains an inability to grind out scores on courses that don't suit him. He is instinctively aggressive and there are occasions where he plays himself into trouble when a more conservative approach would leave his card intact.
We saw it at the Players Championship two weeks ago. He could not fathom the front nine but was still able to burn up the inward half. If he had managed mere par figures going out he would have won the event by a mile.
Instead he finished tied sixth behind Martin Kaymer and never contended for the title. "I just need to eradicate the misses, the bad shots," McIlroy told BBC Sport.
"It's more mental, making bad decisions, going for pins where you don't need to. Missing fairways on the wrong side, just things like that," he admitted.
"I don't think it's anything technical because if it was I don't think I'd be able to make birdies as easily as I'm making them."
This ability to continue to collect birdies is the main source of confidence for the former US Open and US PGA champion. And he believes the first win of a frustrating season is not far away.
"I feel ready; I feel like there's enough good things happening in my game. There's a lot of birdies in there, I'm hitting a lot of shots in close, I'm holing a few putts. Everything is in good shape."
Well founded confidence is vital at this point of the year because the biggest tournaments follow on from each other at a rapid rate of knots. The meat of the season can whizz by almost in the blink of an eye.
"It goes really quickly, especially for the European players going back to play Wentworth. You've then got the US Open, then it's not far to go until the Open Championship," he said.
"The summer of golf for us is very busy and there's a lot going on. But I feel like my game's in good shape.
"There are still three majors left this season, three chances to notch up another one of those. At this point I'm a little disappointed that I haven't won yet because I feel like I've played well enough to win.
"But if I keep putting myself in positions I've no doubt it'll come sooner rather than later."
A decent showing on a West Course where he traditionally struggles would go a long way to adding substance to those sentiments.
And there's a certain Spaniard twice his age who provides a perfect example. Back in the mid-nineties he missed the cut in two of his first four Wentworth appearances but nowadays Jimenez never appears guilty of trying to force the issue.
He just rolls along playing great and sensible golf, and how the good times have come to him.