Ballyliffin considers bid for 2019 Irish Open
Last updated on .From the section Golf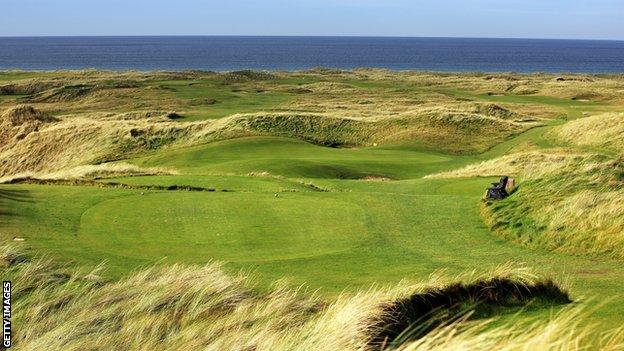 Ballyliffin Golf Club is exploring the notion of bidding to host the Irish Open in 2019, BBC Sport Northern Ireland has learned.
Ballyliffin officials believe the two events happening in the same year would be the perfect fit for Irish golf.
The club has already hosted Challenge Tour and European Senior Tour events.
Most recently, Ballyliffin's Old Course staged the 2008 Irish Seniors Open but the club's Glashedy links would be the venue if the main European Tour event comes to Donegal's Inishowen peninsula in 2019.
Ballyliffin has maintained close links with the European Tour in recent years and the club made no secret of the fact that it viewed events such as the Seniors Open as a dry-run for the main Irish Open.
However, the Donegal club would face major challenges - not least financial - in order to fulfil their stated ambition of staging an Irish Open.
Currently, a sum in the region of £2.5m is needed to run an event of the stature of the Irish Open although in recent years, the absence of a main sponsor has led to the European Tour effectively bankrolling the event.
That is apart from the 2012 tournament at Royal Portrush when the Northern Ireland Executive provided in the region of £1.5m of support for the event.
Ballyliffin hope the prospect of the Irish Open being played at a links venue, might lead to a closer slot in the calendar to the Open Championship.
This year, there is a four-week gap between the two events with the Irish Open being staged at Fota Island from 19-22 June and the Open taking place at Royal Liverpool from 17-20 July.
In recent years, stars of world golf such as Phil Mickelson have used the Scottish Open's return to links course as an opportunity to get in some practice at seaside venues in advance of the Open Championship.
Ballyliffin officials are understood to believe that the staging of the Irish Open at a links venue could help to strengthen the field.
The Irish Open returned to Northern Ireland after a 59-year absence in a hugely-successful staging of the event at Royal Portrush in 2012, when a European Tour record of 131,000 spectators watched the tournament.
And with Royal County Down hosting the 2015 event and the Lough Erne Resort the venue in 2017, Ballyliffin hope that European Tour officials may once again look favourably on staging the 2019 tournament in the Northern part of the Emerald Isle.
Earlier this month, in response to reports that Royal Portrush was set to be confirmed as the 2019 Open venue, the Royal & Ancient said it remained "some distance" from being able to stage the major at the Northern Ireland venue.
However, the Royal & Ancient's statement has not dampened down the speculation that the Open is set to return to the Northern Ireland venue for the first time since 1951.