Rory McIlroy admits playing at Wentworth will be difficult after split
Last updated on .From the section Golf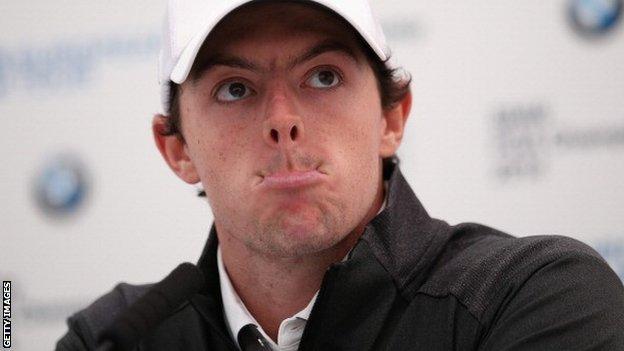 Rory McIlroy is expecting a tough time at this week's PGA Championship after ending his engagement with tennis player Caroline Wozniacki.
The European Tour's flagship event at Wentworth starts on Thursday.
"I'm not going to lie, it's going to be very difficult," he said. "I just want to dive straight into it and keep myself somewhat busy."
The two-time major winner and Wozniacki announced their engagement on New Year's Eve, but in a statement on Wednesday the Northern Irishman said he was not ready for "all that marriage entails".
McIlroy said he had not considered withdrawing from an event in which he has missed the cut in each of the last two years.
"I just want to get my head into golf this week and concentrate on the tournament and try and do well," McIlroy added.
"I've been playing well. At least when I get inside the ropes, I can just try and concentrate on the shot at hand.
"My schedule right now is here, Memorial and US Open, Irish Open, Scottish Open, British Open. I don't think that's going to change."
He will tee off at 13:00 BST on Thursday with former winner Ernie Els and Welshman Jamie Donaldson, 10 minutes after US Open champion Justin Rose starts his opening round.
Englishman Ian Poulter is a doubt for the event with back trouble.
The world number 20, who has missed the cut eight times at the European Tour's flagship event, injured himself in the gym.
"I'm struggling a bit," he said. "The good news is it is only muscle spasm. It's about trusting to hit a shot without getting the feeling of someone jabbing me in the back with a knife."
Poulter said he was doing everything to be fit in time for Thursday's first round, in which he is scheduled to play alongside Francesco Molinari and Jonas Blixt at 12:40 BST.
"I'm taking all the tablets I can possibly take, so I might fall asleep at any second now," he added. "My expectations won't be very high, I have to say, but I'd like to play."
Graeme McDowell is thus far the only member of Europe's triumphant 2012 Ryder Cup-winning team not playing this week.
World number eight Rose said the championship had a special place in his heart and described it as a tournament he would love to win.
"It's a bucket-list tournament for me," said the 33-year-old. "It's one I grew up watching as a kid, so it's special.
"Apart from the majors, a World Golf Championships possibly, I don't see a tournament I would more like to win."
Rose has never won the PGA Championship, but lost a play-off to Anders Hansen in 2007 and also finished joint-second in 2012.
The Englishman tees off in a group with defending champion Matteo Manassero and Ryder Cup team-mate Lee Westwood.
World number three Henrik Stenson could top the global rankings if he finishes higher at Wentworth than current leader Adam Scott does at the Crowne Plaza Invitational in Texas.
But Stenson has managed just one top-10 result in 10 appearances at Wentworth to 2010, the last time he played the course.
"I just don't feel I play well on this course," he said. "It's hard for me."