Rory McIlroy, Adam Scott & Colin Montgomerie step forward

By Iain Carter
BBC golf correspondent
Last updated on .From the section Golf115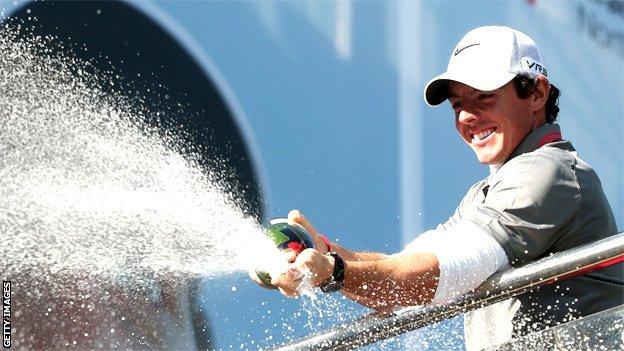 Rory McIlroy, Adam Scott and even Colin Montgomerie have enticingly teed up the rest of the golf season.
Their exploits on Sunday created a fantastic day for the sport with each claiming important tournament wins.
Up to this point the 2014 calendar was producing individual stories without a compelling narrative. But this decorated trio have taken the season to a new level.
Already there have been fascinating aspects; the recent return to form of Martin Kaymer and the evergreen exploits of Miguel Angel Jimenez being prime examples.
We've also had frequent tales of unknown winners and hard luck stories for the game's supposed superstars. But too much parity and not enough clarity devalues golf's currency.
Furthermore, the absence of Tiger Woods through injury has created a vacuum. The game is waiting for a big name to fill it.
Of course, there is always a story with McIlroy but his unlikely victory at the BMW PGA Championship was as compelling as anything he has achieved in his young career.
He has stated his ambition to be the player who picks up the baton from Woods and this triumph could prove the catalyst.
Remarkably it was the 25 year old's first professional win on European soil. Few thought it possible in the wake of his emotional and painful split from fiancée Caroline Wozniacki.
By the way, those who believe his return to winning ways and the break up are in some way related should remember McIlroy's huge success in 2012 when they first became an item.
The Northern Irishman's career wasn't held back by Wozniacki. In fact she helped turn him into an impressive athlete in his own right.
His biggest problems have been failures in concentration. Initially playing with new equipment from the start of last year didn't help, nor did his rancorous split with his management company.
This season, ruinous rounds became routine because of mental lapses. McIlroy was good enough to rack up top tens but opportunities to contend were too frequently thrown away with over-aggressive tactics.
The private-life pain of last week left him with no alternative other than to absorb himself in his golf.
At Wentworth he has always struggled and he knew he had to think his way round.
Heavy rain also helped his cause. McIlroy is a different animal on softened courses. They allow him to play target golf and when he is on song there is no one better.
Then there was Thomas Bjorn's collapse from a position where he led by six strokes early in the final round.
The stars certainly aligned in the champion's favour - but how often is that the case for great champions?
"I've never made a winner's speech and said I was unlucky," is one of Montgomerie's favourite sayings.
McIlroy's victory is a potential launch pad for someone who already has two majors (the 2011 US Open and 2012 US PGA) to his name.
"Knowing that I'm playing well going into the second major of the year, I couldn't be happier with that," McIlroy told BBC Sport.
How the remodeled Pinehurst No 2 shapes up for his game remains to be seen, but at least golf has a young, rejuvenated winner to create a real buzz at the upcoming US Open.
It will also have an undisputed top dog contending. Scott responded like a true world number one to surge through the field and win the Colonial in a play-off against Jason Dufner.
Like McIlroy, the Australian shot a closing 66 to secure his first title of the year.
It was the perfect response because there was every chance of Scott's reign at the top of the rankings lasting only a single week.
Henrik Stenson's tie for seventh place at Wentworth might have been enough to take him to number one - and, with no offence to the Swede intended, thank goodness it wasn't.
Fans don't want that honour being earned through finishing seventh. Scott's victory adds a much needed sense of validation and champion spirit.
And that's something Monty always strived for throughout a glorious career on the European Tour.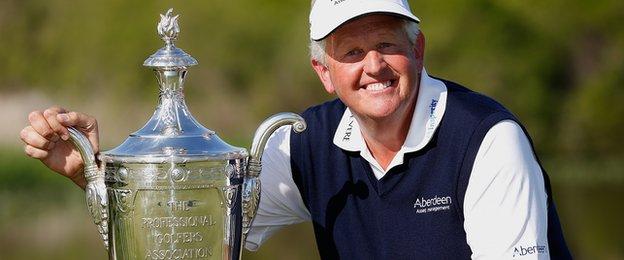 He was a colossus in the Ryder Cup and picked up titles and Orders of Merit for fun. Yet despite his sublime talent he could never find the way to win a major.
Five times he was runner up and he collected more second places in majors than anyone else who hasn't won one.
At least that will never be said of his Seniors career. Victory in the over 50's PGA Championship in Michigan has removed that monkey from his broad back.
It was a fabulous win, beating great champions like Tom Watson and Bernhard Langer.
For Monty it won't make up for never winning one of the big four in his prime, but he's right to feel immense satisfaction in the wake of his triumph.
In that regard he shares plenty in common with McIlroy and Scott. Furthermore, all three find ways to make golf a lot more interesting.