Tiger Woods withdraws from US Open to recover from back surgery
Last updated on .From the section Golf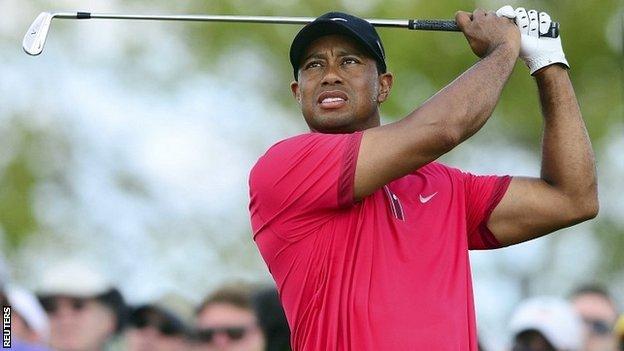 Tiger Woods has withdrawn from next month's US Open at Pinehurst as he continues to recover from back surgery.
"I'm not yet physically able to play competitive golf," the world number three said on his website.
"Despite missing the first two majors and several other important tournaments, I remain very optimistic about this year and my future."
Woods missed the Masters in April for the first time in his professional career after undergoing surgery for a pinched nerve in his back.
The US Open in North Carolina, which runs from 12-15 June, will be the sixth major the American has missed through injury.
After winning the 2008 US Open at Torrey Pines while playing with a broken leg, Woods underwent knee surgery and was sidelined for eight months, missing the Open and the PGA Championship.
In 2011, he missed the US Open and Open with knee and Achilles injuries.
"I'd like to convey my regrets to the USGA leadership, the volunteers and the fans that I won't be at Pinehurst," added Woods, who also won the US Open in 2000 and 2002.
The year's third major, the Open, begins at Royal Liverpool on 17 July.
Woods, who lost his world number one ranking to Australian Adam Scott while injured, has not won a major for six years as he chases Jack Nicklaus's record of 18 major titles.
Speaking on 19 May, Woods had revealed the extent of his problems, revealing he struggled to get out of bed let alone play golf.
But he added that surgery had made a big difference, explaining that he felt "immediate relief" after the operation and was swimming and cycling to aid his rehabilitation.
Despite the latest setback, Woods is still being tipped to set a new record for major wins by the man who holds the current mark.
"If he's healthy, I think Tiger's got 10-plus years to play top quality tournament golf," said the 74-year-old Nicklaus.
Speaking to reporters ahead of this week's Memorial Tournament, he added: "I've said many times, he's got a little over 40 tournaments to play the major championships, he's only got to win five to pass my record.
"As good a player as he is, I don't think that should be a big deal. Then again, he's got to do it. Plus he's got to be healthy to be able to do it."