US Open 2014: Matt Fitzpatrick has Justin Rose & co in his sights

By Iain Carter
BBC golf correspondent
Last updated on .From the section Golf61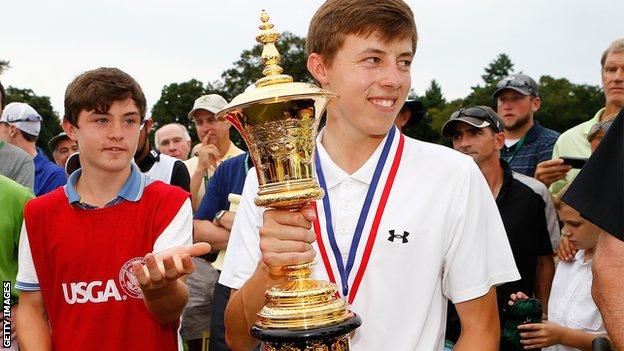 No matter how glittering a player's amateur career, the step up to the professional game is massive.
You only have to recall the struggles of Justin Rose. He missed 21 cuts in a row when he turned pro in the wake of finishing fourth as a teenage amateur at the Open in 1998.
Next week, Matt Fitzpatrick, probably the most celebrated English amateur since Rose, will have his illustrious compatriot in both his mind and sight as he plays his last event in the unpaid ranks.
At the US Open, which starts on Thursday 12 June, the Sheffield youngster will compete in the first two rounds with defending champion Rose and Open winner Phil Mickelson. This Pinehurst date is part of Fitzpatrick's reward for winning last year's US Amateur Championship.
The 19-year-old will then turn professional and play the Irish Open the following week.
The fact that Rose became a major champion after such a rocky start to his pro career offers encouragement to Fitzpatrick - but he's also fully aware of the challenges that lie ahead.
"Obviously you see what Justin went through and I might never get that good. I might do the exact same as him and then never make a cut again," he told BBC Sport.
"If it doesn't work out, it's not meant to be. But at the same time I will be giving it my all to make it work out. I don't want to slate the amateur game, but I feel like I'm ready to leave it.
"I loved it. I've represented England at boy's and men's level and I've been so lucky at where they've taken me, the help I've had from my golf club and Yorkshire. There are a lot of people I still need to thank for getting me where I am.
"Now I just want to try my hardest and see where I end up."
Fitzpatrick consulted several top players, Rose included, before taking the professional plunge. The fact that he finished 23rd in the Heritage event on the PGA Tour a week after playing the Masters also helped make up his mind.
"I think it would be stupid to say I'm ready to go out and compete and finish top five and top 10 straight away," Fitzpatrick said. "But I've been told my game is in good enough shape to compete, so that's why I made the decision to turn pro."
Fitzpatrick has appointed Andrew "Chubby" Chandler as his manager. The agent oversaw the start of Rory McIlroy's career and still handles the affairs of the likes of Lee Westwood and Darren Clarke.
Chandler's International Sports Management has arranged invitations for its new client to play half a dozen European Tour events starting in Ireland later this month.
"If he wasn't the US Amateur Champion and wasn't the holder of the Silver Medal at the Open, you'd probably just go straight into Challenge Tour golf," Chandler said.
The ideal scenario would be to make enough money from those invitations to earn a full card for next year, but Chandler admitted: "It would be a tall order,
"The focus is really to get a card for 2015 and he's got three ways of doing it - he could do it through the challenge tour, the main tour or through going to Tour School."
The agent knows that his newest client is entering a hard sporting environment, saying: "It's a very tough world and we only see the ones who make it.
"Your problem is you get a Rory, you get a Tom Lewis or a Jordan Spieth who shortcut the system.
"That means 5,000 other kids are dreaming of doing the same thing. That's what you are fighting against and there's only one or two of them good enough to even get invites."
Chandler added: "But Matt's feet are pretty much on the ground. His dad's a bank manager, so his dad's used to managing risk and he's made that very clear with me.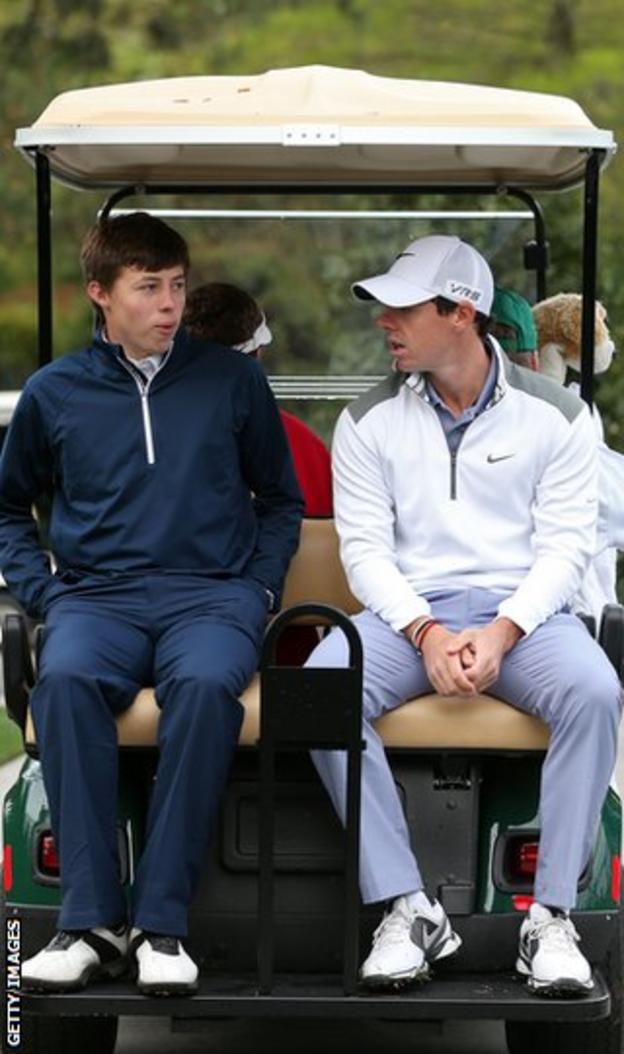 "He's not thinking his son's going to be a superstar... he's thinking what happens if my son isn't a superstar?
"That's quite a nice attitude and Matt will go out and play his best, and it'll be up to me and his coaches to pick the right path for him."
Before he heads to Pinehurst, the teenage Yorkshireman - who is taught by Mike Walker and Pete Cowen - has one last date on home soil. It's a scratch match for home club Hallamshire against Wheatley in Doncaster.
These are matches for talented golfers for whom the game is primarily a source of fun. Fitzpatrick is well aware that he is about to make a transition to a point where the game becomes work.
"It's strange to say golf is my job having enjoyed it so much recreationally," he admitted. "I don't want to stop enjoying it at all, but at the same time it's now a different challenge.
"It's a tough one. When you are not making cuts, you're not making enough money to fly to the next tournament the week after - it's incredibly important to make cuts and do well."
Last Christmas, Fitzpatrick decided academic life wasn't for him and left his degree course at Northwestern University to concentrate fully on his sporting passion.
"I feel like since I've become full-time in golf I've been treating it like a job. Every day I'll be at the golf club for nine in the morning having been to the gym before," he said.
Fitzpatrick has enjoyed a fantastic amateur career and it comes to a fitting end in the company of the reigning US Open and Open champions at Pinehurst next week.
Enjoy that and then let the real work commence.