Paul Lawrie still hopeful over Ryder Cup after injury lay-off

By Phil Goodlad
BBC Scotland
Last updated on .From the section Golf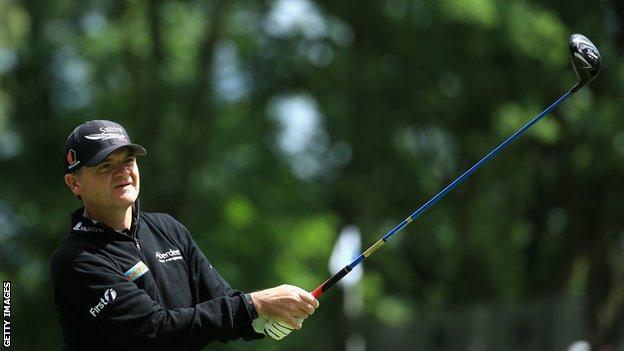 Paul Lawrie says he thinks it will be "really difficult" for him to qualify for Europe's Ryder Cup team following his return from a neck injury.
The Scot, 45, who was a member of the winning team in Medinah in 2012, says qualification is not impossible but feels his more likely route is as one of captain Paul McGinley three picks.
"I want to play and I'll give it my best shot," he told BBC Scotland.
"Paul McGinley's got three picks. My eye is on one of those, no question."
But he conceded: "There's people way ahead of me that are looking for a pick.
Nine players qualify automatically for McGinley's team - four from the European points list and five from the world points list - with three wildcards selected by the captain.
Lawrie is currently 72nd in the European points list and 86th in the world list.
"I'm not saying that I can't get in. I know as well as anyone I can put together a run of six to eight weeks where you have a couple of wins and a couple of top threes," he added.
"But what I am saying is that, where I am, it's going to be really difficult to get in.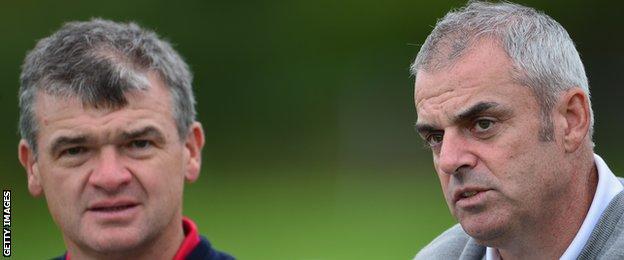 "At the moment, I'm miles away, but that's a good thing because you can play it down. If you are in line to get a spot, it's quite nervy the last couple of months.
"I remember feeling it quite badly when I was trying to get in the Medinah team. It's not easy. Everyone wants to play Ryder Cup, but only 12 people can."
Lawrie had been troubled by a trapped nerve in his neck since January but now believes the problem is resolved and says he is in the best shape of his career as he chases a spot at Gleneagles in September.
"I feel fantastic," he explained. "I feel better now than I've ever done in my career.
"I'm working out two or three times a week, I'm eating a lot better. I'm hoping that it's going to improve my golf soon.
"If you're out there feeling 100% then it's got to help.
"The neck's 100%. I've had no problems at all. I've played three events. The first week in Spain, I didn't give it 100% on a lot of the shots speed-wise because I was kind of protecting it.
"The last two weeks, I've hit it normal, I've given it a thrash on the down swing and it's been 100%. I feel fresh, I feel ready.
"There's never a good time to get injured, but for me it was the perfect time. I only missed two or three events that I would've played in over the four months that I was off."
Before the Ryder Cup, Lawrie will aim for success at the Scottish Open at Royal Aberdeen, a course he knows well.
"It's going to be fantastic, I can't wait," he added.
"I wish it was tomorrow. It's building up nicely. Everyone's starting to get a bit of a buzz about it.
"The venue's just second to none. The boys are going to love what they see and how the golf course is presented. It's a proper links course."