Graeme McDowell: US Open win was a 14-month blur
Last updated on .From the section Golf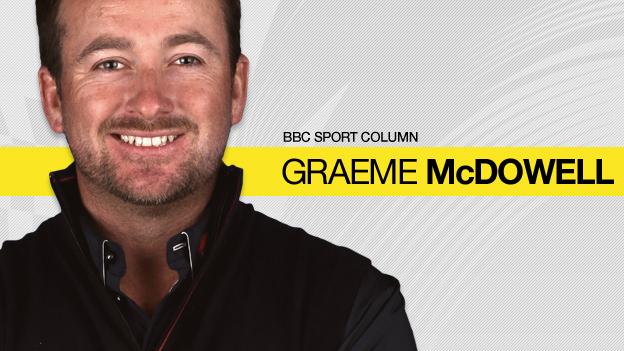 From the second that my putt dropped to win the US Open in 2010 my life became a blur, probably for the next 14 months.
It didn't take days for it to sink in, it took weeks and months. I remember waking up that Monday morning, a bit hungover and slightly disbelieving of what had happened. I looked over to the corner of the room and saw the US Open trophy glinting back at me.
It's a distinct memory that has stayed with me. It was an extraordinary moment of realisation that it had actually happened.
Naturally, I've enjoyed everything that came with the win at Pebble Beach, but at the time it was a very surreal, almost out of body, experience. You are thrust into a life with which you are not familiar.
You wake up the next day the same person but the way you are perceived by others has changed for eternity. That's what you have to come to terms with a person and as a golfer.
Players fall into the trap of trying to live up to what other people think of them, rather than just believing that you are good enough to do it. It took me 14 or 15 months to feel comfortable in my own skin again.

I know how Justin Rose must be feeling now, having had to pack up the trophy and send it back to the USGA. I just put it in the post to them because I didn't want to physically carry it back to the tournament.
It's a slightly sad moment. All of a sudden you are just the defending champion, you're no longer the current US Open champion. Your reign is over.
When I had the trophy it really racked up the air miles. I took it all over the world - to Asia and, of course, back home to Northern Ireland.
It feels really cool to have the replica at my home club of Rathmore and it's become something of a tourist attraction. That feels pretty special.
My hunger and desire to win my next major championship is now very much heightened and I know there's an opportunity coming up in this week's US Open.
I've made two visits to Pinehurst already. Last week, before the Memphis tournament, I played six holes on the Monday evening and then the full 18 the next day.
A lot has been spoken about the changes and it's amazing because it has the feel of a challenge similar to the Open - especially approaching the greens. It feels like a mixture of being at St Andrews and Royal Melbourne in Australia.
I think it's a good golf course for the Europeans because it is very un-American - fingers crossed for a European winner.
When you go to scout the course you try to suss out the likely pin positions. Then, from the green, you look back down the fairway to plot your strategy of where you should be hitting. The hard part is mapping out the greens and working out the subtlety of the borrows.
We spend about 75% of our time on and around the greens looking at slopes and trying to guess where the flags will be. To me, you are going to be playing quite defensively with a lot of medium and long iron approaches.
It was interesting last week because they are clearly trying to protect the course with the Women's US Open there the following week.
Various run off areas were netted off to prevent them getting churned up with guys chipping out of them.
Only players and caddies were allowed on the greens. Coaches, psychologists, trainers, mums and dads and girlfriends have to stand at the side.
Unusually for a US Open there is no rough. Instead it is just fairways, what they're calling "native areas" and then trees.
The bits bordering the fairways consist of just sand, pine straw and hard pan ground with clumps of Marram grass.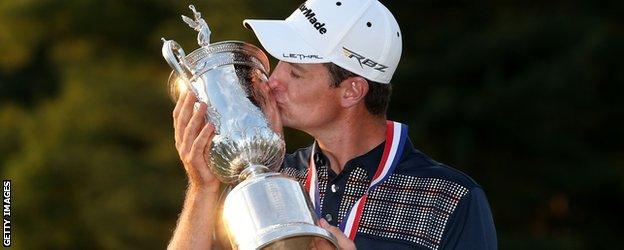 The initial word was that they were worried that the native area wasn't going to be penal enough. Seven or eight times out of 10 you were going to get a lie.
However, from what I've seen the weather has got better and the growth has come. The odds are now more of a 50-50 deal. Half the time you will get a playable lie, the other half you will be chopping out.
Fairways are going to be a premium. When I talk with other players there's always great anticipation about how courses will be set up for events like the US Open and the Open.
We know what to expect at the Masters and to a large extent, at the US PGA, but what will they do at the other two majors? What will be our examination paper? We know it's going to be hard, but is it going to be super-hard?
Merion last year was brutal. I played with Jim Furyk and Zach Johnson and all three of us are players you'd expect to challenge, yet we were a combined 40 over par after our two rounds.
Pinehurst is very narrow, it's long and a lot of the time the course will force you into laying up short of pinched-in areas. You have to take the trouble out of play. Patience is going to be absolutely key.
It doesn't necessarily set up for the bombers. Length will be an advantage at times but there will be a real premium on accuracy and the nitty gritty will be iron play coming into these greens, which are shaped like upturned turtles.
The winning score will be whatever the USGA want it to be and more than likely that will be around level par.
They can be as nasty as they like with pin positions given the undulating putting surfaces. They won't have to make the greens super-fast.
It's going to be another real grind of a US Open. There's not a ton of birdie opportunities out there.
Although my biggest ambition is to land a Claret Jug at the Open, for me there's always a special place in my heart for this championship.
I feel my game is built for the test and, like I say, I really crave the experience winning a second major.
It would be wonderful to wake up with a sore head next to that trophy once again and I know I'd be ready for the resulting blur.
Graeme McDowell was talking to BBC golf correspondent Iain Carter