US Open 2014: Phil Mickelson keen to seal career grand slam
Last updated on .From the section Golf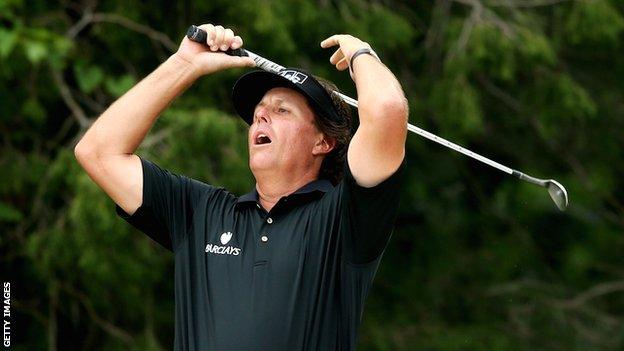 Phil Mickelson admits trying to win the US Open for the first time has created extra pressure for this year's event starting at Pinehurst on Thursday.
Mickelson has won five majors, but has finished runner-up at the US Open on six occasions.
"It's a career goal of mine to win all four majors," said the 43-year-old world number 11.
"The expectations of looking forward to this event and how much it would mean to me, makes it a challenge."
Only five players have won all four majors - Gene Sarazen, Ben Hogan, Gary Player, Jack Nicklaus and Tiger Woods.
"I feel like the five that have done that have separated themselves from the other players throughout all time," added Mickelson, who finished one shot behind the late Payne Stewart when the US Open was held at Pinehurst in 1999 and tied for 33rd when it was last staged there in 2005.
"It shows that they have a complete game. If I'm able to do that, I feel that I would look upon my own career differently.
"That's why it would mean so much, in addition to the fact it's our national championship. Growing up here in the United States, this is a tournament that I've always felt this patriotism to and would love to win, plus with all the close calls."
Mickelson comes into his 24th US Open with just one top-10 finish to his credit this season, a joint-second place with Rory McIlroy behind Pablo Larrazabal in Abu Dhabi in January, and in the first major of the season in April he missed the cut at the Masters for the first time in 16 years.
However, the left-hander remained optimistic about his chances of lifting the trophy on Sunday, the day before his 44th birthday.
Last week at the St Jude Classic in Memphis, the Open champion recorded his second tie for 11th place on the PGA Tour this season.
"I feel as good about my game today as I have all year," he said. "It's not saying a lot, because I haven't played well all year, but last week was a good week for me. I started to slowly put it together.
"I struggled on the greens, but the greens here are quick and so I'm actually going to go back to the claw grip to create a softer roll.
"I feel this golf course, this set-up and everything about Pinehurst provides me the best opportunity. I don't want to get overly excited, because the pressure of a US Open and having not been in contention [this season], that's going to be a challenge for me."