NI major winners welcome Open return to Royal Portrush
Last updated on .From the section Golf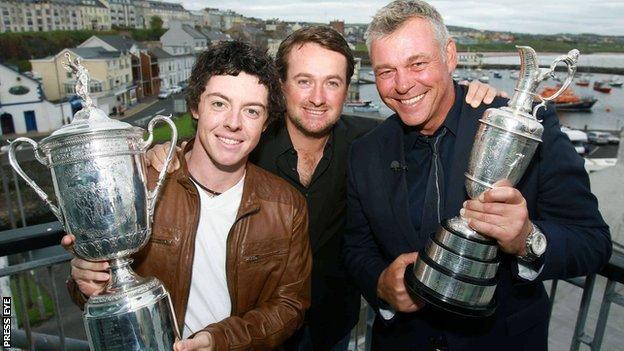 Northern Ireland golfers Rory McIlroy, Graeme McDowell and Darren Clarke, all major winners in recent years, have welcomed the news that the Open is set to be played at Royal Portrush in 2019.
The trio have lobbied on behalf of the famous seaside links in recent years.
"It's a venue that always deserved to be on the Open rota," said McIlroy.
"It hasn't been now for some years but an Open there will be incredible. It's a perfect venue and they will do a great job of hosting it," he added.
The 25-year-old won the US Open in 2011 and followed that up with success in the US PGA Championship a year later.
"It's great news for Northern Ireland and great news for all golf fans in the country.
"Some people say we don't have the infrastructure but the same could be said of St Andrews or Royal St George's and they cope. Portrush has a couple of years to prepare and it will be great."
News that the biggest tournament in world golf was set to return to Northern Ireland for the first time since 1951 emerged on Wednesday, with confirmation expected on Monday.
McIlroy's compatriot McDowell, who won the US Open in 2010, was brought up playing on the Portrush links course and described the news of the Open's imminent return as "a dream come true".
"I always dreamt of playing in a big championship at Royal Portrush and the Irish Open was just incredible, but I always thought the prospect of playing in the Open there was just a wild pipe dream - it's incredibly exciting.
"I'm proud to have played a small part in making that dream become a reality and I'm sure everyone can make it work logistically.
"It's a few years away yet so I just hope I'm still playing well enough by then and I'm still competitive. To pick up the Claret Jug at Portrush would be very special."
The 34-year-old added: "We're very proud of everything the province has accomplished, both politically and from a sporting point of view. It galvanises everything that has happened in the last 10, 15, 20 years. It's going to do big things for the province of Northern Ireland."
Clarke, the champion in 2011, spoke of his delight that "one of the biggest sporting events in the world" was set to come to the north coast of Northern Ireland.
"I have no doubts about the quality of the golf course and I know everyone will get behind it - it will be an amazing week.
"I commend the R&A for their bravery in moving the tournament round and it's great to see Portrush on the rota again. I can't foresee any problems that the organisers won't be able to get around," said Clarke.