US Open 2014: Jamie Donaldson penalised for playing wrong ball
Last updated on .From the section Golf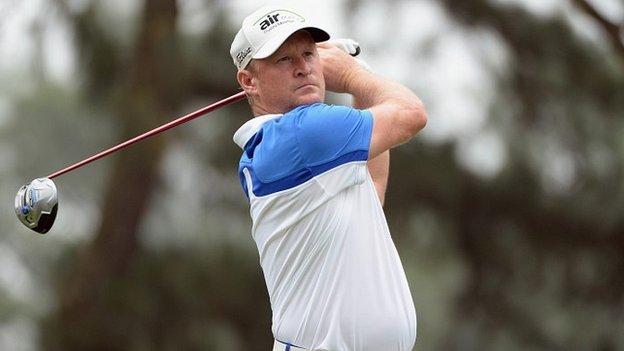 Wales' Jamie Donaldson was penalised two shots along with American Hunter Mahan for playing each other's ball in round two of the US Open at Pinehurst.
The pair made the mistake on the 18th fairway and were handed the penalty after realising the error on the green.
Donaldson carded 81 to finish 11 over, while Mahan shot 72 for six over to miss the cut by one stroke.
"It's hard to believe I did something that dumb," said Mahan's caddie John Wood, who took the blame.
"Off the tee it looked like Hunter's [ball] was in the left centre [of the fairway] and Jamie's was on the left edge. And we got up there and they were switched and we didn't realise it.
"It's just one of those things you scratch your head at."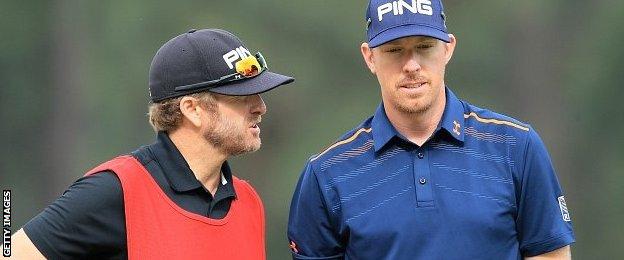 Wood admitted he was first to the ball and assumed he was standing next to Mahan's. He said the mix-up, on the ninth hole of their round after starting at the 10th, was compounded because both players mark their balls with a similar slash across the number.
"It was one of the freak things that happen," Donaldson said.
"Carelessness on both our parts, nobody's to blame, you just check your golf ball don't you?"
Under the rules the pair had to go back to the spot in the fairway and drop another ball under penalty before playing back up to the green. If they had hit the wrong ball off the next tee they would have been disqualified.
"I won't forgive myself very soon after this," added Wood.
"Hunter was great about it. He had no reaction at all. He went back and hit a good shot and ended up making birdie on number one."