Erik Compton: Surviving two new hearts, to US Open runner-up

By Iain Carter
BBC golf correspondent
Last updated on .From the section Golf82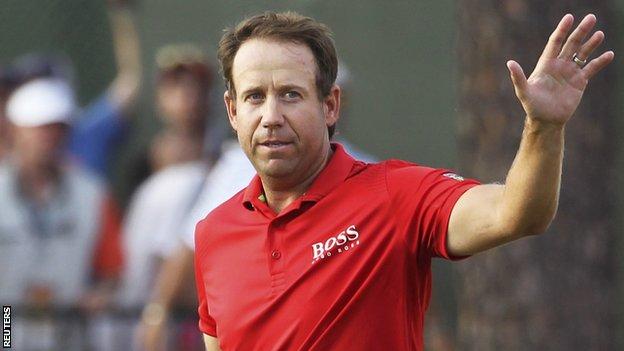 They usually say no-one remembers the guy who comes second - but that certainly won't be the case with this year's US Open.
Even though Martin Kaymer produced one of the great major championship performances to win by a staggering eight-shot margin, one of the joint runners-up surely surely provided the most compelling story at Pinehurst.
None of the record 10,127 entrants for the United States' national championship had a back story like Erik Compton, who was one of only three players to finish the tournament under par.
It is an inspirational story that no doubt has stirred Hollywood screenwriters to pen a movie of huge potential.
For Compton is the survivor of two heart transplants.
Just to be able to walk around and perform everyday tasks he has to take 10 tablets every morning, a couple more with lunch and 10 more pills in the evening.
The 34-year-old is often laid low by headaches and suffers in oppressive heat - precisely the conditions at the North Carolina course in which the former University of Georgia star was able to play the golf of his life.
Compton, who always wanted to be a professional sportsman, was nine when he was diagnosed with viral cardiomyopathy - his heart muscle was inflamed and it couldn't pump blood around his body hard enough.
This led to his first transplant. When he emerged from surgery, Compton told his parents that he was still going to be a sporting star. "I told everybody I would be a Major League Baseball player at age eight. And I was serious about it," he said.
"Even when I got wheeled out of the operating room, and they have it on camera, I said I would still be a professional baseball player. My parents have always done a really great job of pushing me to be a normal kid and a normal child.
"Sports was something that I lived for and something that they pushed me to do. They encouraged me to play baseball, [American] football, basketball and they were good at telling me how good I was at it instead of beating me up."
Now we all know his talents lay in golf. Allied with a cocky, confident character and an immense will he developed into one of America's top amateurs.
From there he turned professional and plied his trade on the lesser tours on the US circuit.
Then, at the age of 27 in October 2007, he suffered a heart attack. He somehow drove himself to hospital, calling relatives on his way to tell them he might not be around for much longer.
Compton survived but needed a second new heart, which he received the following May. He remains in touch with the family of the donor whose organ keeps him alive.
Few thought he would be able to resume his sporting career, though, but he has an extraordinary habit of confounding expectation.
Two years on from emerging from the operating table he qualified for the US Open. He may have missed the cut but simply making the field was an astonishing accomplishment.
"You got to give me a break, I just had a new heart when I was at Pebble Beach," he said.
It proved the launchpad to his career on the PGA Tour. At this year's US Open qualifying tournament in Columbus, Ohio, Compton found himself in a five-man play-off for three places.
He prevailed at the second extra hole and felt good about his chances. A week earlier at the Memorial tournament the great Jack Nicklaus had told him: "If you get there you are going to have a special week."
All this with a backdrop summed up by the surgeon who had performed his second transplant. "It's unheard of for a patient to be playing sports on a national level like this," Dr Si Pham told Golf Magazine.
Compton came into Pinehurst ranked 187 in the world and while he couldn't cope with the four rounds of brilliance served up by Kaymer, nobody else could either.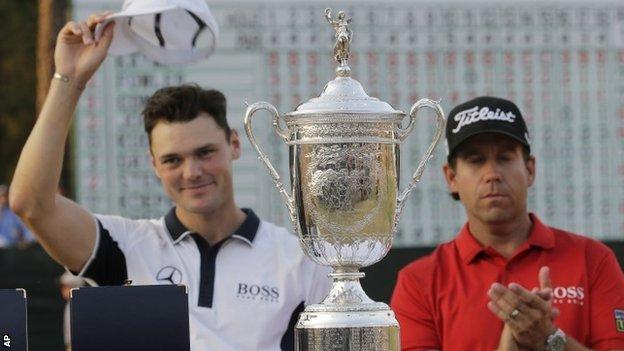 But over a tough, uncompromising Number 2 course Compton did prove himself better than everyone else bar Rickie Fowler, with whom he shared second place.
On the final hole the undoubted hero of the galleries threatened to mess up. Determined to finish in red figures, he made a hash of his second shot from the scrubland down the right of the hole.
The way he responded gave the perfect insight into Compton's never-say-die character.
"I hit the world's worst shot into the green and then got up-and-down," he said.
"So when you have disabilities or you have health issues, some days are really bad and then you got to try to make the best of it the next day and wake up and move your body.
"And I'm a perfect example of that. I've been on my back twice and I never thought I would ever leave the house.
"Now I just finished second at the US Open. I don't think anybody would have ever thought I would do that, not even myself. So you can't ever write yourself off, you just can't give up."
Aside from a cheque for $789,329 (approximately £465,000) Compton earned his place at next April's Masters.
The way this story is developing, the Hollywood moguls might do well to wait to see how he performs at Augusta before penning the final scenes of an epic biopic.