Tiger Woods and Michelle Wie can bring wider audience back to golf

By Iain Carter
BBC golf correspondent
Last updated on .From the section Golf318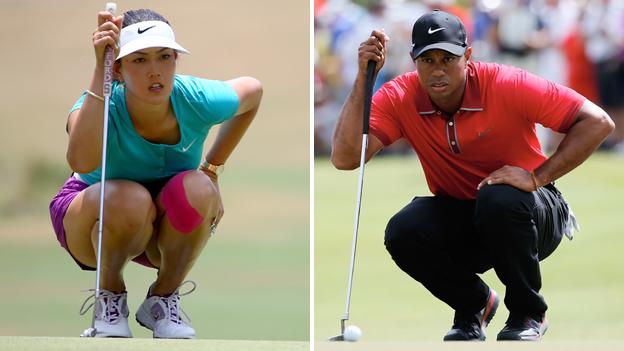 Tiger Woods' return from injury and a first major win for Michelle Wie provide much-needed boosts for the game of golf.
By winning the US Women's Open, the 24-year-old Wie is, at long last, fulfilling the potential that fuelled a decade's worth of oppressive hype.
She was the gangly teenager supposed to dominate the women's game. Yet for so long she could not find a way to deliver. Her triumph at Pinehurst Number 2 was only the fourth win of her professional career and her first on the game's biggest stage.
Finally this was a victory to validate the early years where she had promised so much only to suffer a string of disappointments. "Without your downs, without your hardships, I don't think you appreciate the ups as much," she said.
And golf can appreciate her as well because Wie's first major might prove the lift-off point.
Given the high profile that has always accompanied her career, the tall Hawaiian has the potential to fill a void that has existed in the women's game since the retirement of Annika Sorenstam in 2008.
Further good news will come on Thursday when Woods tees it up for the first time in 109 days after recovering from back surgery.
In his absence, there has been no shortage of enthralling golf but its impact has been minimal.
We have had the emergence of a 20-year-old superstar in Jordan Spieth, the eccentric and brilliant Bubba Watson claiming a second Masters title, a thrilling Martin Kaymer triumph at the Players' Championship and then the German's truly great victory at the US Open.
Throw in Rory McIlroy's unlikely win at Wentworth in the week of his split with Caroline Wozniacki and now a first major for Wie and it is fair to say there have been plenty of stories.
Indeed, it was noticeable at Pinehurst during the men's championship how little mention was made of the absent Woods. It was as though the game was at ease with the notion of being without its most famous name.
Kaymer went on to produce one of the all-time great performances to win by eight strokes on a magnificent course. Admittedly, there was no sense of jeopardy after the German established a six-shot lead at the halfway mark but it was still brilliant golf.
But here is the problem: nobody noticed. American television viewing figures were 45% lower than on the final day 12 months earlier, when Justin Rose held off Phil Mickelson to clinch his first Major.
Without Woods, its biggest calling card, golf was powerless to mount a fight against competing interests such as the World Cup.
We should not be surprised. In April, a couple of weeks after the 38-year-old had surgery to repair a pinched nerve in his back, he missed the Masters for the first time in two decades.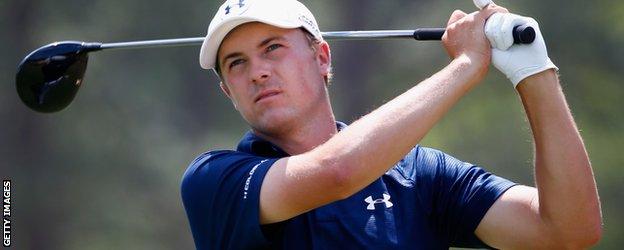 Despite the emergence of Spieth as a major challenger, and Watson's thrilling attempts to repel the young pretender, viewing figures nosedived.
The first weekend of Masters golf since 1994 that did not feature either Woods or Phil Mickelson - who missed the cut - attracted the fewest number of television watchers since the pre-Tiger era.
Without Woods on the scene, Mickelson is still capable of generating significant interest. His attempt to complete a career grand slam at Pinehurst was the main narrative heading into the US Open.
But it is only Woods who genuinely transcends the sport. Golf fans do not desert the game when he is not there but many casual sports fans do. Whether you are a fan or not, you have to accept he is the most influential figure in golf.
When he first came on the scene in 1996, the Masters prize fund was $2.5m. Last April, the Augusta field split $9m.
Tiger Woods' major titles

Masters:

US Open:

Open Championship:

US PGA:

1997, 2001, 2002, 2005

2000, 2002, 2008

2000, 2005, 2006

1999, 2000, 2006, 2007
Furthermore, it would have been impossible for the PGA Tour to have created the hugely lucrative season-ending play-offs without Woods.
He has won 14 majors in his quest to become the greatest golfer of all time and generated interest in golf beyond its usual constituency of supporters. His quest for the remaining five to overhaul Jack Nicklaus's record is what will sustain the sport in the coming years.
Will he do it? I don't think so, but the debate will keep people talking about golf.
Suddenly there is huge interest in this week's National event at Congressional because Woods is returning. However he performs will generate a story.
The same goes for next month's Open Championship at Hoylake. In 2006, an English-record attendance of 230,000 swarmed Royal Liverpool to witness Woods' third and most recent Claret Jug victory.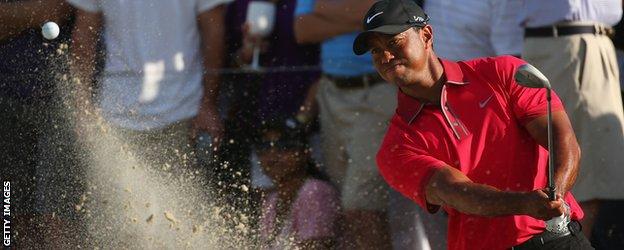 It is often said that Woods dominates golf coverage to the detriment of other players but, if he is playing, there is more interest in the game and consequently more chance of other achievements being noticed.
Kaymer's stunning triumph was largely lost in the white noise generated by the World Cup. Wie's victory on the same course has suffered a similar fate.
So, too, has the extraordinary start to Stephanie Meadows' professional career. The Northern Ireland youngster finished third at Pinehurst and deserves due recognition.
And what about Scotland's Bradley Neil? The 18-year-old has just won the Amateur Championship at Royal Portrush.
With his victory come golden tickets to the Open, Masters and US Open. And, when the Blairgowrie youngster turns up at these majors, he is probably more likely to be noticed if Woods is there too.
Welcome back Tiger and well done Michelle.