Ryder Cup: Paul McGinley lays down gauntlet to Paul Lawrie
Last updated on .From the section Golf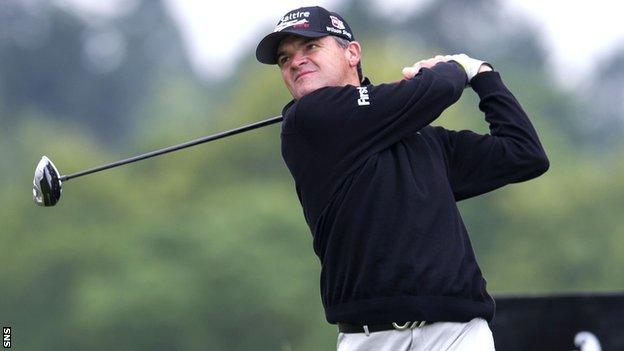 Paul McGinley has urged former Open winner Paul Lawrie to force his way into Europe's Ryder Cup team.
The European captain said form will be the major factor when he picks his side to face the USA at Gleneagles.
"We've got the Open Championship next week and then the Scottish Open," he told BBC Scotland.
"Should Paul play and perform well in one of those, with his pedigree of course you'd love to see him back in the arena again."
McGinley appreciates the home crowd would love to see a Scottish player in the team but none currently occupy a qualification position on either the European Tour Order of Merit or the world rankings. The Irishman can, however, make three wildcard picks.
He said: "Being Scottish, and the Ryder Cup being in Scotland, he [Lawrie] may come in with a late run. We'll have to wait and see.
"I've said it all along from day one that form is a huge determining factor when it comes to my picks. I'm really watching form and we're in the middle of the form period.
"The next six weeks is really going to be the time for honing in on who's playing well and who's making a late run.
"It's incredibly difficult to make the Ryder Cup team now. There's so many players playing overseas round the world, and the way the points system is at the moment it's very heavily balanced towards somebody playing a world schedule and being in the top 15 in the world.
"A lot of the Scottish players are not in the top 15 in the world so they're at a big disadvantage.
"As a result you've got to do what Stephen Gallacher did and win some big event, get yourself into the top 15 then get into the world events and play well in those."
Lawrie is hopeful that, with the Scottish Open in his home town, he can finish high on the leaderboard at Royal Aberdeen.
"It's been well written that I'm struggling a wee bit form wise but that can change quickly," said the 1999 Open winner. "I've got some good feelings the last few days hitting balls at Royal Aberdeen.
"The Scottish Open and the Open are my favourite two weeks of the year, but I've got to pick up the form and get in there. I know as well as anyone else you're not going to pick someone that far down the list, but that's up to me to change that.
"The next two weeks are pretty big but it's my job to get on the first tee and do my thing."