Open 2014: Phil Mickelson 'complete' as a golfer after last year

By Iain Carter
BBC golf correspondent
Last updated on .From the section Golf195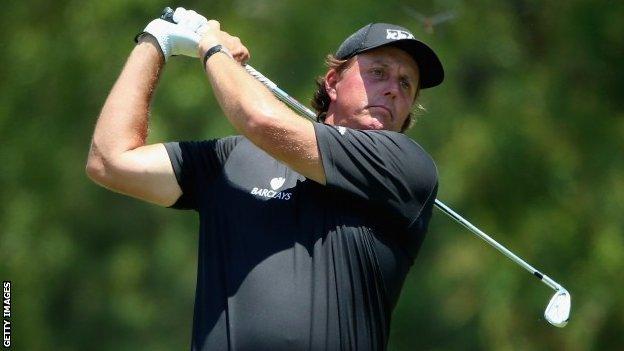 Phil Mickelson's Muirfield triumph was a long time in the making. After all, it was back in 1991 that he was first identified as a potential winner of the Claret Jug.
In the intervening period, the five-time major champion often doubted the validity of that view. It had been expressed by a Southport removal man, who also happened to be a pretty decent golfer and caddie.
Ted Halsall, who died at the age of 66 in 2005, carried the bag of Johnny Miller when he won the 1976 Open. And Halsall was the first to recognise that Mickelson possessed the shot-making skills required to succeed at links golf.
"I always thought and hoped that I could, from the first time I played in 1991 at Royal Birkdale," said Mickelson as he sat back to contemplate his Open title defence at Hoylake next week.
"Teddy Halsall, who was my caddie at the time - I called him 'The Bear' - said 'I believe you are going to win an Open Championship'.
"But as 20 years went on I wasn't so sure he was right. It was a longer process to get my game to accommodate links golf.
"I would only be over playing it a couple of weeks a year. It really is a different shot pattern, different spin rates, a different vision of what the shot is and how to keep the ball not just down low but without spin. That is the real key.
Mickelson's majors record

Masters

Winner: 2004, 2006, 2010

US Open

Second/tied second: 1999, 2002, 2004, 2006, 2009, 2013

Open Championship

Winner: 2013

US PGA Championship

Winner: 2005
"The first time I really played links golf was the Walker Cup at Portmarnock in 1991. I wouldn't say I didn't enjoy it but I probably didn't appreciate it as much. I would get more upset with the crazy bounces and the cross winds because I would play through the air.
"I think it took me a while to really appreciate the greatness of it."
Proof that Mickelson, the most imaginative and daring player currently on tour, had finally garnered the ability to succeed on the British coastline became abundantly apparent 12 months ago.
Not only did he win the Open but he triumphed the week before at the Scottish Open at Castle Stuart.
"I loved the two-week stretch in Scotland last year," Mickelson recalled. "It worked out very well and I've always enjoyed playing the Scottish Open. I've gone back for a number of years now and feel like it's a great way to get ready for the British Open.
"When the tournament moved to Castle Stuart I thought that was a real plus. It brought it to links golf and I think it is one of the best modern-day golf courses I've ever seen."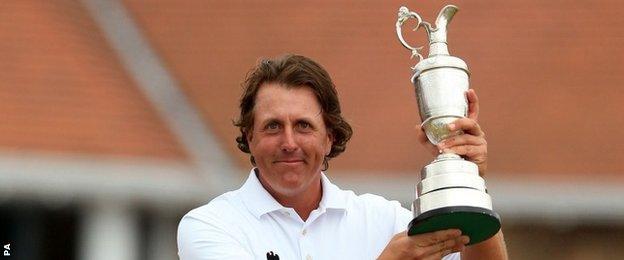 It was the fourth year in a row that a competitor from the Scottish Open had gone on to claim the game's most prestigious trophy a week later, but Mickelson was the only one of those to record back-to-back wins over the links fortnight.
Now the 44-year-old American is bidding to become the first to successfully defend the title as the tournament moves to Scotland's north east coast.
"I think going to Royal Aberdeen is every bit as good and it's going to be a great site and venue as well. Getting acclimated to the time change for the week is beneficial to playing well at the British Open," he said.
"To play well on links golf and to win gave me a lot of momentum heading into the Open Championship."
Mickelson is firmly of the view that the Scottish Open should be played at traditional links courses. Royal Aberdeen is a historic venue that can provide a fearful test.
They have been playing golf there since 1780 and it is the sixth oldest golf club in the world.
It has attracted a stellar field that includes Rory McIlroy, who is playing a Scottish Open for the first time since 2009, as well as Justin Rose, Lee Westwood, Rickie Fowler and Jimmy Walker.
Recent Open winners

2013

Phil Mickelson

2012

Ernie Els

2011

Darren Clarke

2010

Louis Oosthuizen

2009

Stewart Cink
As he sat in his shorts chatting to a handful of British journalists, Mickelson expressed fervent hope that the 6,867-yard par-71 layout will be set up charitably. The stars do not want to be put through the wringer on the eve of the Open.
"I haven't played it so I don't know. I just know that major championships, Opens, US Opens are very gruelling tests of golf and the last thing you want to do is wear yourself out the week before," said the US veteran.
"So I hope it's not set up like a major championship. I hope it's set up a little bit softer so it doesn't beat us up."
Last year Mickelson arrived in Scotland off the back of the crushing disappointment of a sixth runner-up finish at the US Open. Any notion of feeling sorry for himself was soon banished by the consecutive victories that followed and especially his Muirfield success.
Collecting an Open title means as much as any he has won in a glittering career.
"It validates to me that I've become that complete player and accomplished the goal of learning a form of golf that was completely different from the one that I grew up playing," he said.
Last month's US Open at Pinehurst was more painful than his loss to Rose at Merion last year. Mickelson hates to miss the thrill of contending. He finished a lowly 28th, 16 strokes behind runaway winner Martin Kaymer.
It was in keeping with a disappointing year in which he missed cuts at the Masters and Players' Championship. The world number 13's only top 10 has been as runner-up in Abu Dhabi in January.
His putting technique has been poor and it has put pressure on the rest of his game.
So Mickelson has come to Scotland in need of inspiration, and he certainly does not discount successful title defences at either Royal Aberdeen or next week south of the border at Royal Liverpool.
"I think it's a lot easier to win it a second time than it is the first," he said.
"I mean the first time you just don't know and don't have the belief. The second time you have already done it. It takes pressure off and you already have the confidence and knowledge to do it again."
It is a typically positive outlook and if he needs another source of confidence for the coming fortnight he should recall those distant but prophetic words of the man he called "The Bear".