Rory McIlroy ready to feel benefit of Aberdeen at Scottish Open

By Tom English
BBC Scotland at Royal Aberdeen
Last updated on .From the section Golf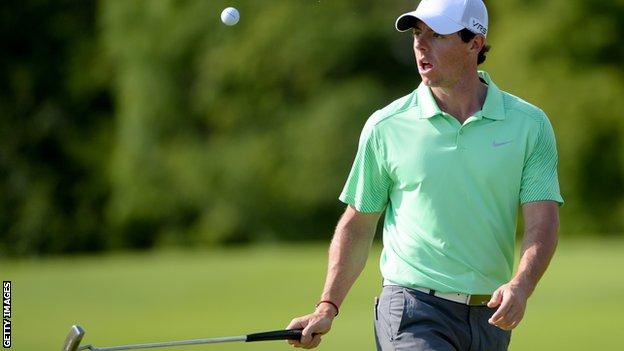 Rory McIlroy was standing on the 18th green at Royal Aberdeen drinking in the magnificence of these links when he heard a voice drifting in on the stiffening breeze.
"It's right behind you, Rory," it hollered. "It's right behind you."
McIlroy turned around to find Sam Torrance looking at him. The Ryder Cup assistant captain smiled and pointed in the direction of the Claret Jug, on display for all to see. "Sam was standing in the hospitality area," said the Northern Irishman. "And I said to him 'I'll focus on that next week!' But you've always got one eye on it when there's only days to go."
In weeks like this, a McIlroy interview has two parts; the soft and cuddly questions about the state of his game [he's happy], his thoughts on the Scottish Open [he's hopeful] and his views on the Open at Hoylake [he can't wait]. It's feel-good stuff from start to finish, all of it delivered with a smile.
Then the other questions come. The questions that reference the recent turbulence in his private life. Caroline and all of that. He's been here before, but he's forever dragged back. The wonder is that he doesn't snap, doesn't bite the head off his inquisitor, doesn't put on a surly face and say: "I've been over this a hundred times already, leave me alone."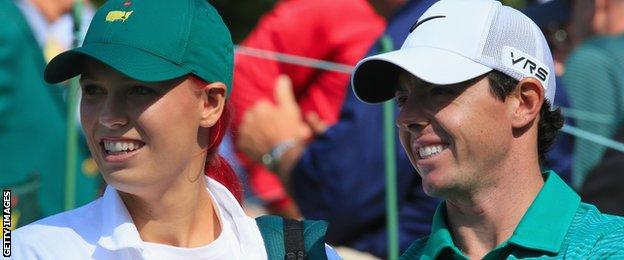 The enduring fascination and appeal of McIlroy is that he fronts up. "I just try to be myself," he said. "I don't see any other way to live your life." He was asked whether he had ever received any advice about how to cope with an existence in a goldfish bowl. "It's not really advice about living in the public eye. It's advice about living your life in general. Be yourself and do the things that make you happy. That's really it. I just live my life and people can say or write what they want. I'm very single and very happy at the minute, that's all I can say."
Very single. Very happy. And very focused on what he's doing. He'll need to be, of course. For one so outrageously talented, McIlroy's Open championship record gets worse as the years go by. From a share of third in 2010 at St Andrews to 25th in 2011 at Royal St George's, to 60th in 2012 at Lytham and to a horribly missed cut last year at Muirfield, a display so inept he called himself "brain-dead" in the aftermath.
McIlroy's last five rounds in Open championship golf make for sub-standard reading; 75, 73, 73, 79, 75. He has broken 72 only once in his last eight attempts at the Open. There is inspiration on hand, though. And it comes in the shape of Phil Mickelson, who is also in the field at Aberdeen this week.
Mickelson's own Open record was poor for the longest time, contending only occasionally over the course of 20 years until finally he cracked it at Muirfield in one of the rounds of the ages on Sunday last year.
"Phil definitely opened the eyes of a lot of guys. I played with him in the first two rounds at Muirfield and I could see he was ready," said McIlroy. "He was sharp. He had played competitive golf the week before [at Castle Stuart] and he'd won. He looked ready for the links challenge. You look at the likes of Justin Rose, Rickie Fowler and Jimmy Walker - there's a few guys Phil has really influenced to come and play links golf before the Open."
Facts about Rory McIlroy

Age

25

Majors

2 - US PGA Championship 2012, US Open 2011

World Ranking

8

Turned Professional

2007

Birthplace

Holywood, Northern Ireland
That's the point of coming to Aberdeen, a beautiful but brutish links made all the more fiendish by wind and the predictions of rain. "I missed out on Castle Stuart [home venue for recent Scottish Opens] because I didn't really feel like it provided a true links test," said McIlroy. "But now the Scottish Open is at Aberdeen, it's a true links test again. I think a lot of guys came to the realisation that to play competitive golf on a course like this the week before the Open could really benefit you."
Twenty three of the world's top 60 players are here, but Tiger Woods is not. Even still, his spirit is in the air. Every player gets asked about him. Every question wondering whether he can contend at Hoylake, a course he owned when winning the last of his three Claret Jugs in 2006.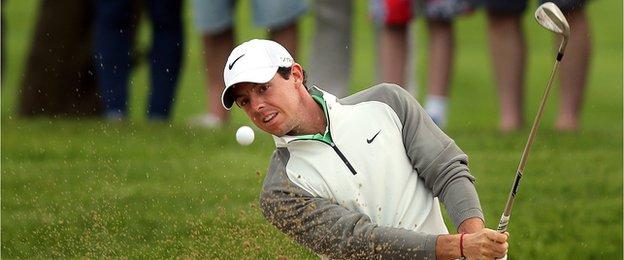 "We've all witnessed what Tiger has been able to do over his career," said McIlroy. "I mean, he won the US Open on one leg. Is it foolish to write him off? I would say so. If he's playing and competing he's got as good a chance as any. We'll see what happens. I wouldn't write him off completely. I still think he can do things that we have never seen from any other golfer.
"If he feels healthy and his doctors give him the go-ahead, then why not?"
If Woods is unpredictable then you'd have to say the same about McIlroy.
This is the old maxim about form being temporary and class being permanent. His world seemed to be falling apart at the BMW PGA championship in May. He called off his engagement and reaped the whirlwind of public comment. It was said that his head was all over the place, but then he went and won the thing against all predictions.
Of Woods you might say 'Beware the injured golfer'. Of McIlroy, single and carefree? 'Beware the contented one'.