Scottish Open: Rory McIlroy.....no escaping the lad

By Tom English at Royal Aberdeen
BBC Scotland
Last updated on .From the section Golf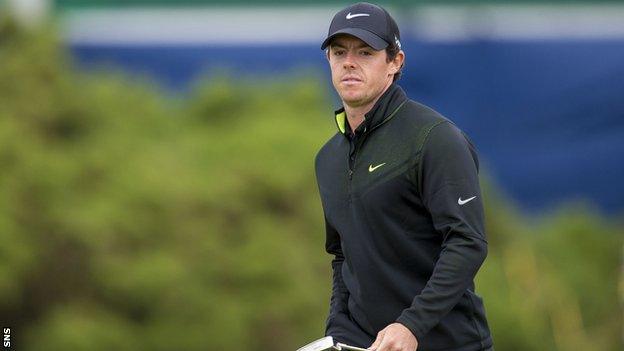 For much of the morning at Royal Aberdeen we marvelled at the performance of Kristoffer Broberg, the Swede who lit up the opening round of the Scottish Open from early morning.
Broberg has good form of late. A nice week in France that followed on from a top-five in Ireland. He is an emerging presence on tour and set the pace from his position in the opening threeball on the golf course, setting off at 6.30am without a soul following him behind the ropes.
The Swede shot 65 and nobody thought it would be beaten. Not with the wind getting up. Six-under was sure to lead at day's end. Everybody was convinced of it. Well, almost everybody. Rory McIlroy had different ideas.
Like moths to the flame we continue to get drawn to the Northern Irishman. Take your eyes off him and you are sure to miss something special. In his opening round of the Scottish Open, he tamed a magnificent links and set down a marker down for Hoylake. On this form, he is the man to watch again at the Open.
There were so many snapshots of his beautiful amalgam of power and precision, but here is just one. The 13th hole at Royal Aberdeen is a 436 yard, par 4. Conventional wisdom has it that you hit your tee-shot down the right-hand side of the fairway, over the hill and far away. Then, your approach must take account of the humps and hollows just short of the green and the heavy trouble at the back. This, they say, is the percentage way of playing this hole, but there is another way. For Rory McIlroy, at any rate.
With a strong wind at his back and firm ground at his feet, McIlroy kept the yardage book in his pocket and smashed his tee-shot on to the green, his ball trickling on to the putting surface while Ian Poulter's group were still holing out.
It was one of the longest tee-shots in the history of the European Tour and it set up a routine birdie. Another one. In the seven-hole stretch between the par 3 8th and the par 4 14th, McIlroy had six birdies. He shot 64 and broke the course record. In deed, and word, McIlroy could not have been more relaxed or more impressive.
There was a majesty to his golf that augurs well for the Open championship at Hoylake next week. Not just that, the optimism he is carrying with him now is striking. McIlroy is not the type of character who soft-soaps the state of his game. When he's bad, he admits it, as he did most memorably after his missed cut at Muirfield last year when he all but pulled the pin out of the ground on the 18th green and beat himself over the head with it.
This is a different McIlroy. "Chalk and cheese," he said when asked to compare the demoralised version of a year ago. "I mean, it's just polar opposite. This time last year I was trying to get the ball under control and working on things in my swing and not confident with anything. I'm really confident with my swing now. I'm controlling my ball flight really well and translates into shooting good scores."
He was asked if this is a period in his career where his mental strength was at its strongest. "Yeah, it's up there," he said. "I'm more confident than ever in my ability to hit the shots I need to in winds like this. I feel like I'm as [well] prepared as I have ever been to play this sort of golf."
That booming drive on the 13th hole? He made it sound straightforward. He did exactly the same thing in the Pro-Am on Wednesday. "It was a good drive," he said matter-of-factly. "I was pretty sure of what line to take and just stepped up and hit it."
Simple as that. And this is the point about McIlroy's round. So much of it looked easy. The conditions were testing but nowhere near as difficult as the forecasts had suggested. The field fought the wind for much of the front nine and had it with them for most of the back nine.
It was like two different golf courses. On one hole McIlroy hit an 8-iron that pitched 220 yards when his usual carry with an 8-iron is fifty yards less than that. I hit one 4-iron that pitched 160 yards and another that pitched 230 yards. He hit a driver into the wind on the 7th and it went 255 yards. He hit another, downwind on the 12th, and it went 373, a relative lay-up compared to the howitzer he launched off that 13th tee.
He was in total control out there, conjuring up shots and revelling in the wind. "I think I've always been quite a natural player," he said. "I can hit a high fade or a high draw or a low fade and a low draw. I'm hitting little 6-irons from 150 yards. I hit one 4-iron 165 yards. Stuff like that. Keeping the ball down in the wind. Regardless of the score, the way I played was pleasing. I like this course because it gives you chances to be aggressive, but it also gives you chances to play strategically."
McIlroy is clearly content, but also cautious. He said that he hasn't always backed-up one good round with another this season. It's a weakness, he admitted. "I've got off to a lot of good starts and then tended to fall away," he said. "Hopefully it won't be the same this time. I'll try to keep it together."
When it does it serves as a reminder of how he's embodiment of golfing poetry in motion.