Open 2014: Amateur Ashley Chesters 'ready' for debut
By Ged Scott
BBC Sport at Hoylake
Last updated on .From the section Golf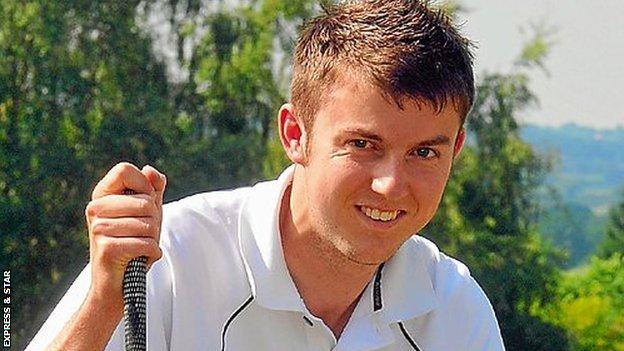 The 143rd Open Championship
Venue:
Royal Liverpool Golf Club
Date:
17-20 July
Coverage:
Live on BBC TV, HD, Red Button, online and mobile (UK only) and Radio 5 live; text commentary on BBC Sport website (#bbcgolf) and mobiles; watch again on iPlayer
Ashley Chesters' dad used to go to school with a boy who went on to become the Open champion.
Hardly surprising really, given that Scotland's Sandy Lyle, the 1985 Open champion and 1988 Masters winner, was, just like Chesters and his dad, also born in Shropshire, educated in Wem and learned how to play golf at Hawkstone Park.
But, at 07:31 BST on Thursday morning, when his 24-year-old son tees off in an Open for the first time, Nigel Chesters will be able to make an even prouder boast.
As the current men's captain at Hawkstone Park, and married to this year's ladies captain, Nigel and Gina Chesters will be spearheading quite a cavalcade of cars of club members making the hour's journey to Hoylake to enjoy the privilege of seeing one of their younger members play - hopefully for all four days.
As for the Shropshire lad himself, Chesters Jr agrees that it will be an odd experience being inside the ropes at an Open for the first time.
"I've been to a few Opens in the past," he told BBC Sport. "So it will be strange that I'm actually going to be playing, rather than just watching."
It is a strange feeling to which he has had almost a year to become accustomed, having been the very first qualifier for this year's Open, other than former champions, when he booked his place with victory in the European Amateur Championship in Spain at El Prat last August, holing a nerve-inducing six-foot putt on the final green.
What he might not have expected was being not the only English amateur - one of only four in total, following Matt Fitzpatrick's decision to turn pro - but the only Midland golfer to make it to Hoylake this week.
But Chesters admits that, having been on the verge of a crack at the professional ranks this time last year, holding back to make sure he played at the 2014 Open has, in retrospect, proved a wise decision.
"I've had a long time to think about it," he said. "It's been getting on for 12 months since I qualified.
"I thought about turning pro last year then, when I won the European Amateur, I decided to hang on so that I could take up my place at the Open.
"I'm glad I did as I definitely wasn't ready, whereas I feel I'm getting there now.
"If I can play well here this week on a course set up like this, and in this company, it will give me some idea of where I am."
Chesters is coached by former tour pro Michael Welch, another once promising Shropshire amateur whose proudest boasts were winning the World Schoolboy Championship and never losing to Lee Westwood.
Welch might not have succeeded in the professional ranks himself, but he still has plenty of important information to impart, as befits a player who once finished tied for 18th at the Open, at Royal Lytham & St Annes in 1996.
Having only just returned from playing for England in Finland in the European Men's Championship last week, Chesters played his first practice round when he arrived at Royal Liverpool on his own.
But a round on Tuesday with Chris Wood, who tied fifth at his first Open as an amateur at Royal Birkdale six years ago, may yet prove invaluable instruction.
"My coach told me to play with bigger names," said Chesters. "To give me more of an idea of what it was like, so I played with Chris Wood, to see what it was like.
"We spoke quite a lot, and he's a really nice guy. Very friendly and helpful. And it was all really good advice."
Of course, all that advice pales compared to the education he has received down the years from his dad Nigel, a single handicapper.
Having started his son playing by the age of six, Chesters Jr had already holed in one twice by the age of nine and was playing off scratch by the time he was 13.
In fact, there was only one obstacle he failed to overcome, when he made it to the Club Championship final in 2003.
Had he won, at 13, Ashley would have been the club's youngest-ever winner. But, after reaching the turn all square, he lost, over 36 holes - to, of all people, his dad.
After 36 holes at Royal Liverpool on Friday afternoon, the Chesters family will be hoping that, this time, both father and son will have cause to smile.