Scottish Open: Second round test could just be the start

By Tom English
BBC Scotland
Last updated on .From the section Golf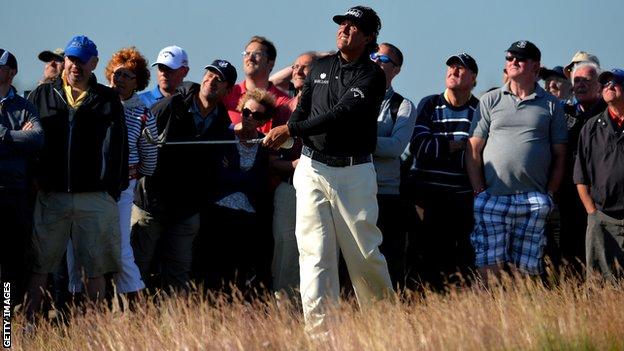 There were times when you felt that what was required beside Royal Aberdeen's 18th green was not so much a recorder's hut but a mini psychiatric ward.
The second round of the Scottish Open was so different to the first that it felt like a different golf course in places.
Different winds, different club selection, different test entirely. The John Deere Classic, it was not.
The back nine was where, metaphorically, the blood was spilled.
On Thursday, those holes were downwind. In the second round, they were into the wind and the conditions took everybody by surprise. Nobody expected the wind to change direction as much as it did. And not many were ready for it.
David Howell: "You had to batten down the hatches on the back nine."
Justin Rose: "To hang on to your card was not easy."
Phil Mickelson: "It was very mentally draining playing out there and I'm a little concerned that it's taken up a bit more energy than I would like for next week at Hoylake."
The scary thing was that the wind was testing but not what you would call terribly severe.

The members could have told every last man in the field that often times around here the conditions are worse. A lot worse. On a scale of one-10 in terms of playing difficulty, a local steeped in the history of these links put the winds we had in the second round at little more than a six.
And yet less than a handful of players managed to battle their way through the wind on the back nine under-par. Lord help them if the wind gets up in the coming days and becomes truly vengeful. It'll be carnage on a grand scale.
The fact is that this course is a beast that has not yet revealed its most terrifying side.
There were, however, some magnificent exceptions to the tales of woe.
Marc Warren stood big and strong while all around him were being buffeted, the Scot shooting 69 to go with his 67 from Thursday. Warren said there were chances to score on the front nine - and he took them - and that the back nine was all about "hanging on for dear life."
He did it beautifully, finishing 3-3-3 - with birdies on 16 and 18 - when he would have been pretty happy to finish 4-4-4. Two-under par for those closing holes was a huge feat and one that was beyond every other player.
Mickelson went 6-2-5 on those same holes, including a lost ball from a tee-shot on 16.
Victor Dubuisson, the Ryder Cup player-elect, finished 5-5-6. We could go on. The gruesome numbers were everywhere.
Warren gave us an idea of how dramatically different the wind was on Friday compared to Thursday.

"The 15th (374-yard par four) was three iron and a gap-wedge in the first round and in the second round it was driver and a really good iron," he said.
"It was a massive difference on a lot of the holes. It's the kind of golf course where you better be ready for a battle, especially on the back nine. It's a daunting prospect knowing that the back nine is just waiting for you."
One by one the field fell away on a brutish inward half, a run of holes played amid swirling and unpredictable wind that didn't only impact on the swing but also the mind.
Well-honed golfing brains were in danger of turning to mush out there, none more so than Rory McIlroy's.
McIlroy was the overnight leader at seven-under. By the turn he had dropped to five-under, his elan of the first round all but gone and replaced with uncertainty and error.
He dropped five shots in his first six holes on that back nine, from five-under to level par and suddenly the thought of him missing the cut didn't seem so preposterous.
He gathered himself over the closing holes and holed a six footer on the 18th for a 78 - 14 shots worse than his round on Thursday. What has ailed McIlroy more than once this season is his inconsistency when trying to capitalise on good starts in championships such as this.
This was another example of second round syndrome. It put the feel-good of his first round to bed and asked questions of his capacity to get back in the hunt in this championship.
McIlroy was just another victim. Russell Knox was going like a train earlier in the day. The Scot had got it to eight-under after eight holes with the help of two eagles in his first six but then, in a cataclysmic finale, dropped eight shots in his last six. Knox went from tournament leader to a position outside of the top-30 in double-quick time.
"It's bizarre," he said. "But I don't feel bad. I feel normal. The wind was a lot stronger than I thought it was going to be and when we turned to come into it, it was as hard as you can play. I didn't deal with it well enough. I tried my hardest and did awful."
Knox might have lost his spot on the leaderboard, but in fairness he didn't lose his sense of humour.
He said his wife was going to be furious with him. He wasn't looking forward to being on the receiving end of her ire. "That's what she's there for, isn't it?" he smiled.
"I got lucky on the front nine with the two eagles but I guess the golfing gods just never let you win. When you finish eight-over for the last six holes - that will never happen to me again. I certainly hope it doesn't."

Knox's chance has probably gone and with it goes the prospect of the fairytale of the Scot winning in his first professional tournament in his homeland.
Warren would be another Cinderella story given what happened to him in this event two years ago when he experienced the catastrophe of blowing a three-shot lead in the closing holes on Sunday.
The cruelty of this golf course was evident right to the penultimate match.
The Argentinian, Ricardo Gonzalez, was one of the few who had plotted his way through the terrors of the closing holes. He hadn't dropped a shot on the inward nine until he carved his drive on 18 into the rough on the right and then hoiked his next into gorse on the left.
His two-shot lead evaporated. Warren will begin his third round as joint leader on six-under with Gonzalez and the Swede, Kristoffer Broberg.
If championship golf is a marathon then plenty hit the wall in round two and plenty more will hit it if Royal Aberdeen bares its teeth again on the weekend.