Open 2014: Top players name their favourite Open holes

By Tom English
BBC Scotland
Last updated on .From the section Golf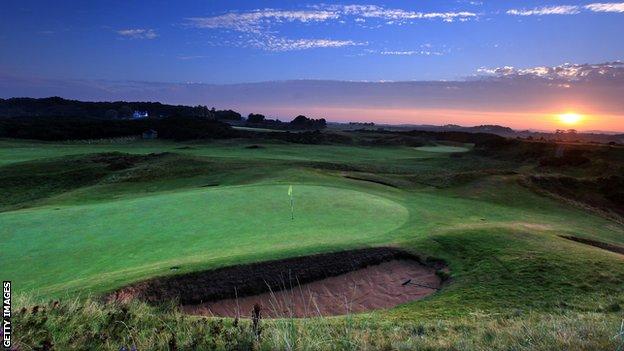 The Open Championship
Venue:
Royal Liverpool, Hoylake.
Date:
17-20 July
Coverage:
BBC TV, BBC Radio 5live, BBC Sport website
Between them, they have 11 Claret Jugs, played in a combined total of 334 Opens and won almost 400 tournaments worldwide. Twenty-five golfers and just one question - what is your favourite Open championship hole?
There are nine golf courses - and 162 holes - to pick from and seven of those tracks feature in our poll of some of the world's best players: St Andrews, Royal St George's, Troon, Muirfield, Turnberry, Carnoustie and Birkdale all get at least one vote.
The two courses that fail to get a mention are Lytham and Hoylake, where the Open Championship begins on Thursday.
Two holes stood out above all others - the Road Hole 17th at St Andrews and the par-3 eighth at Troon, more famously known as the Postage Stamp. They were tied with six nominations each and 2013 Open winner Phil Mickelson had the casting vote.
The American went for the Postage Stamp.
It is the shortest hole in Open Championship golf, a gorgeous 123-yard par 3 played from high ground over a gully to a long but narrow green protected by bunkers and set into the side of a sand hill. It's a temptress.
In an era where golf courses are increasingly overpowered because of the advancement of technology, the Postage Stamp is all about precision and control. A throwback and an enduring delight.
Here's how the panel voted - and why.
Ernie Els: "My favourite hole is the Postage Stamp. I made a one there, 2004 Open, first round. It's just a beauty."
Paul Lawrie: "The 17th at Carnoustie. It was pretty good to me when I won the Open there and it's just a great golf hole. You have to think a little on the tee. There's a burn that winds all the way round the front and bunkers on the right and you have to feed it in there. It needs skill and thought. A great hole."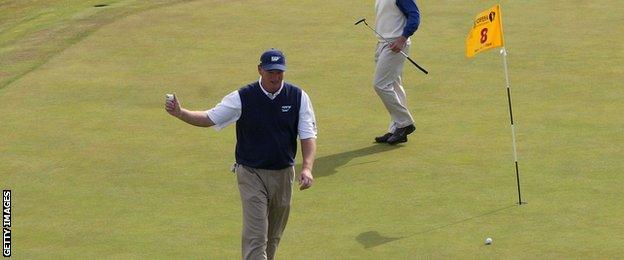 Nicolas Colsaerts: "That's a tough one. The 17th and 18th at Lytham are quite nice. I like number four at St George's with that huge bunker looking at you. But I'd go with 17 at St Andrews. If you pull it off and make birdie it's such a great feeling on such a historic hole. The tee-shot, the bunker, the wall at the back. Brilliant."
Peter Hanson: "I really like Birkdale. The 18th is a brilliant hole. The 17th at St Andrews is a love-hate thing. I'll go with 18 at Carnoustie. Such a tough hole. You stand up on that tee and you'd better deliver because there's some trouble down there. Out of bounds down the left, bunkers, so much to think about. It's a pure hole."
Padraig Harrington: "It has to be 17 at Birkdale. It's a personal memory, given that I got an eagle there to win the Open. It allowed me to walk down 18 having won. It's not often you get to walk down the last hole in any tournament knowing you've won, not to mind an Open Championship. I could walk down 18 and enjoy my win. I didn't get to do that at Carnoustie. There was too much tension."
Louis Oosthuizen: "I'd go for 17 at St Andrews. Any lead you have could go there. Such a tough shot. You have to take on this very tough drive and a really hard second. A few deep breaths before you hit that tee shot."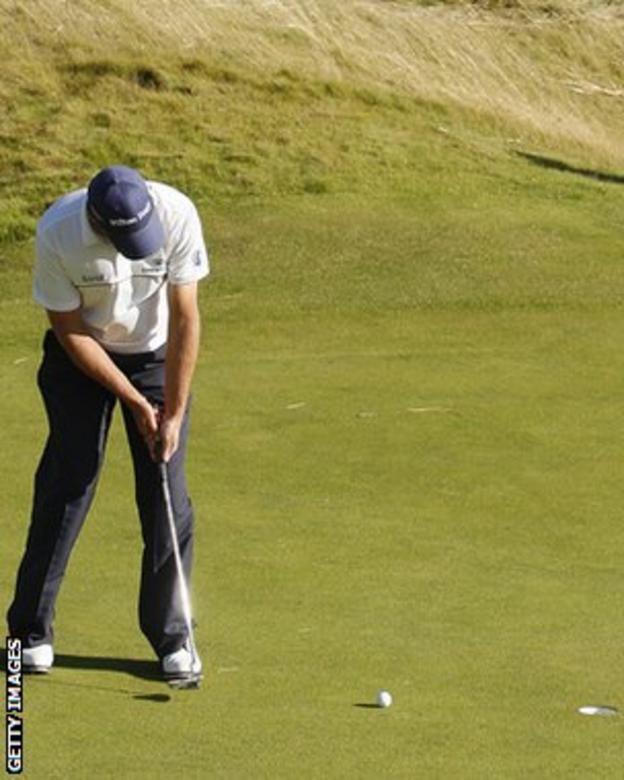 Luke Donald: "It's the eighth at Troon, the Postage Stamp. All of the great par threes are short. This one should be easy but you can make a double quite easily. It's a joy."
Robert Karlsson: "The 18th at Muirfield. I've some nice experiences and some awful experiences playing that hole, but even when it cost me a missed cut in the Open I still had to acknowledge that it is a great hole."
Paul Casey: "It's either the Postage Stamp or the 18th at St Andrews. My favourite holes are usually the shortest ones, so I'll go with the Postage Stamp. Just a brilliant par 3. Pure brilliance."
Darren Clarke: "The Postage Stamp. It's such a short hole and yet it plays one of the most difficult holes in Open golf. It would be easy to say 'the Road Hole blah, blah, blah' but the Postage Stamp is just fantastic."
Simon Khan: "The 12th at Birkdale. A par 3 in the dunes, wind off the right. Lovely. Birkdale is magnificent."
Sir Nick Faldo: "The 18th at Muirfield. I won two Opens there and it's as good as it gets. Yeah, walking up 18 at St Andrews is special but I walked up 18 at Muirfield and won the Open twice. I can't beat that one."
Lee Westwood: "Hmm, tough. [Long pause as he considers his options]. I can't just come out with anything. Everybody is going to say the Road Hole, but I quite like the sixth at Carnoustie, a really good par 5 with Hogan's Alley and all that. If you're brave enough to whip it up that left-hand side you get an advantage That's a seriously strong hole."
Sam Torrance: "The 17th at St Andrews. It's the best. It's just the best. It's the most famous hole in the world. I've played it hundreds of times and loved it every time. It's just so demanding. There's no hiding place. Nowhere to go except perfect."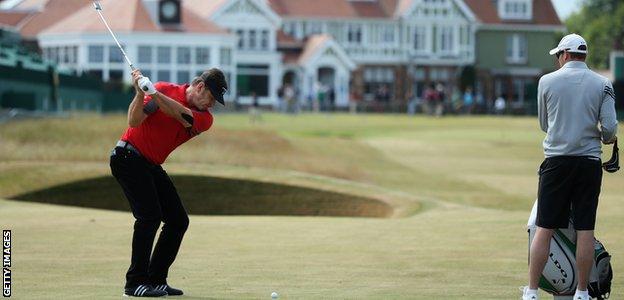 Alvaro Quiros: "I can't tell you. There's not one hole in my mind that I can say I was impressed with this one or that one. The 17th at St Andrews? That's one of the ones that I hate the most! We have a blind shot over a hotel and the second shot is sometimes impossible to stop on the green. I hate it."
Paul McGinley: "I always say the eighth hole in Troon - the Postage Stamp - because it's not about length, it's about control and, depending on the wind, it can vary. So much of the game now has moved away from control and towards overpowering the golf course. You see players smashing drivers on to par 4s. There's too much of that going on. I keep reverting back to the skill level. That eighth hole is a test for everybody whether you're a short hitter or a big hitter or a middle hitter."
Matteo Manassero: "The 10th at Turnberry because it's beautiful and strategic and you have options. And it reminds me of a good Open I had there."
Justin Rose: "The 12th at Birkdale, a par 3. I love the look of it. It's got these two bunkers that sit front right and front left and it's got a little hour-glass green with a couple of dunes and it looks like a beautiful links par three. I also led the Open there momentarily by myself when I was 17. I can see that moment and I can feel that moment. The game felt so easy. Everything was going my way and I honestly thought, 'I'm going to win the Open here'."
Thomas Bjorn: "The seventh at Muirfield, the par 3. Stand up and hit your shot and if you don't hit it right you're in trouble. It's trappy and if you get it wrong you're in trouble in the sand or in the hay. A very, very good hole. It can be anything from a five iron to a nine iron. See your shot and hit it."
Stephen Gallacher: "I'd say the 17th at St Andrews because I hate it. It should be a par 5. I've had some misery there but then again I don't know anybody who hasn't. It's such a great iconic hole."
The most popular nominations

Eighth at Troon

seven votes

17th at St Andrews

six votes

12th at Birkdale

two votes

18th at Muirfield

two votes
Rory McIlroy: "Yeah, the 17th at St Andrews, the Road Hole. It's great. It's a bit quirky having to hit over the hotel but the second shot, I could hit that second shot all day. It's awesome into that green."
Rickie Fowler: "I haven't played the whole rotation yet but it's going to be something at St Andrews. I like one and 18, the scenery and the surroundings. I wouldn't say they're very defining golf holes by any means. They're pretty straightforward. It's almost impossible to hit it out of bounds, especially on one, but that's the home of golf and definitely a cool place right there."
Ian Poulter: "My favourite hole, I think, is 17 at St Andrews. It's a great hole. Driving over the corner of the hotel, brilliant. You always want to land it on that green. An unforgettable hole."
David Howell: "The Postage Stamp. It's quirky, it's so different. The shortest hole in Open Championship golf and it plays with your mind. You can have a disaster and if you do it's all the more frustrating because it's a short hole. It's iconic."
Phil Mickelson: "I would go with the Postage Stamp in Troon as my favourite. I like short par 3s. I think precision is sometimes lost in today's architecture. The favourite holes that guys play are short par threes or driveable par fours and that probably is the coolest par three that we play."