Open 2014: Tiger Woods's return highlights major issues

By Iain Carter
BBC golf correspondent
Last updated on .From the section Golf283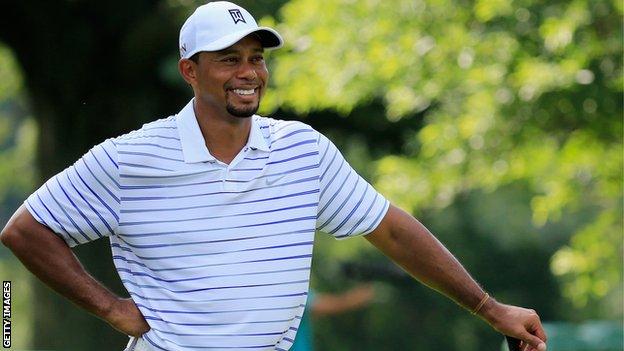 The Open Championship 2014
Venue:
Royal Liverpool Golf Club
Date:
17-20 July
Coverage:
Live on BBC TV, BBC Radio 5 live, BBC Sport website, mobile & app, and Connected TVs
Tiger Woods returns to major championship action this week with the future of the game approaching a crossroads.
He had burst on the scene in 1997, winning the Masters by 12 shots. He was new, young, athletic, exciting and, contrary to golf's established stars, black. He generated huge interest.
As a result, by 2006 the game was looking to exploit its massive potential for growth.
This time we've arrived on the Wirral having glimpsed a golfing world without Woods. As noted in a previous blog, television numbers for the first two majors of 2014 - the Masters and US Open - plummeted with his injury-enforced absence.
Participation figures have also been falling and those who run the game at all levels are trying to arrest this decline.
On Tuesday evening, BBC Radio 5 live Golf will have a special report on the state of the game as we head towards its return to the Olympic family in 2016.
There's no doubt that the 38-year-old Woods's appearance on the links where he last won the Open has given the Championship a significant lift.
And Jaz Athwal, who runs the UK's Asian Golf Society, said: "Tiger Woods made golf cool and there isn't anybody out there who could take Tiger's place.
"There's young Rory McIlroy - a fantastic golfer - but he's not Tiger Woods. Tiger's a once-in-a-lifetime guy who has come and made golf accessible and approachable."
Athwal, who has successfully run schemes for Asian youngsters in Yorkshire, reflects the grassroots view of the American who has amassed 14 majors in his career so far.
But Woods's impact stretches to every level of the sport.
Tiger Woods's major titles

Masters:
US Open:
Open Championship:
US PGA:

1997, 2001, 2002, 2005

2000, 2002, 2008

2000, 2005, 2006

1999, 2000, 2006, 2007
"Golf should be very grateful that Woods is still part of it," said Giles Morgan, the head of sponsorship at HSBC, who back tournaments all over the world. "But he won't be around forever.
"Tiger has done a wonderful job of broadening the appeal and scope of golf globally and will continue to do so. But his time will come to an end and golf needs to weatherproof itself by making sure new stars are created."
Golf has always been keen to preserve the link between elite performers and amateur players. A unique selling point is that we hackers can share the same stage as the top stars if we have the opportunity to play leading courses, thanks to the handicapping system.
And it is fair to say that for the professional game to remain healthy, the grassroots level has to remain strong.
It provides the talent for the future and generates a love for the game that translates into television viewers and the galleries at tournaments like this week's Open. So there should be concern about the current decline in participation levels.
Dana Garmany is the chairman of Troon Golf, the world's largest golf operator with courses in 23 countries and 31 American states.
He told the 5 live programme: "In five or seven years' time, there will be some gaps in participation and spending unless we make some inroads with that younger group to make them love the game.
"Give them a reason to play golf, not a reason not to play."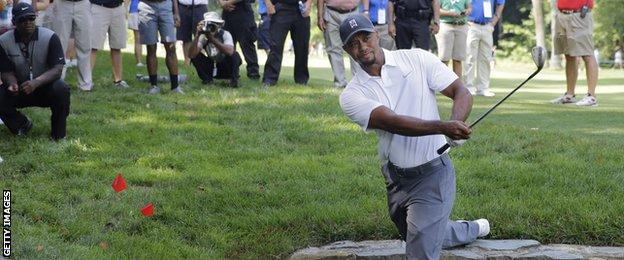 Even at places where the game's image is at its most traditional, there's agreement that it has to find a way to make itself a cooler pursuit.
Peter Dawson is one of golf's most powerful figures as he surveys the scene from his office in the Royal and Ancient clubhouse at St Andrews. "I don't know how you define what cooler means but I think we all know what it means," said the R&A chief executive.
"I do think the image of golf among younger people needs to be thought about and things need to be done about it."
Dawson was speaking at the HSBC Golf Business Forum, held in Abu Dhabi earlier this year. He added: "I go to many places where golf is way away from the stereotype that some people in the media have portrayed it as.
"This is really down to each golf facility to assess its own marketplace. It's not something you can legislate for centrally in any way."
The R&A are at the heart of the growing sense that golf is reaching a crossroads. On September 18, the club votes on whether to admit women members for the first time.
It's thought there will be overwhelming approval for the move, but a "no" vote would leave many questioning the club's role as one of the sport's governing bodies. It will be an historic vote that indicates a move to more modern thinking.
"We've still got some work to do on making sure the golf club environment is an attractive place for young people," admits Mike Round, the outgoing chief executive of the Golf Foundation, a charity which seeks to introduce the game to children.
"Some clubs have done away with all sorts of restrictions and they are seeing the benefits. They are seeing takings in the bar, restaurant and functions and other knock-on benefits."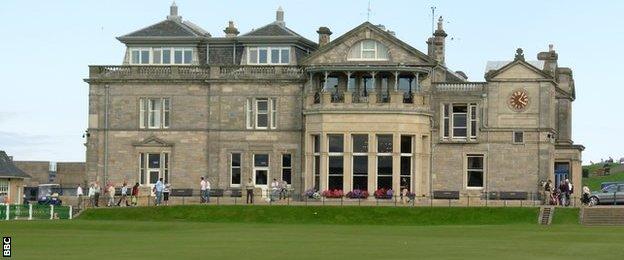 That's the experience of Athwal, who says numbers have quadrupled at his Bradford-based Asian Golf Society.
"I used to joke many years back that when I turned up people used to twitch their curtains, or the secretary or the professional would be looking out and say nobody's ordered a taxi or a takeaway.
"That was 15 or 20 years ago. Now it's a thousand times better, but I can still sense it," he said.
Golf's returns to the Olympics in 2016 will provide the opportunity to grow the game on a global scale. The benefits should also be felt here in Britain according to Anthony Scanlon, executive director of the International Golf Federation.
"I think it can inject some enthusiasm and expose ourselves to some people in the UK who would not normally watch golf and maybe hook them," he said.
There's a sense that golf is positioning itself to try to fully capitalise on its inclusion in the Games in Rio in two years' time - and maybe significant steps can be taken this week.
Fans flocked to Hoylake from the moment Woods turned up to practice last Saturday. With the opportunity to pay on the gate and accompanied under-16s allowed in for free, there's every chance of similar numbers to 2006 attending this Open.
Encouraging attendance and viewing figures can only bolster confidence as golf faces a future that may see significant changes in its outlook.