Open 2014: Factory worker John Singleton looks to take chance
By Ged Scott
BBC Sport at Hoylake
Last updated on .From the section Golf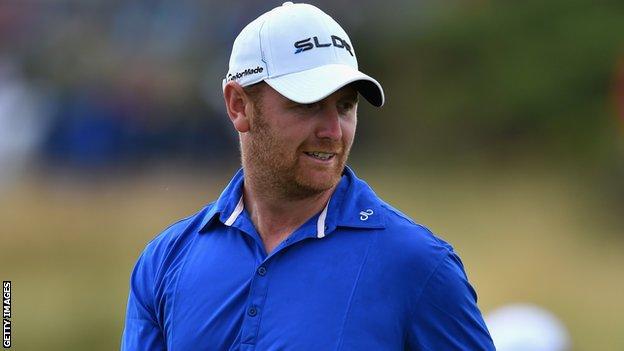 The 143rd Open Championship
Venue:
Royal Liverpool Golf Club
Date:
17-20 July
Coverage:
Live on BBC TV, HD, Red Button, online and mobile (UK only) and Radio 5 live; text commentary on BBC Sport website (#bbcgolf) and mobiles; watch again on iPlayer
The last time John Singleton had a brush with fame, he was thousands of miles from home, trying to make it as a young professional in the ultra-competitive world of American golf.
Two dodgy knees ended his dream and brought him back to reality - and England.
And, after undergoing an operation on both knees, he settled down to earning an honest crust by taking a real job.
When the Open last came to Hoylake, in 2006, Singleton was still State-side, trying his luck after two years of collegiate golf at Rend Lake College, Illinois.
But the prospect of its return to Royal Liverpool, so close to his Wallasey home, just five minutes' drive away, was enough to rekindle those old dreams.
"As soon as I started playing golf, I was dreaming of playing in the Open," 30-year-old Singleton told BBC Sport.
"Mentally speaking, golf is the hardest sport in the world. You're out there on your own.
"But I never had any doubts I was going to make it. I was on the right path.
"Then, when I got injured, I felt all the practice I'd put in over 10 years had gone to waste.
"But to actually be here now getting a second bite and doing it on a course I know so well is fantastic. That makes it so much better, having my friends and family so close by.
Veteran BBC commentator Peter Alliss:
"It would be magical if he manages to get to play the final 36 holes. Just imagine if he won it. Of course it's highly improbable, but you never, never know.
"It would be one of those magic fairy stories that - just sometimes - come true.
"He'll be very nervous. He's never been in that situation before but it'll be a wonderful experience."
"It's so nice for people to come up and say hello and want to speak to me, which I really appreciate. And, during the practice rounds, I've had people cheering me on that I've never seen before.
"But I'm also looking for the Open to be a great springboard for me.
"I want to continue to play professional golf and I would love the chance of sponsorship to enable me to keep on playing."
That was the lure when Singleton coughed up the £150 entrance fee to take his chance in Regional Qualifying at Mere, in Cheshire, last month.
And he started to prepare properly, by fitting in a practice schedule at his course at Eastham Lodge around his daily job in a Birkenhead factory, where "I help make varnish and paints and resin, which goes over wires to keep them waterproof".
"For the last three months," he said, "I've been starting at 8am and finishing at 4:30, then, on Mondays, Wednesdays and Fridays, I get off to the course about five and I practise until 8:30."
All that at a time when his other half, Lucy, is expecting their first child, due next month. But all the effort has paid off.
John Singleton

Age:

30

Born/lives:

Birkenhead/Wallasey

Club:

Eastham Lodge

Exemption:

Final Qualifying (Hillside)

Open record:

Open debut

First round tee time:

10:32 BST
He fired two matching level-par rounds of 71 at Mere, only to miss out by a shot in a play-off, but that was good enough to be put on the reserve list for Local Final Qualifying. And, when a place became available at Hillside, Singleton took it.
After a first-round 72, he stormed to a second-round 66 which helped him finish joint-top. Even then, there were four players tied - and only three places for Hoylake available.
But he held his nerve in that play-off, a par at the first extra hole proving enough, when Yorkshire amateur Chris Marsh dropped out.
And now here he is, in his Royal Liverpool 'home', dreaming of even greater glories.
Local knowledge
Singleton was originally intending to be walking the fairways of Royal Liverpool this week - as one of the volunteer marshals.
"I'm not focussing too much on a certain score," insisted Singleton. "I'm just going out to enjoy myself and hope that's enough."
In which case, what, he was asked, would be his best scenario?
After a pause, and a grin from those genial Scouse features, the positive-minded Singleton admitted: "The best scenario would be to win it, of course."
Why not? After all, Sunday will be his 31st birthday. What better present?
"But," he quickly added. "Realistically, I'll just be looking to make the cut and take it from there.
"For me, 98% of it is mental. If I can control my emotions, I think I'll have a nice week."