Open 2014: David Howell fires level-par opening round
By Ged Scott
BBC Sport at Hoylake
Last updated on .From the section Golf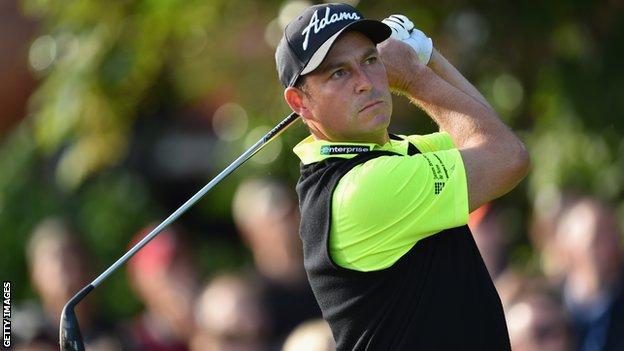 Swindon's David Howell was left "frustrated" after carding an opening level-par 72 on the first day of the 143rd Open Championship at Hoylake.
After three straight birdies following a first-hole bogey, Howell was then close to losing his ball on the 7th, where he ran up a double.
"In the end, I'm a little frustrated with level par," he told BBC Sport.
"It's never terrible in a major, but there was an opportunity to put a number on the board."
Fellow West Country competitor Chris Wood fared less well, firing a first-round 75.
The 26-year-old European Tour regular from Bristol hit two birdies to cancel out a pair of bogeys on the front nine, before dropping two shots at the 10th and another at the 15th.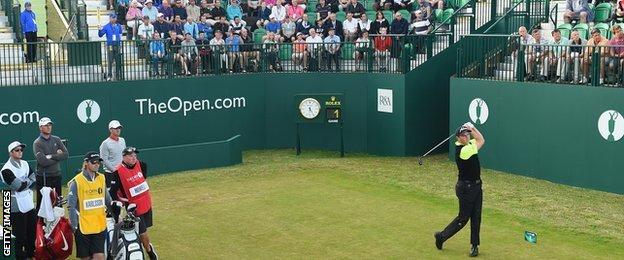 Howell, 39, who now lives in Surrey, blamed his putting on the back nine for his failure to challenge a bit more strongly.
"I've putted beautifully lately," he said. "But I couldn't quite get the ball to the hole and left a couple on the greens on the back nine.
"Dropping a shot actually got my juices flowing a bit and set me off on a good run, but then the double at the 7th definitely killed off what momentum I had.
"But it was a poor shot into what must be the thickest bit of rough on the course. So I deserved what I got, really. And I was lucky that it ground by a spectator."
Howell had the honour of hitting the first ball at this year's Open, but he had no problem with the early start - and is opposed to the idea of simultaneous starts from two tees.
"I'm a traditionalist," he said. "I like the feel of the one-tee start.
"A two-tee is fairer, no doubt about it. But there's something about the tradition I like.
"I set my alarm for 4:15 and I woke up naturally at 4:11, which was a right result. I thought 'Shall I go four more minutes?' but this is the Open Championship.
"As soon as you wake up, you remember what you're doing, the adrenaline kicks in and you're off and running. And, of course, it was a gorgeous morning. I might have thought different about it if it was cold."