Tiger Woods shows his old mojo at 2014 Open at Hoylake

By Tom Fordyce
Chief sports writer
Last updated on .From the section Golf72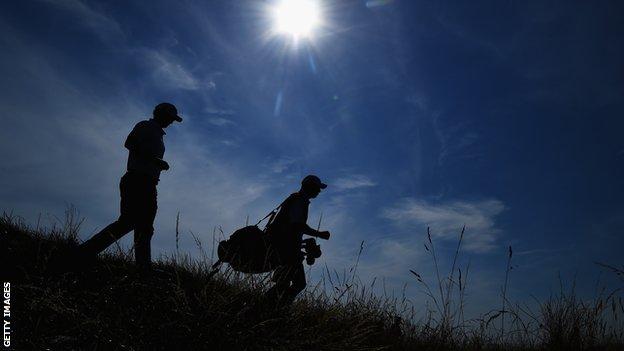 For meteorologists and druids the high point of summer arrived four weeks ago.
For those who worship in sporting circles it came instead just after dawn on Thursday, heralded by a man from Swindon wearing a fluorescent yellow polo shirt and neatly pressed black slacks.
The first day of the Open is always the longest day of the sporting year.
From 06:25 BST, when the garishly dressed David Howell pushed the opening tee shot of the 143rd championship into the rough down the right, almost 14 hours would go by until the 52nd and final group of players had strolled off the 18th green.
And there is barely a lull in any of it. Wimbledon, with its similarly manicured lawns, allows its past champions a first-round stroll against an unseeded stooge.
The Open begins instead like the Grand National - a flurry of wagers and tips, a vast brightly-clothed field of runners and riders, big boys and romantic outsiders fighting together against a course that can unseat you at any turn.
On one tee, a 14-time major winner like Tiger Woods. On an adjacent fairway, a forklift truck driver from Birkenhead who has won golf's equivalent of a Wonka golden ticket by coming through qualifying.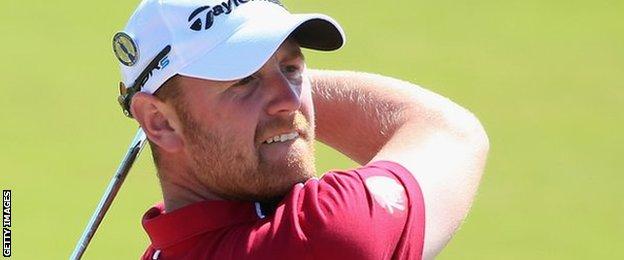 John Singleton has never won more than £280 playing golf. He borrowed two clubs from a mate to make it to Hoylake. On Thursday, only a thin ribbon of rough separated him from Rory McIlroy, who is being paid £75m over five years by Nike to use theirs.
In each of the stories, a different drama. Singleton was endearingly astonished to be here, standing on the first tee and staring around at the crowds with a look of wonder on his face.
Woods, for all his three Opens, for all his flawless play on this course eight years ago, is almost as unexpected a contender.
He has just returned from major back surgery, no form to propel him in, reputation shredded by the revelations from his private life and more knee reconstructions than major wins in his recent past.
Yet the lure of the Tiger remains.
On the first tee, just after 9am, his arrival drew the loudest cheer of the morning. His strides down the fairway were matched by a bigger media posse than any other player.
Guarding his flanks and rear at all times were three impassive security guards, clandestine in white shirts and caps but with biceps and stares that left you in no doubt what would happen to anyone who dared take a Tiger pot-shot.
At times in recent years Woods has resembled an actor playing Tiger Woods - same look, same walk, but only the occasional poor impression of the brilliant shot-making that once defined him and reshaped the game.
Over the opening holes he bogeyed the first after finding a bunker with his approach and none of the green with his splash out, and threw away another on the second with a six-foot putt that never looked like dropping.
It is at moments like this that Woods makes being Woods look like the worst thing in the world. Millions of dollars? Weight on the shoulders. Endless acclaim? Not a moment of real privacy. A better majors record than anyone in history bar Jack Nicklaus? Not a major win in six years.
Tiger Woods majors victories; 14 in total

Masters

1997, 2001, 2002, 2005

US Open

2000, 2002, 2008

The Open Championship

2000, 2005, 2006

PGA Championship

1999, 2000, 2006, 2007
But the old mojo can still stir. While his partner Angel Cabrera played like the anti-Tiger - one all sleek limb and irons off tee, the other all big stick and bigger belly - Woods' patience, just as it had in 2006, paid dividends.
His first birdie came on the par five fifth. Then, on the par four 11th, came another, the first of five in six holes. Cabrera, as likely to play it safe as he is enjoy a wheatgrass smoothie for breakfast, was adrift four over even before the turn.
Two groups back, McIlroy was also making hay while the sun smiled. The Northern Irishman's Open record does not reflect his pedigree or market worth. Since his debut at Carnoustie in 2007 he has just one top twenty finish.
But that was when links golf behaved like links golf. On Thursday the Wirral coast was as benign as it is often wind-battered, the air full of sun-cream smells rather than the flapping of cagoules, the blue skies above as untroubled as the players down below.
McIlroy is too good not to capitalise. Striding around the baked fairways, fingers of his glove hanging out of his back pocket like a cockscomb, he birdied the second, fifth and sixth and was striking the ball so well that chances came on almost every hole.
Hoylake, with its grassy dunes and long untroubled sight-lines, provides a natural amphitheatre in conditions as benign as this.
Out on the par three 13th, bordered on one side by banks high and soft enough to house hundreds of gently baking spectators and the other by the mudflats and blue waters of the Dee estuary, Woods and McIlroy were almost outplayed by their backdrop.
Wimbledon is always handsome. Lord's on the first day of a Test, as it was on Thursday, can look so perfect that one sometimes suspects CGI.
On days like this an Open can beat both. In few other sports can you lie in the grass with pint in hand and watch 156 of the world's best do battle just a few yards away, butterflies and grasshoppers landing on your bare legs, while also feeling like a bird-watcher in a hide and simultaneously a bloke in a pub beer-garden.
Few other sports can be so cruel. While McIlroy would finish with a bogey-free 66 to take the outright clubhouse lead, and Woods tuck into his slipstream three shots behind at three under, Ernie Els - champion of two years ago - would triple-bogey the first and at one stage be in a tie for 152nd.
Bryden MacPherson, 20, in only his second appearance in what he calls his dream tournament, endured a 90-shot nightmare.
Rory McIlroy's 2014 implosions

Difference

1st/2nd round scores

Tournament

15 shots

63/78

The Memorial, May

14 shots

64/78

Scottish Open, July

7 shots

63/70

Desert Classic, January

7 shots

69/76

Wells Fargo, May
For Singleton, given a fortnight off by his bosses at Advanced Electrical Varnishes to prepare for his big day, six dropped shots in his last seven holes did little to spoil his day. For McIlroy and Woods, it is all about what follows.
Woods wants to prove that his stated aim of winning a second title here was more than just braggadocio. McIlroy must show that he has learned the lessons of the past.
Four years ago he shot a course-record 63 on the first day of the Open at St Andrew's, only to clatter his way to an 80 the next day.
This season alone he has gone 15 shots worse in his second round than his first at the Memorial, 14 shots worse at last week's Scottish Open and seven shots worse at both the Desert Classic and Wells Fargo.
The longest day is over. The biggest battles are ahead.