Bob Torrance: A unique eye for seeing the essence of golf
By Graham Spiers
Golf Show presenter
Last updated on .From the section Golf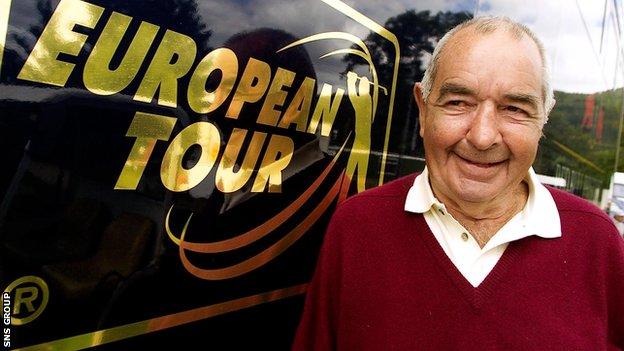 The death of Bob Torrance at the age of 82 has robbed Scotland and Scottish golf of one of its most distinguished sons, a man flowing with wisdom and insight for his chosen craft.
Torrance was top-to-toe so authentically Scottish, from his Ayrshire ways, his gruff voice, the rolled-up fag forever dangling from his lips, and much else. He was also a warm and gentle character, which many will attest is also a very Scottish way of being.
Said to be not that great a golfer in his prime - a line put about not least by Bob himself - it was in coaching that he came to belong among the world's best.
He had that almost mystical thing - an eye for the mechanics of a golf swing which most simply could not see. This set him apart and made him coveted as a teacher by a host of the game's leading players.
In recent hours Padraig Harrington, Ian Woosnam, Paul McGinley, Stephen Gallacher, Marc Warren and many others have spoken of Torrance's genius ways.
Yet it is hard to cite the entire alumni who fell under Torrance's spell because the truth is, he helped an endless list of golfers - including Seve Ballesteros - who would see Bob on the golf range and seek his advice.
I mention Seve merely in passing, because I witnessed it myself, and it perfectly fits the narrative of Torrance's seemingly endless outreach to players.
I was covering an Irish Open some forgettable year in the mid-1990s when Seve, who was struggling at the time, sought Bob out on the range at Mount Juliet in County Kilkenny and asked for his help. Two hours were then spent by the pair - the swashbuckling Spaniard and this no-nonsense Ayrshireman - as they set about correcting Ballesteros's anarchic swing.
Harrington, of course, was Torrance's great jewel. The Irishman always had a rare golfing talent but says himself that his swing was deeply flawed before Torrance was invited to work his magic and bring accomplishment to his vast potential.
Under Bob, Harrington's golden years came swiftly and richly, when he won the Open Championships of 2007 and 2008, and the 2008 US PGA Championship. In the second of those Open triumphs, at Royal Birkdale, a bashful Torrance could be seen greenside, welling with pride, but eschewing the limelight.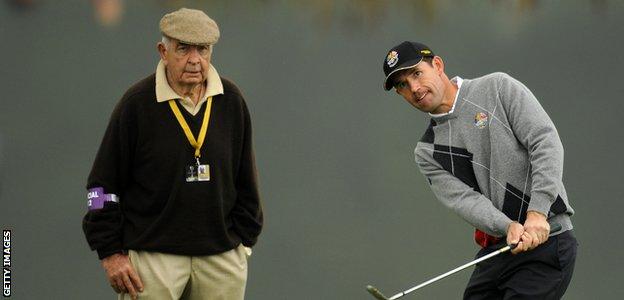 Harrington, like a lot of golfers, would often be humorous about the occasionally unfathomable Bob, whose gravelly Scottish brogue the Irishman sometimes found hard to divine. Harrington also told stories of coming over to Largs and caning ball after ball on the range - sometimes in snowfall - while Torrance, getting soaked beside him, insisted he keep going until he got it right.
Bob was also quite a delight to visit in his modest home, occasionally inviting you out onto his back lawn to view the chaos of your game. On one such visit I got the Torrance treatment myself, where he stopped my swing with a driver at various points to admonish me for my flaws.
Invariably he would tell you that "Ben Hogan did it like this" and then, the fix done, have you sauntering off thinking you had a chance of emulating the great American player. Inside that Largs home, meanwhile, Bob's wife June would ply you with tea and cakes and anything else you fancied.
It seemed to be the way of it that, with Bob, golfers worked for only so many years before it was time for a parting of the ways. Perhaps his dedication, persistence and work-ethic were sometimes too much for a certain type of player.
Yet to a man - such as Warren, who incurred some mild rebukes from Bob - they have all spoken warmly and admiringly of his ways. He had a unique eye for seeing the essence of golf and making players better.
Bob Torrance wasn't just a loveable, occasionally eccentric Scotsman. He was also a brilliant golf coach who was respected the world over.
BBC Radio Scotland's Golf Show is on Sunday at 10:31 BST