Open 2014: Rory McIlroy 18 holes from greatness at Hoylake
By Rob Hodgetts
BBC Sport at Hoylake
Last updated on .From the section Golf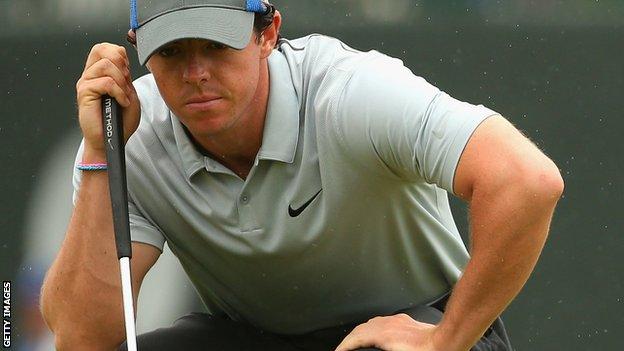 Rory McIlroy stands only six shots and 18 holes from climbing alongside the iconic Tiger Woods and Jack Nicklaus on an elite podium in golf.
The Northern Irishman has delivered a masterclass at this week's Open at Hoylake to leave closest challenger Rickie Fowler of America trailing six shots in his wake.
Six shots. It sounds at the same time both a huge cushion and a slender thread by which to have your dreams hang.
Victory for McIlroy on Sunday would make him only the third player - alongside his boyhood idol Woods and legendary 18-time major champion Nicklaus - to win three majors by the age of 25.
McIlroy would also join Phil Mickelson as the only current players to be one leg away from a career Grand Slam.
Only five players have won all four majors in their career - Nicklaus, Woods, Gary Player, Ben Hogan and Gene Sarazen. Superstars all.
"Not getting ahead of ourselves, but it would mean an awful lot," said McIlroy, who has also yet to win the Masters. "I'd be in pretty illustrious company.
"And if that means I'm going to Augusta next year with a bit of hype, then so be it."
McIlroy is imbued with ephemeral magic - sometimes it's there, sometimes, inexplicably, it's not. Which explains his recent habit of following a low opening round with a poor one on Friday. Last year, after a change of equipment manufacturer, legal wrangles with his management company and other off-course issues, his game suffered and he missed the cut at the Open, describing himself as "brain dead".
At Hoylake, he has talked of having "inner peace", much like Woods did when he won here in 2006.
"Rory has got the most free-flowing swing in the world, his rhythm is so good right now and his balance is perfect," David Leadbetter, who coached Sir Nick Faldo to six major titles, told BBC Sport.
"For a relatively slight guy he has a tremendous ability to create a lot of power. At times he might get out of rhythm but right now he's got the club on the perfect plane and combine that with his confidence - he seems to have this sereneness about him, almost as if he's walking on air."
McIlroy was groomed to be a golf star from childhood, so much so that 10 years ago his dad Gerry and three friends placed a £400 bet at 500-1 that he would win the Open by the time he was 25. This year still counts.
He romped to his first major title at the 2011 US Open. On a rain-softened course, he led from start to finish and took an eight-shot lead into the final day, winning by the same margin.
That week, McIlroy was in a class of his own, breaking 11 US Open scoring records, including the lowest total 72-hole score (268) and the lowest total under par at -16.
He backed it up with another eight-shot victory in the 2012 US PGA at Kiawah Island.
But McIlroy was supposed to clinch his maiden major at Augusta, two months before his breakthrough at Congressional. Holding at least a share of the lead after the first three rounds, he took a four-shot advantage into Sunday's Masters finale.
Record-breaking Rory
McIlroy's 197 strokes is a new 54-hole record at Royal Liverpool, beating the previous mark by three.
Greg Norman's winning score of 267 at Royal St George's in 1993 is the lowest score shot at the Open. The 'Great White Shark' hit rounds of 66, 68, 69 and 64. A 66 from McIlroy on Sunday would beat it.
Still leading by one at the turn, a triple-bogey on the 10th precipitated a collapse that left him drawn and shell-shocked but drew admiration for the way he handled his loss. It turned out to be one of the most valuable lessons of his life.
So he knows what it is to have a lead and to lose a lead. He's even won from seven back himself this season, overhauling Thomas Bjorn at Wentworth in May.
Factor in too, famous Open collapses such as Jean van de Velde squandering a three-shot lead going up the last as Paul Lawrie came from a record 10 shots back to win in 1999. Or Adam Scott seeing his four-shot lead with four holes to play disappear to hand Ernie Els a second Claret Jug in 2012.
"I'm not taking anything for granted," said McIlroy. "First things first, play a good solid round of golf. It helps that I've been in this position before and I've been able to get the job done."
His position is very similar to that of Martin Kaymer, who led last month's US Open by five shots going into the final round at Pinehurst. Kaymer was unyielding, and went on to clinch his second major title by eight strokes from Fowler and Erik Compton.
Kaymer's caddie Craig Connelly says their approach was not to try to protect the lead but instead see how low a total they could shoot.
"Martin had some little targets to see how low he could get just to challenge himself and that was the gameplan," Connelly told BBC Sport. "It wasn't about having a five- or six-shot lead. He wanted to get to double figures under par."
Kaymer, like McIlroy at Hoylake, was in sublime form, but Connelly said there was still apprehension.
"Anyone who says they don't suffer from nerves would be lying," said the Scot, who has also caddied for Paul Casey and Colin Montgomerie.
"With a five-shot lead you've got everything to lose so there's always that little bit of apprehension. You can't enjoy that first hole, but once you're off and running you just go about your day. But we never said to each other we thought we had it won. And even if I thought it, I buried it to the back of my mind."
Connelly is convinced McIlroy and caddie JP Fitzgerald will be just the same.
McIlroy's Hoylake stats

Driving distance: 329.3 yards average (field 280.8)

Single putts: 28 (51.90%) - Ranked first

Fairways: 26/42 (61.90%) - Tied 35th

Putts per hole: 1.48 (field average 1.64)
"I dare say it would be different for someone who has never won one before but those guys have been around the block," he said. "JP will know exactly what to do - he'll keep Rory on an even keel."
Leadbetter is adamant only "something catastrophic" will stop McIlroy winning.
"It's his to lose. The only issue is if he starts to get a bit tentative," he said. "I remember when Nick Faldo won the Masters in 1996. Greg Norman had a six-shot lead, but Greg wasn't playing particularly well, although he was putting OK. The big difference is that Rory is playing really well. He needs to stick to his gameplan, which is naturally aggressive."
Fowler, also 25, is an old adversary of McIlroy's from amateur days when they duelled in the 2007 Walker Cup at Royal County Down. The Californian is still searching for his first major title, but a switch to Woods' former coach Butch Harmon has brought his game to the brink, as evidenced by his runner-up finish at Pinehurst last month.
Fowler, too, has learnt from past experiences. "It feels like I'm supposed to be here," he said. "If I can put a little bit of pressure on Rory, maybe we can get into a fun little match come the back nine."
Sergio Garcia and Dustin Johnson are one shot behind Fowler and both have come close on numerous occasions without winning a major. Johnson himself blew a three-shot lead on the final day of the 2010 US Open. Both will feel there is hope on Sunday.
"There is no safe lead on a golf course, but you can't see it happening," said Leadbetter. "Rory's playing too well. He's experienced enough now, he's not a rookie. He's got this won - he's just got to go out and play 18 holes of golf."