Rory McIlroy grinds out an Open victory as mighty as any major

By Tom Fordyce
Chief sports writer
Last updated on .From the section Golf255
At Royal Liverpool, Hoylake
If Rory McIlroy's first major win at the US Open in 2011 was the redemption, after his horrendous last-round collapse at the Masters a few months before, and his second at the US PGA a year later was the confirmation, Sunday at grey and nervous Hoylake was his coronation.
This was the dream of a once-chubby kid from Holywood in Northern Ireland made pinch-yourself reality: strolling down the 18th fairway at an Open, the championship tucked into back pocket with glove and scorecard, thousands lining the ropes and stacked in the horseshoe grandstand around the green, cheering him to the throne.
It was nearly the sort of screaming nightmare that leaves sheets soaked and men broken. A hole into this final round, McIlroy had led by seven shots. By the ninth, again at the 12th and then with two holes to go, that had been hacked down to just two.
Players to win all four golf majors

Masters

US Open

The Open

PGA

Jack Nicklaus

Six

Four

Three

Five

Tiger Woods

Four

Three

Three

Four

Gary Player

Three

One

Three

Two

Ben Hogan

Two

Four

One

Two

Gene Sarazen

One

Two

One

Three
There are those who relish the peculiar pressures of being a front runner. Sebastian Coe built his career on it. His successor as 800m world record holder, David Rudisha, has won Olympic gold and everything else in the same style: get out fast, dictate the pace, make the chasers hurt until they fade away.
McIlroy has always done things the same way. It was how he won those first two majors. Play safe? Never. Pile the pressure on the pursuit? Always.
Except this time the snapping teeth of the hounds behind came close to bringing him down.
Pretty in pink at the start, the sleeves of his polo shirt as bright as his prospects, he had all the support from the Liverpool crowd that a Macca should expect. So too did his playing partner. Fowler remains another popular name in these parts.
But it was Sergio rather Rickie who came closest to a pulling off a regicide that would have ranked with the great dethronings in modern sport.
Garcia knows more than most about capitulation. In 2007 he lost the Open at Carnoustie in a play-off having required only a par on the 18th for an outright win; 12 months earlier he had fallen apart here at Hoylake, starting the final day a single shot behind Tiger Woods only to end it seven back and broken.
McIlroy's majors

2011 US Open

By eight shots

2012 PGA Championship

By eight shots

2014 Open Championship

By two shots
This time he charged, first almost surreptitiously as all the crowds and attention swarmed around the favourite a hole behind, then with increasing clamour as McIlroy dropped shots at the fifth and sixth, and the Spaniard rolled in a nerveless eagle putt on the 10th.
It forced McIlroy to find a new way to win. Forget the relentless aggression or the pursuit of record-breaking winning margins. On the last day of the Open, a one-shot win is as sweet as six.
And so a man whose flair and buccaneering shot-making had defined the first three days got to the line with a stutter and a stagger and a grind, grind, grind.
For all the last-day Spanish inquisition, this was a victory as richly deserved as the eight-shot margins that secured his other majors.
There is no fluking an Open victory, no lucky knock-out punch nor long-range shot that can steal it for you as other sporting crowns can be won.
It is a triumph secured over 72 holes of concentration and stress, over four days of contrasting weather and conditions that can demand a constant recalibration of tactics and stroke-play.
The particular challenges of the links courses on which the championship is played have in the past proved too much for even this extravagantly gifted player.
BBC Sport golf correspondent Iain Carter
"McIlroy called for someone to fill the Tiger Woods-sized void in the game - and the 25-year-old appears on a fast track to be that man. This was a hard-earned victory. His Saturday brilliance with those two late eagles proved the difference, but he held his nerve superbly in a difficult final round. Three majors at the age of 25 is an extraordinary achievement and his win will significantly boost interest in the game."
A year ago he missed the cut and was home before the weekend began. The year before he had tied for 60th. In 2011 he was 25th and forgotten in his compatriot Darren Clarke's own Open fairytale.
This time around he conquered. There was unmatched distance and relentless accuracy with the driver; there was a gossamer touch with the short irons and a solidity over the wobbly putts that spoke of a man who believed where so many others merely hope.
On the first two days he enjoyed the best of the weather. Only on the back nine on Sunday did the Royal Liverpool course threaten to bluster as a links can. But this is a footnote in the smallest font rather than a caveat.
Last five Open champions
2014: Rory McIlroy
2013: Phil Mickelson
2012: Ernie Els
2011: Darren Clarke
2010: Louis Oosthuizen
McIlroy, by his own admission "brain dead" at this event a year ago, was possessed by an inner calm that nothing could upset. When his mojo is there, no other player can live with him. When it is paired with the mental fortitude on display over the past four days, he can touch rare heights.
This victory makes him only the third player - alongside his boyhood idol Woods and legendary 18-time major champion Jack Nicklaus - to win three majors by the age of 25.
More than that, it gives him a status outside golf's already massed ranks of true believers to rank with any of the new generation of sporting heroes.
In winning at Congressional three years ago he may have become the youngest US Open champion since Bobby Jones in 1923, and in repeating the trick at Kiawah Island in 2012 he may have outdone Nicklaus in setting the biggest winning margin the tournament had seen.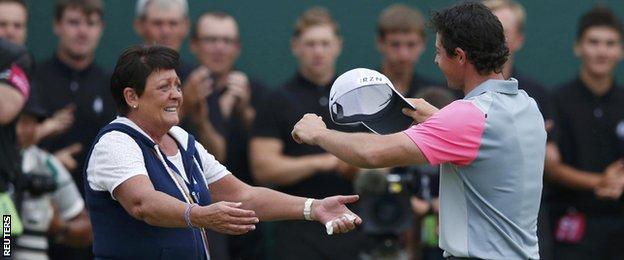 But that latter performance was overshadowed for many outside Northern Ireland by the crescendo to the London Olympics, pushed from the back pages by the most successful fortnight in British sporting history. Both were played out late in the European evening on satellite television.
An Open, just as Wimbledon does for tennis, brings in the masses - the dabblers, the part-timers, the kids and the occasionals. It also brings in the mums, not least Mrs Rosie McIlroy, who has never before witnessed one of her son's major moments.
There is no greater stage for a golfer in Britain, and no greater prize that McIlroy could have won.
Rory's rise
When McIlroy won the PGA Championship in 2012at the age of 23, he became the youngest player since Seve Ballesteros to win two majors. Tiger Woods was about four months older than McIlroy when he won his second major.
Even before this week he was ranked by industry magazine SportsPro as the third most marketable sportsman in the world, behind only footballers Neymar and Lionel Messi. Even 18 months ago Nike was prepared to pay him £75m over five years as Tiger's heir apparent.
As he strolled back down the 18th on Sunday evening, holding the Claret Jug aloft to those four-deep down the fairway as well as the ones jangling their jewellery in the posh seats, you sensed it was the start of something bigger still.
Venerated golf writer Bernard Darwin watched the last of his Opens on this course before McIlroy's parents even met. But his famous line rang as true on this blustery evening as it had half a century before: "Hoylake, blown upon by mighty winds, breeder of mighty champions."