Bob Torrance: Padraig Harrington pays tribute to former coach
Last updated on .From the section Golf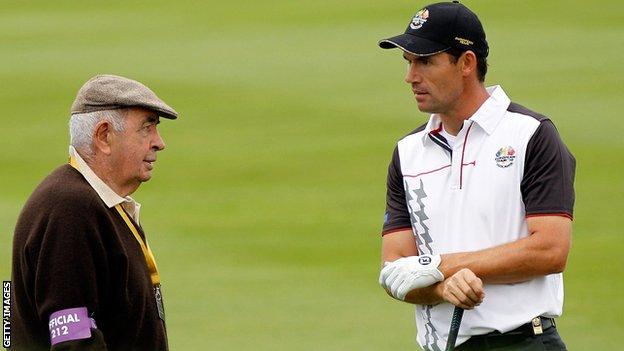 Triple major winner Padraig Harrington has paid tribute to his former coach Bob Torrance, who died aged 82 on Friday.
"He was instrumental in those three wins," Harrington told BBC Scotland. "He was the man who got me there.
"He leaves a massive legacy in golf. He became like a father figure for me."
Scot Torrance, father of former Ryder Cup captain Sam, also coached the current European skipper Paul McGinley for over 20 years.
But Harrington insists the late Torrance did not only help those he coached.
"When he wasn't coaching one of his players, he was talking to the other players," said the Irishman.
"He was willing to give a lesson to just about anybody.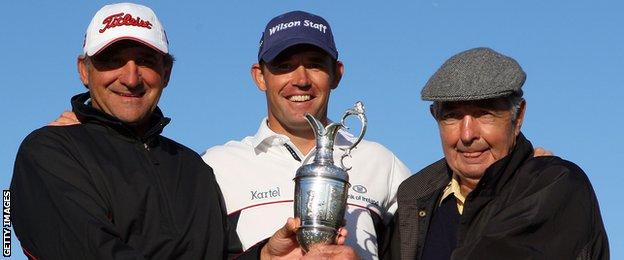 "I was always fascinated with how he would work on one player and nearly tell him the opposite of what I'd be doing and yet down the road, he'd be getting us to not swing the same but certainly do the same key things.
"As much as he was a great golf coach, and he was with a unique way of teaching, he was just a nice person to be around. He was very entertaining, very funny. Everybody enjoyed his company."
And, asked if he would have won his three majors without the help of Torrance, Harrington replied: "Absolutely not, not a chance in the world. It's as simple as that.
"At that time, he gave me what I needed. I started working with Bob in the late 1990s. He had worked with a lot of players, but particularly a lot of Irish players.
"All of his players were good ball strikers and went on to win tournaments. I certainly had a good short game at the time and I needed to up my game a bit in terms of striking and he was the man for me.
"He really, really helped in terms of my ball striking and my confidence in my ball striking.
"Over those years I became very close to Bob. My own father passed away during that time.
"I had some great times with him.
"He had a great life. He really, really lived his life."