The Open 2014: Tiger Woods confident of Ryder Cup selection
Last updated on .From the section Golf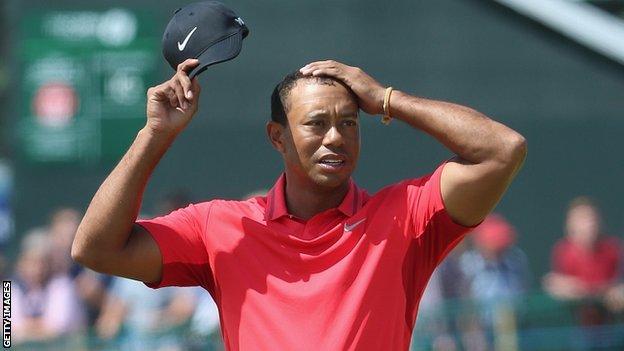 Tiger Woods believes he deserves a place in the United States Ryder Cup team despite recent injury problems and a disappointing display at the Open.
Woods is unlikely to qualify automatically for September's match against holders Europe at Gleneagles.
Asked if US captain Tom Watson should pick him as one of his three wildcards, Woods said: "I would say yes."
After back surgery in March forced him to miss the year's first two majors, the 38-year-old Woods managed only two competitive rounds in the build-up to the Open at Hoylake, where he won in 2006.
Players to win all four golf majors

Masters

US Open

The Open

PGA

Jack Nicklaus

Six

Four

Three

Five

Tiger Woods

Four

Three

Three

Four

Gary Player

Three

One

Three

Two

Ben Hogan

Two

Four

One

Two

Gene Sarazen

One

Two

One

Three
And earlier this week Watson hinted that the former world number one would need to qualify for next month's FedExCup play-off series in order to secure a place.
Woods was 72nd in the US Ryder Cup standings before the Open, with only the top nine players qualifying automatically for the team.
He was 212th on the FedExCup points list, with only the top 125 players qualifying for the four-tournament series.
"I'd like to win the next two tournaments I'm in. That should take care of it," said Woods, who carded an encouraging 69 on the opening day at Hoylake before fading badly.
"But I got picked by Corey [Pavin] when we played in Wales in 2010. I was coming off an injury there, with my Achilles, and I sat out most of the summer. And I felt like I was able to contribute to the team.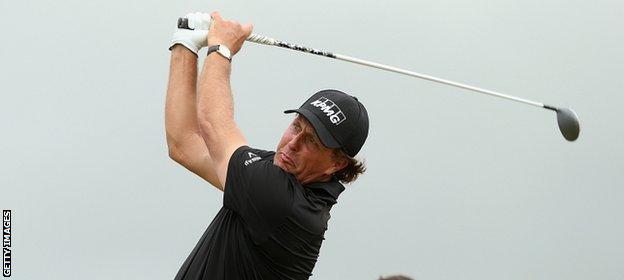 "He [Watson] is the captain. Obviously it's his decision. He's going to field the best 12 players that he thinks will win the Cup back. And I hope I'm on that team."
Despite three over-par rounds between Friday and Sunday at Hoylake, Woods said there were some encouraging signs that his form and fitness were returning.
"The fact I was able to play a few weeks ahead of time, and I'm only getting stronger and faster, that's great," said Woods, who has played in seven Ryder Cups, winning only one.
"I've got more game time under my belt. Obviously there's a lot of things I need to work on but I haven't been able to work on a lot."
Phil Mickelson is likely to earn a wildcard spot in the US team if he does not gain an automatic pick, but is determined to take a decision out of Watson's hands.
BBC Sport golf correspondent Iain Carter
"Rory McIlroy called for someone to fill the Tiger Woods-sized void in the game - and the 25-year-old appears on a fast track to be that man. This was a hard-earned victory. His Saturday brilliance with those two late eagles proved the difference, but he held his nerve superbly in a difficult final round. Three majors at the age of 25 is an extraordinary achievement and his win will significantly boost interest in the game."
Mickelson, who finished tied for 23rd in Hoylake, having won the tournament last year, was 12th in the standings before the Open.
"It does matter to me, it has been 19 years now where I have made it on my own," said the 44-year-old, a member of every US team since 1995.
"I'd like to keep that streak going and if I play like I did this week at Akron [Bridgestone Invitational] and the US PGA, I'll be fine.
"If I don't get in on my own I don't know if I'll have played well enough this year to deserve a spot."