Rory McIlroy's father wins £50,000 from Open Championship bet
Last updated on .From the section Golf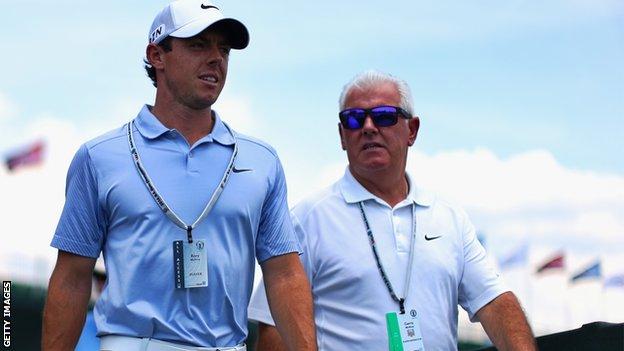 Rory McIlroy's father Gerry made £50,000 from a bet he placed in 2004 when his son won the Open Championship.
Gerry staked £200 at odds of 500-1 that his son, then aged 15, would win the Claret Jug within the next 10 years, including 2014.
The winnings will be split with a friend who provided half the stake.
A third punter from McIlroy's hometown, Holywood in Northern Ireland, made £50,000 after betting £200 at 250-1 that McIlroy would win the Open by 50.
Jessica Bridge, spokeswoman for bookmakers Ladbrokes, said: "Nine out of 10 times, these bets come to nothing, but on this occasion the punters definitely knew more than we did. And we can only doff our cap to their confidence and foresight."
McIlroy, 25, won the Open at Hoylake by two shots from Spaniard Sergio Garcia and American Rickie Fowler.
Who's the daddy? Top parental flutters
Football - Chris Kirkland:
Dad Eddie won £10,000 after £100 bet at 100-1 on 12-year-old son to play for England. Goalkeeeper won only cap against Greece in 2006
Formula 1 - Lewis Hamilton:
Father & friends collected £125,000 after bet on him to win a grand prix (40-1) before age of 23 and world title by 25 (150-1). Hamilton won championship aged 23 in 2008