Ryder Cup 2014: Phil Mickelson secures automatic USA place
Last updated on .From the section Golf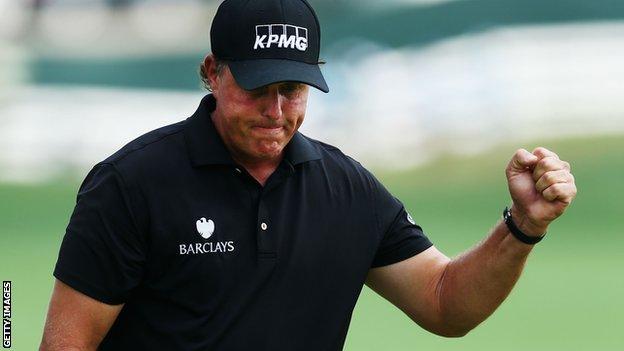 Phil Mickelson has secured a 10th successive Ryder Cup appearance after finishing second at the US PGA Championship on Sunday.
Mickelson's qualification had been in doubt, but his points at Valhalla give him one of nine automatic places in the US team for next month's event.
The 44-year-old finished one shot behind winner Rory McIlroy.
"This is just a little glimpse of what I feel I can do and I'll see if I can work on it some more," Mickelson said.
The fourth major of the season at Valhalla was the final tournament to count towards qualification for the US Ryder Cup side.
United States - the nine Ryder Cup qualifiers

Player

Points

Bubba Watson

6,930.038

Rickie Fowler
6,733.253

Jim Furyk

6,707.694

Jimmy Walker
6,111.405

Phil Mickelson

5,510.338

Matt Kuchar
5,114.665

Jordan Spieth

4,835.827

Patrick Reed
3,650.227

Zach Johnson

3,568.694
Mickelson, the 2013 Open champion, had not finished in the top 10 at a Tour event since January - and was 10th on the US qualification list going into the tournament on Thursday.
But chasing his sixth major, he held a share of the lead going into the closing holes in Kentucky before McIlroy came through to win.
"It was fun to get back back in the mix and feel the pressure," said Mickelson, whose nine Ryder Cup appearances are a US record. "I just ran out of steam after 12 holes.
"I am disappointed in the outcome. If I could have finished the last five or six holes strongly, it could have flipped the way I feel about the whole year."
Nine of the 12 places in the US Ryder Cup side are determined by a points system based on prize money earned at majors and PGA Tour events.
Captain Tom Watson also has three wildcard picks, which he is scheduled to announce on 2 September.
US Ryder Cup: potential wild card picks

Keegan Bradley (13th in the standings)

2011 US PGA champion. Won three of four matches at the 2012 Ryder Cup.

Webb Simpson (15th)
2012 US Open champion. Won two of four matches at the 2012 Ryder Cup.

Hunter Mahan (25th)

Former world number four and 2012 World Match Play champion. Two-time Ryder Cup player.

Steve Stricker (29th)
Former world number two and 2001 World Match Play champion. Three-time Ryder Cup player.

Tiger Woods (70th)

14-time major winner. Seven-time Ryder Cup player.
Watson must decide whether to use one of those picks to include 14-time major winner Tiger Woods, who missed the cut at Valhalla in what was his fourth tournament since back surgery in March.
The US captain's preparations for September's match at Gleneagles in Scotland have been troubled, with Dustin Johnson, who was in line for one of the automatic places, taking a break from golf, and Woods struggling with injury and poor form.
Europe will go into the match as the defending champions, having won 14½-13½ at the Medinah Country Club in Illinois in 2012.