Rory McIlroy: US PGA champion succeeds Tiger Woods as kingpin

By Tom Fordyce
Chief sports writer
Last updated on .From the section Golf349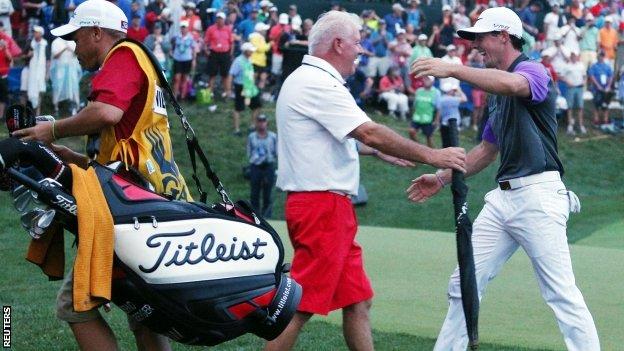 These have been our boys of summer: a year ago Andy Murray on Centre, in 2012 Mo Farah in London and Bradley Wiggins in yellow, the year before, England's top-of-the-world cricket team.
Now it is Rory McIlroy out on his own, the golden boy on his golden run.
In winning the US PGA Championship at a storm-battered Valhalla, McIlroy not only triumphed in a Kentucky derby as thrilling as anything golf has seen in a decade or more but made the passing of eras impossible to deny.
Once there was Tiger Woods, able to win from anywhere, in any conditions, even on one leg. Now Woods resembles an old boxer, all scar tissue from those old battles, limping around with body wrecked and aura gone even as he tries to insist that he has title shots left in him still.
McIlroy needs to convince no-one. Four majors to his name, two in the last four weeks, this is his time.
He has won before at a canter, and at a sprint. At Hoylake last month he opened up a lead and stood strong down the stretch. Valhalla, his narrowest major victory yet, was perversely the most impressive of all.
US PGA in numbers

The year's final major boasted the biggest prize fund - $10m (£6m) - with champion Rory McIlroy pocketing $1.8m (£1.1m).

Runner-up Phil Mickelson, a five-time major winner, had not earned a top-10 finish in any tournament this year.

McIlroy's Open and US PGA double, plus German Martin Kaymer's US Open win, means it is the first time in the modern era that Europe has claimed three of the four majors up for grabs each year.

Rickie Fowler is only the third man to finish in the top five of all four majors in a season in the modern era. The American joins Jack Nicklaus (1971 and 1973) and Tiger Woods (2000, 2005).
With nine holes to go in Sunday's dark crescendo he was three shots down, having led both overnight and at halfway. No other player in the top 20 had gone over par for the front nine. Ahead of him were champions of the present (Phil Mickelson) recent past (Ernie Els) and future (Rickie Fowler).
Kentucky fried? The answer came with his second shot on the par-five 10th. No-one else all week had reached the green in two. McIlroy opened out with a trademark howitzer drive and then slashed a three-wood from 281 yards to within eight feet of the hole.
In went the eagle. On went the charge.
With five to play and night coming in fast he was level with Mickelson and Fowler. From a fairway bunker on 17 he conjured a birdie to go clear.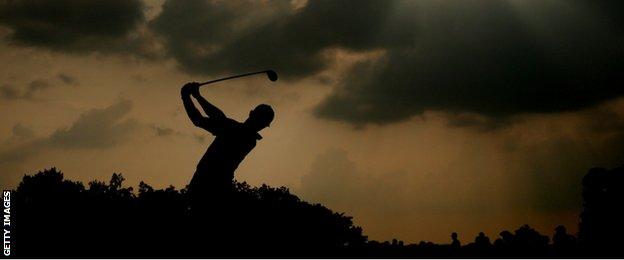 On 18, racing the sun as well as his rivals, he escaped another bunker and then rolled a 34-foot putt to within a tickle.
It was brilliance to illuminate the murkiest of denouements. All the other contenders had stumbled under the immense pressure in the final run of holes, even if just once. McIlroy surged.
The boy from Holywood has always been famed for his driving. Now, as a man, it is his relish for fierce battles and ability to flourish in them which is setting him apart just as much, just as it once did Woods.
Not always at Valhalla did he play well. This was not the relentless excellence of his previous US PGA victory, the eight-shot triumph at Kiawah Island two years ago.
On Saturday he was expected to pull away, only to tug his tee shot on the 4th and muff straightforward chips on the 8th and 12th. Yet he came back undaunted to birdie three of the last four holes. The greater the danger, the greater his response.
"I was asked on Saturday if winning like this, to win ugly, would be the most satisfying," he said afterwards. "Yes. It is."
This time last year McIlroy looked a lost boy, his clubs those of a stranger, his game unrecognisable.
Winless all season, he had missed four cuts, endured a nightmarish Open and admitted to feeling "brain dead".
As this summer comes to a soggy end he is alive like never before: the first player from the UK in the modern era to win back-to-back majors, the third-fastest player to win four after Woods and Jack Nicklaus, the first golfer in six years to win three tournaments in a row.
What has triggered it all? So rapid has the improvement been since his public break-up with Caroline Wozniacki in June that middle-aged hackers around the country must be wondering if they have been wasting their time with swing planes and range balls.
To describe a long-term partner as a distraction is both cruel and liable to lead to smashed chinaware. But the split has left McIlroy able to focus on his obsession as a champion needs to, just as his work in the gym has left him with weapons that he previously did not have.
Where a year ago McIlroy's love affair with golf appeared to have soured, today the thrill of the chase is evident in everything he does.
Who has won the most majors in the modern era (post 1934)

Masters

US Open

The Open

US PGA

Total

Jack Nicklaus

6

4

3

5

18

Tiger Woods

4

3

3

4

14

Gary Player

3

1

3

2

9

Ben Hogan

2

4

1

2

9

Tom Watson

2

1

5

0

8
Ally that to his natural talents and the confidence each additional win brings, and you have a player capable of shots and spells that no other on tour can match.
With that knowledge comes another superpower: the ability to convince other great golfers that they are fighting only for second place.
Woods had that for almost 15 years. In McIlroy's loping stride, all self-belief and attitude, you can see the same authority manifested.
"No matter who is on that leaderboard, I feel like I can beat them," he says. "I can look at the leaderboard and it doesn't affect me."
Such displays make us giddy for what the future may bring. How far can he go? How many majors can he win?
And Europe's only treble-major winners in the same era?

Masters

US Open

The Open

US PGA

Total

Nick Faldo

3

0

3

0

6

Seve Ballesteros

2

0

3

0

5

Rory McIlroy

0

1

1

2

4

Henry Cotton

0

0

3

0

3

Padraig Harrington

0

0

2

1

3
For now the targets must remain realistic - completing a career grand slam by winning at Augusta, and so joining the elite company of Nicklaus, Woods, Gary Player, Ben Hogan and Gene Sarazen; becoming the most decorated European player of all time, passing Seve Ballesteros's five majors and Nick Faldo's six.
Beyond that all is conjecture and dreams.
In Fowler, McIlroy has a friend and rival who could both push him to new heights and deny him fresh triumphs. In becoming only the third man after Nicklaus and Woods to finish in the top five of all four majors in a season in the modern era, Fowler is in lofty company himself, even if he will view each finish as a failure to win as much as a success.
Then there is the example of Tiger, reduced to a once-ran, an object of sympathy where once he was feared.
When players are on golden runs like McIlroy's, like Woods so long enjoyed, it is impossible to envisage them ending. They all do.
There is a poignancy in Woods's demise that will be lost to McIlroy as he celebrates now in New York but that he will appreciate in time.
There are spells when the world acquiesces to your gifts. There are times when you feel untouchable, when it is all sweetly straightforward, when body and mind and circumstance come together to make anything seem possible.
They are moments to be relished, for in time you will look back on them, as Woods does today, and sense only the impossibility of ever bringing them back.
That is for another time. For now it is McIlroy at the top, looking down, master of his game, owner of the era.
"I never thought I'd get this far at 25 years of age," he said, grinning in the Kentucky night with wide-eyed wonder.
"I was happy being a two-time major champion coming into this year, and all of a sudden I'm a four-time major champion.
"I didn't think in my wildest dreams I would have a summer like this."