Rory McIlroy joins select club with stunning Open & US PGA double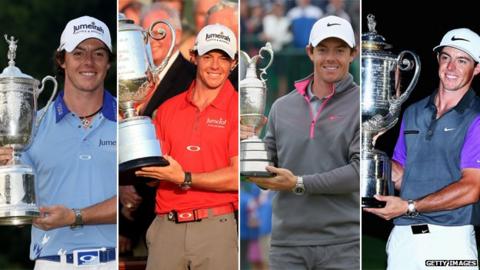 It is a select band of golfers who know the feeling of winning back-to-back majors.
Rory McIlroy is the latest to join that exclusive club with his victory at the US PGA Championship coming after his Open triumph at Hoylake.
US Ryder Cup skipper Tom Watson won the 1982 US Open and followed it with Open success at Royal Troon - he is perfectly qualified to assess the scale of McIlroy's achievements.
The eight-times major champion has joined a growing list of observers who believe the 25-year-old from Northern Ireland is on a fast-track to golfing greatness.
"Yes, that's four majors now. Any time you win one major it's a big step towards golfing greatness but now he has four, he's on his way to a great career," Watson told BBC Sport.
"I congratulate Rory. He's playing such wonderful golf right now. And the way he's handled himself is just magnificent.
"He plays a lot like I do - quickly, with conviction, and while he doesn't show much emotion, he's clearly focused on what he's trying to do."
Watson was particularly impressed with the way McIlroy grew stronger as Sunday progressed, overhauling a three-shot deficit on the back nine of the final round at Valhalla.
"He started off poorly but he responded. He said the birdie on number seven really changed the course of the day for him, as birdies kind of do when you are struggling early.
"Then he got that first birdie and he was off to the races."
McIlroy was fortunate at the par-five 10th when, despite coming out of the neck of his three wood, his second shot still finished on the green. He was the only player to manage that in the final round.
"I think that was the key shot for him," Watson said. "He was disappointed with the initial shot but then he had an eight-foot eagle putt which he converted and that was obviously the shot of the day for him."
Europe will clearly have the player of the moment in their ranks when they take on Watson's American side for the Ryder Cup at Gleneagles next month.
"I wish he was playing for my team, I can tell you that," said the US skipper.
Watson, though, believes McIlroy offers a target for his men come late September. "When you beat the best you feel like you've accomplished something. Rory, clearly right now, is the best."
Such is McIlroy's current confidence, he is very comfortable with the thought that he can play a talismanic role for Europe in Scotland.
The only danger will be burn-out. In 2008 Padraig Harrington went to the Valhalla Ryder Cup having completed the same Open and PGA double McIlroy has just achieved.
The Irishman mustered only half a point from a possible four in Europe's only defeat this century. The difference is that Harrington was aged 37 at the time, a full 12 years older than a fit and strong McIlroy.
What makes the younger man's achievement all the more special is the fact his major wins sandwiched an imperious victory at the WGC Invitational at Akron.
That's a hat-trick of wins against the very best players in the world. We haven't seen such domination since Tiger Woods was in his prime and held all four majors at the same time in 2000-01.
It is against the feats of Woods that we must now measure McIlroy - his golf at the moment is that good.
He is taking this week off and will show off his major spoils at the Premier League opener at Old Trafford on Saturday when his beloved Manchester United take on Swansea.
Thereafter, expect him to reconnect with his astonishing form to try to claim the spoils in the lucrative PGA Tour play-offs before setting his sights on the Ryder Cup.
UK golf now has a genuine sporting superstar capable of transcending the sport. He will receive rapturous applause in the football arena this weekend and can expect to collect a host of sporting awards come the end of the year.
It will all be richly deserved because this has been a very special period of global dominance that shows little sign of ending anytime soon.