NI Open: Johan Edfors aims to kick-start second coming at Galgorm
By John Haughey
BBC Sport NI
Last updated on .From the section Golf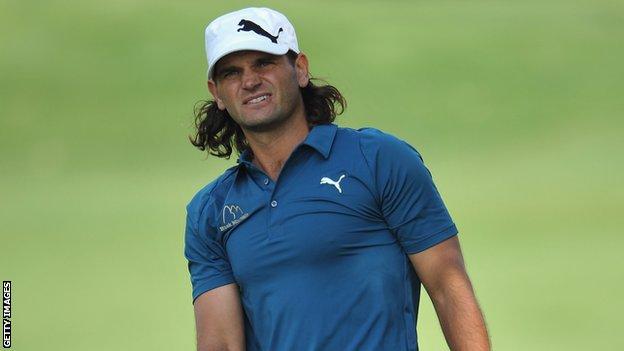 Johan Edfors is having fun again as the shadows lengthen on a late summer's evening in Ballymena.
In addition to playing a mean game of golf, partially honed during a scholarship at the University of Texas, the long-haired Swede's rock-star appearance made him stand out from the largely staid crowd of golf professionals.
The Roger Federer lookalike's sartorial signature included an invariably bright polo shirt hanging out - albeit very neatly - over his trousers.
Some of us weekend hackers opt for the same approach when out of sight of the clubhouse but it's an attempt to obscure a protruding gut rather than a fashion statement.
Edfors's remarkable 2006 season saw him narrowly missing out on a trip to the K Club for the Ryder Cup as he finished 10th in the European Order of Merit.
Johan Edfors
"At the end of last year, it was almost a relief when I lost my card."
The four seasons that followed didn't quite hit those heights yet the Swede's tour card was never under any threat as he finished as high as 32nd and 40th in the Race to Dubai in 2009 and 2011.
But golf, understandably, then dropped down the order of Edfors's priorities as he suffered the huge grief of losing both his beloved parents after long battles against cancer in addition to becoming a father for the first time.
"I've been struggling. I haven't enjoyed myself on the course and that has been shown in the results and I haven't really practised," Edfors, 38, told BBC Sport Northern Ireland.
After hanging onto his tour card by the skin of his teeth with a 113th placing in 2012, Edfors finally lost his playing privileges last November after 17 missed cuts in 25 events, with shoulder and back injuries compounding the Swede's woes.
"At the end of last year, it was almost a relief when I lost my card. I could finally take a good period off.
"It was tough. When I was at home I felt I needed to be out on tour and when I was out on tour I wondered what the hell I was doing there, I should be at home. I felt out of place wherever I was."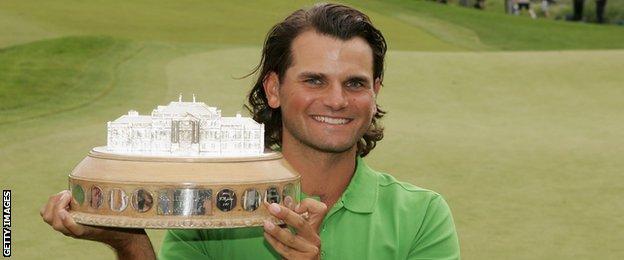 But fast forward some nine months and Edfors says he is in an altogether better place as he heads into this week's Northern Ireland Open Challenge event at Galgorm Castle in Ballymena.
"I took six months off after last year and got the shoulder sorted and started playing on a few invites on the main tour.
"Then I had to take five weeks off because of the sciatic nerve problem so I took the decision to play Challenge Tour for the rest of the year.
"I am fit again now and can practise again. So I am really enjoying being out here much more than I was for the last couple of years on tour. So this feels good actually."
On this particular Tuesday evening, the 38-year-old has been having great fun despite losing £10 in a marathon chipping competition against his compatriots Pelle Edberg, Jocke Rask and Jens Fahrbring.
"I grew up with Pelle and Jocke and we played a lot together 10 or 15 years ago and Pelle and I used to room together on tour.
"There are a lot of good guys out here. It's a little more laidback than on the main tour."
Skype and other video programmes are helping to make time away from wife Cecilia and daughter Jolene a little more bearable.
"She is two and half now. It is getting more difficult being away. Now when you leave, she knows that you are going to be away for a while. That's a bit tricky."
The desire to spend sufficient quality time with his family was the main reason why Edfors opted for the Challenge Tour route this season rather than trying to regain his playing privileges through the occasional main tour invite.
"With the family and everything else, to be able to set a schedule for the rest of the year felt pretty valuable.
"They [tour main tour events] were nice and gave me invites but you get the invite the week before so it's very tough to make a plan."
Helped mainly by a share of seventh place at the co-sanctioned Madeira Island Open, Edfors is currently only 58th in the Challenge Tour rankings with only the top 15 card holders earning direct promotion to the main tour for 2015.
However, he is optimistic that he can produce a strong finish to the season, hopefully starting this week in Ballymena.
"There are eight tournaments left and I am going to play all those events.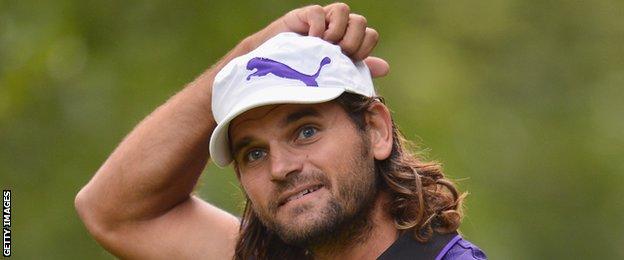 "If I play OK, I think I should be able to squeeze into the top 20 at least."
Edfors believes a return to the main tour would herald a more consistent player than the performer who even in his glory year of 2006 managed only one other top-10 finish in addition to his three wins.
"My highest level has always been high but my lowest level has been pretty damn low so that's what I have been working hard on to increase the lowest level of my game.
"I think I have done that but I have sort of lost the top bit. I've got a bit more consistent and that showed in '09, '10 and '11 when I was just circling around the top 100 in the world.
"I haven't really made the mark that I would like and I know I have the capacity to compete on the highest level."
As for this week, Edfors is expecting a tournament which will "look and feel like a main tour event".
"I have heard that over 30,000 tickets have already been applied for and the guys who were here last year said it was a great tournament."
The presence of the charismatic Edfors will surely only swell the gate that bit more.